Assassin's Creed Valhalla denies COD its usual UK physical chart top spot
Served cold.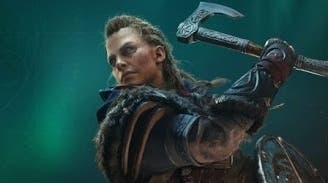 Call of Duty has failed to top the UK physical games chart in its launch week for the first time in 13 years.
Instead, pole position went to Assassin's Creed Valhalla. Ubisoft's Viking game earned itself a massive first week physical sales total - double that of Assassin's Creed Odyssey two years ago (thanks, GamesIndustry.biz).
Of course, there are some caveats. Valhalla launched alongside the Series X/S last Tuesday, whereas Call of Duty Black Ops Cold War arrived on Friday with three days fewer on sale. We're also comparing boxed numbers here, so the full picture may well be different with digital sales mixed in.
That said, it's not surprising to see Valhalla going down so well. It has received positive reviews, enjoyed good word of mouth, and it released alongside the Xbox Series S/X when Microsoft did not have a first-party launch title itself.
Meanwhile, Call of Duty's boxed sales have been declining consistently year-on-year. Over the weekend, Activision released a statement boasting of the "highest first day digital sales worldwide in franchise history", highlighting the growing number of people who chose to download Cold War instead. And there's the Warzone effect - people playing that, for free, may be less likely to pick up a £70 box on day one.
Boxed sales of Black Ops Cold War were down 64 per cent compared to last year's Modern Warfare.
Both Valhalla and Black Ops had PlayStation 5 versions on sale, despite the console still not being available in the UK.
Indeed, launch PS5 games in general went on sale last week - which leaves the UK physical chart in the odd position of having several games in it people are still unable to actually play.
PlayStation exclusive Marvel's Spider-Man Miles Morales debuted in third place, with 71 per cent of sales for PS5 and the remainder for PS4. PS5 exclusive Demon's Souls arrived in sixth. Sackboy was 13th, with 89 per cent of sales for PS5.
Elsewhere, Just Dance 2021 turned up in 11th place - the vast majority of its sales were for Nintendo Switch. Godfall managed 16th, Planet Coaster: Console Edition was 17th and Yakuza: Like a Dragon was 20th.
The full top 10 lies below:
Assassin's Creed Valhalla
COD BLOPS Cold War
Marvel's Spider-Man: Miles Morales
FIFA 21
Animal Crossing: New Horizons
Demon's Souls
Super Mario 3D All-Stars
Mario Kart 8 Deluxe
Minecraft (Nintendo Switch)
Watch Dogs Legion