Acclaimed adventure Raji: an Ancient Epic comes to PC, Xbox One, and PS4 in October
Following period of Switch exclusivity.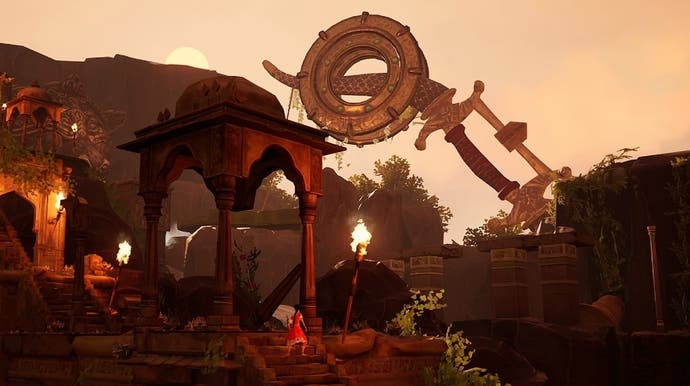 Raji: an Ancient Epic, developer Nodding Head Games' gorgeous jaunt through Indian mythology, will be making its way to Xbox One, PlayStation 4, and PC on 15th October, following a short period of Switch exclusivity.
Nodding Head's striking action-adventure tells the story of the titular Raji, a young girl blessed by the Gods, as she travels across a gorgeous rendition of ancient India - a world of dazzling temples, grottoes, and mountain fortresses - battling to save her brother and defend the Earth from demonic beings.
To breathe life into its world, Nodding Head has drawn heavily on Indian folklore and culture; as Christian Donlan explained in his Recommended review, "This is the work of a small studio in India, and it's a game built on Hindu and Balinese myths and artistic traditions. Vishnu and Durga's roving conversation shapes the narrative, cut-scenes are handled by shadow puppets or replaced entirely by the discovery of huge, vivid murals within the game world itself."
What follows is a blend of third-person exploration and combat that, while familiar, is exceedingly well implemented. "It's transporting," concluded Christian, "Raji's a shortish game but a very rich one - the sheer scale of environments and the sense of adventure is properly intoxicating...This game is generous and heartfelt and magical and I think it's the beginning of something brilliant."
Raji: an Ancient Epic should cost around £20 when it comes to Xbox One, PS4, and PC on 15th October, and if you'd like to take a peek before then, there's a Steam demo available right now.