A Brit's guide to Forza Horizon 4
Road trip.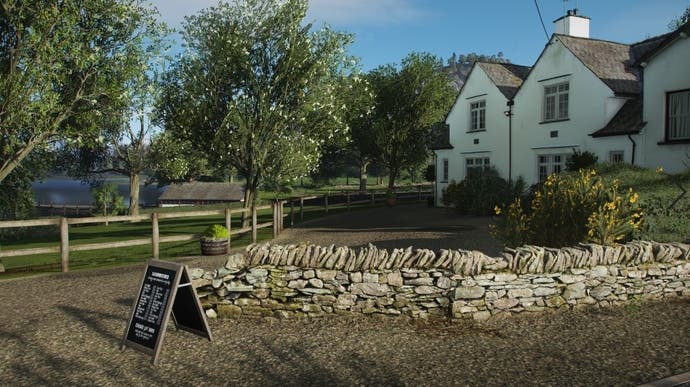 When considering ideal locations for open world racers, I'm not sure Britain would top many lists. Need for Speed typically opted for fictional, neon-soaked cities, while the likes of Test Drive Unlimited and Forza Horizon threw players towards epic, sun-drenched road trips in Oahu and Colorado. By the time the Forza Horizon series had powered through Southern France and Australia though, British studio Playground Games thought it might be best to do things a little differently. When fans were treated to a first glimpse at Horizon 4's "Historic Britain", I was inclined to agree. It's not often anywhere north of the Watford Gap is represented in video games, yet here we are, on modern tech, barrelling around Bamburgh Castle with reckless abandon. A new Forza set in a far-flung location will likely be on the horizon very soon, but before we move on, let's celebrate the stunning locations presented in Horizon 4.
In 2017, The English Lake District was granted status as a Unesco World Heritage site. Its beautiful mountainous landscape is deemed to be of "Outstanding Universal Value", and the team at Playground did quite a job at showing that off. Derwent Water, a vast lake situated in the north west of the Lake District is depicted in-game and is a must visit, especially during Horizon's winter season. The frozen expanse becomes a playground for drifting, drag racing and general off-roading, and those mountains to the north aren't a bad view either. However, it's certainly worth a visit in the spring season too, if only to catch a glimpse of The Lakes in a more natural light. When I spoke with Conar Cross, associate lead concept artist at Playground Games, he had a little more to say about The Lakes in spring.
"Seasonally it would have to be spring. In fact, any location in spring is pretty idyllic in my opinion, the dramatic stormy weather coupled with the uplifting palette from the blossoming foliage is so inviting. I particularly love the area around Derwent Water, with the brilliant mountain vista and the bluebells from the surrounding forest generously spreading out onto the sides of the roads."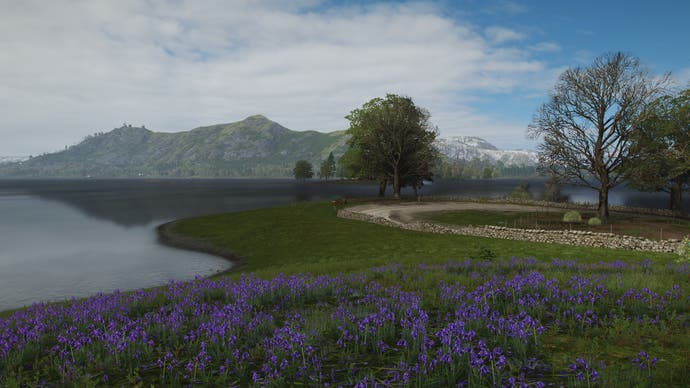 Head a little farther south and you'll come across the peaceful village of Ambleside. Another gem of the lakes, this popular holiday destination provides some twisty-turny road racing circuits in Forza Horizon 4. The sunflower meadows player house is a useful early-game base for all your Lake District travels, or to simply fulfil a dream of owning an idyllic, countryside cottage. What's particularly inviting about this location is how true to English village life it is. The narrow, village streets become home to some tight driving manoeuvres, and the various pubs, homes and hotels are thematically spot on. In fact, after playing Horizon 4 I had to visit Ambleside, so I took a little trip last summer. There, I visited a popular lakeside pub on a rather blustery August day - the very same pub that can be found in-game at the boat docks, just south of Ambleside.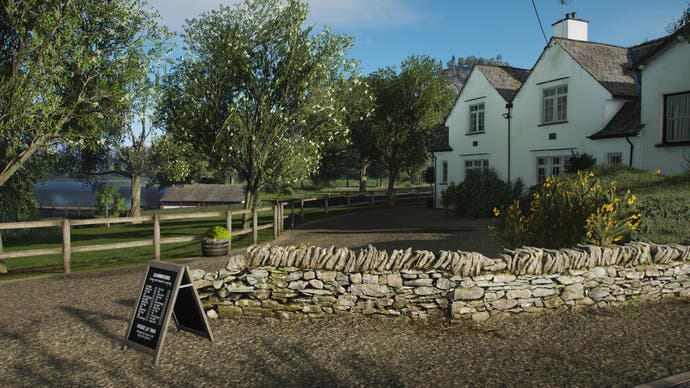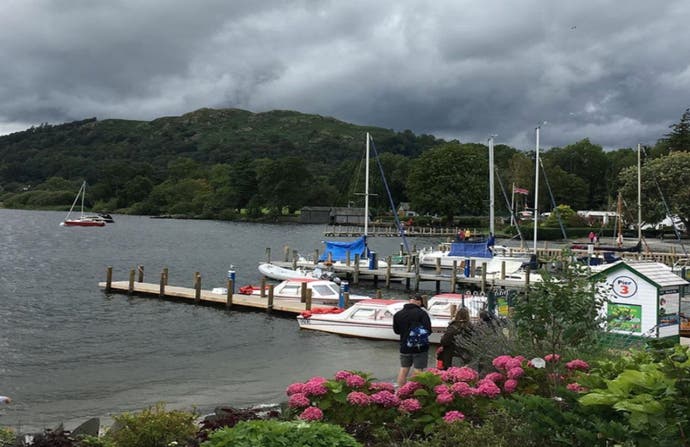 Moving east from the lakes, the Astmoor region provides a completely different gameplay experience. Still authentically British, this open area of heather-filled hills is where off-road enthusiasts will want to drive. Never a few moments away from a 'what's over the ridge?" moment, this Yorkshire Moors-looking playing field is dirt racing heaven. Astmoor is also a great place to pull up, stick the handbrake on and admire Horizon 4's dynamic weather system. This sprawling, open landscape shows huge skyboxes that illustrate Britain's historically dodgy weather in an honest light, and the season alters the look of the land drastically.
"It [the season system] forced us to consider precisely which assets/foliage we were including in our concepts and if/how they would be influenced by seasons," Cross said. "Everything was very deliberate. If it didn't look great in one season or wasn't particularly fantastic in any, we didn't include it." The Yorkshire Moors were a popular holiday destination for my family growing up, and the reminiscent Astmoor region was a proper nostalgia trip on a personal note. Its rolling hills of purple heather reminded me so much of those drives into the seaside town of Whitby when I was younger, so much so that I made it another location to visit last year.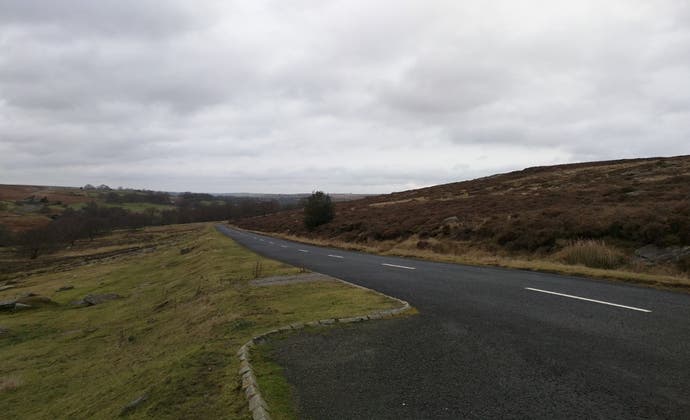 Now, we can't mention Forza Horizon 4 without talking about its choice of main city. London has been a video game mainstay for years, but Edinburgh not so much. Thematically it fits much better alongside the countryside locations within Horizon 4, yet it still provides those street racing thrills a driving game city should. The in-game version is incredibly authentic, showcasing some of Edinburgh's most iconic landmarks. From the Scott Monument and the iconic Edinburgh Castle to famous outskirts locations such as the Arthur's Seat mountain peak, Edinburgh serves as Forza Horizon 4's epicentre. In a neat touch, you can straight up buy Edinburgh Castle as a player house, although it'll cost you an eye-watering 15m credits.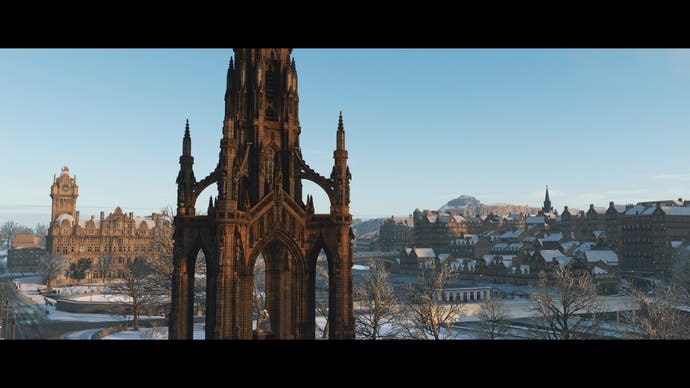 A short drive west from Edinburgh takes us to Glen Rannoch and the Scottish Highlands. A cross country event lover's heaven, this dramatic landscape is home to some of Forza Horizon 4's most memorable racing. The Behemoth Showcase has you speeding down towards the lakes in a huge hovercraft, only beaten in ridiculousness by The Halo Experience Showcase event. Elsewhere, the Scottish Highlands provide some incredible views over the world of Horizon 4, right down to the tiny village of Ambleside we visited earlier. This area of the map is probably the most exotic of any present in the base game, so I asked Cross if the team ever thought that could be a problem.
"I think a lot of us Brits like to consider it to be grey skies and rain all the time. It was eye-opening to stop and examine what is around us, rather than take it for granted. I certainly discovered areas of Britain that really took my breath away and I think the game does a fantastic job of showcasing just how beautiful Britain really is."
In fact, the only location in Forza Horizon 4 that goes beyond Glen Rannoch is the first add-on; Fortune Island. This fictional land might be just that, but it's still based in British reality. Although never confirmed, the levels of dramatic rock formations and general verticality look similar to The Isle of Skye, a large island in northwest Scotland. Fortune Island brings sweeping mountain passes, perilous dirt trails and the bonkers Trailblazer challenges (as the crow flies time trials) to Forza Horizon 4. There's something old-timey about Fortune Island, and just cruising around its small but varied landscape is a thrill. Playground's link to Britain is evident not only on the base map, but here in the most rugged of Scottish islands, too.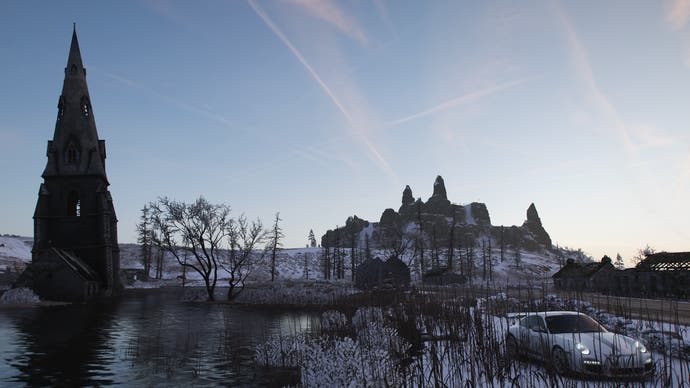 "We all had this innate ability to look at our work and agree 'yep that feels like Britain' or alternatively, tell if something was off," Cross explains. "Knowing the areas we were referencing first-hand allowed us to add those little details and nuances of reality that often go unnoticed. It really helped ground the designs."
Forza Horizon 4 is an incredible realisation of an open-world driving game set in Britain. From quaint little villages to sprawling skyboxes filled with breathtaking views, it really is a giant road trip showing what these Isles have to offer. So much so that even as a resident, I was inspired to visit areas I'd never seen in real life, re-tread old paths from my childhood and take the time to appreciate my surroundings. We're on the eve of the next generation in gaming, and Forza Horizon 4 is quite possibly my favourite game of the current one. Not only for how it plays, but for the incredible British locations it allows us to explore.