2016 was the year that Japanese games struck back
Japanese video game makers look to their past to define their future.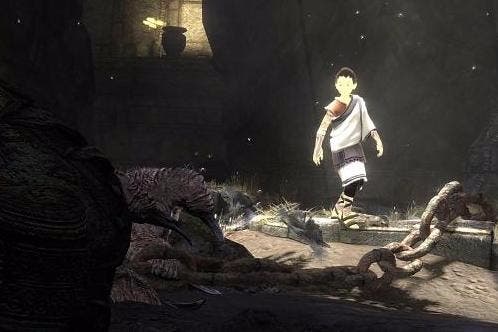 The most deafening cheer raised at PSX, Sony's celebration of all things PlayStation held in a tinselled, sweltering December California, did not follow the news of a sequel to The Last of Us, but rather a surprise trailer advertising a 22 year old arcade game. Windjammers is Pong played with Frisbees. You're a bronzed Venice Beach bum, dressed in neon pink sweatbands and purple sun-visors, hurling the disc toward your opponent's goal. There's never been a better video game interpretation of air hockey but, while the game is often played at hipster-y video game tournaments, nobody anticipated a PlayStation 4 re-release. Fittingly the announcement was made on the same day that SNK, the Osaka-based creator of the enduringly desirable NeoGeo on which Windjammers debuted in 1994, dropped the 'Playmore' addendum of its name (picked up when the company reformed following bankruptcy in the early 2000s) to return to its original branding: The Future Is Now.
'The Past Is Now' would be a more suitable tagline for the Japanese video game industry in 2016. It's been a year of unexpected dividends from the country's storied video game history. Nintendo's NES Classic and Famicom Mini systems made modern and made miniature the company's formative system, banking on nostalgia ahead of its Switch offensive in 2017. And while Tokyo's second hand video game store shelves may sit barren, plundered by so many Western visitors in search of a lost treasure, in 2016 there are more opportunities to play Japanese classics than ever before.
It's also been the year that Japan's great white whales, The Last Guardian and Final Fantasy 15, games once lost, presumed dead, finally landed. Both games, to differing degrees, bear the scars of their protracted developments. But the video game ecosystem is richer for their arrival, particularly in the case of Fumito Ueda's work, which boasts perhaps the best-executed and most cohesive ending of any game to date.
Street Fighter 5 had a troubled launch in February, but Capcom's continued investment in both the project and its orbiting competitive scene means that the game is in rude health as it enters its second season. From Software's Dark Souls 3 is too familiar to deliver the same industry-rattling impact as its forebears, but the company, under the governance of the genre's originator, Hidetaka Miyazaki, is in pleasing shape: energetic, determined, profitable. Hideo Kojima, meanwhile, fresh from his unseemly divorce with former employer Konami (a company that has, by failing to tell its side of the story, morphed -- probably unfairly -- into a villain of pantomime-esque proportions) has a spring in his step and investment spilling from his pockets. Taken in unison, these developments point to a Japanese industry that is, at very least, in some kind of recovery.
In 2002, the country was the dominant cultural force in the medium, accounting for around 50 percent of the global video game market. In 2010, that share had shrunk to just 10 percent, a decline fuelled by a concoction of economic recession, the rise of American studios and publishers and, many would argue, a whiff of complacency. "Because Japanese games enjoy a certain amount of adoration, people have been too ready to forgive the many little issues that have been growing over the recent generations, and now things have come to a head," James Kay, who co-founded Score Studios after years of working as a developer in major Japanese game studios, told me that year. "With even big-name Japanese products being technical disasters, [we have] to come to terms with the idea that, well, Japan isn't the Mecca of video games... not any more."
Nevertheless, Japan is finding a new place and posture. As Nintendo's recent efforts to disrupt the race-to-the-bottom pricing of mobile phone games demonstrates, the country's great companies are increasingly willing to take bold risks. The company's experimentation with the social network Mittomo may have been something of a flop, but Nintendo surely gained valuable insight through the exercise. By the time Keiji Inafune's Mighty No. 9 launched, the director's indiscrete comments (the un-wisdom of which may have been heightened in translation) had turned the public perception against the game. Remove the game from the context, however, and you're left with a rough gem. Inafune's other major project of 2016, Recore, is another welcome return for those plucky, mid-budget, over-ambitious curios. It's an acquired taste, sure, but as the last few years have shown, we are much the poorer when games like this fall away.
In 2013 Hashimoto Kunio, producer of the Dragon Ball series of video games based on the hugely popular anime series told me that fundamental changes in approach were necessary if Japanese game-makers were to remain profitable and relevant in the future. "Japan has to become more aggressive and offensive in order to find something new in games," he said. Three years later, there has been a tangible shift in stance. It appears to be working. This year, the Computer Entertainment Supplier's Association, organisers of the Tokyo Game Show, pointed to a record number of companies in attendance: 614, up from 480 last year.
There's more to be done, particularly when it comes to supporting independent Japanese creators, the tier of game-makers that has, in the UK and US at least, been responsible for some of the most intriguing games in recent years. These are the Minecrafts and Papers, Pleases that have helped expand the medium's territory and definition. (One Japanese independent developer complained to me that it was far harder for Japanese indies to secure booth space at TGS this year than it was for the better-known Westerners.) Aside from these missteps, from SNK to Nintendo, in 2016 Japanese game companies have looked to their past for pointers to their future. For anyone who lived through the glory days, this is surely no bad thing.