Xbox Game Pass adds Slime Rancher on PC next week
Plus Peggle 2 on Cloud, and many more.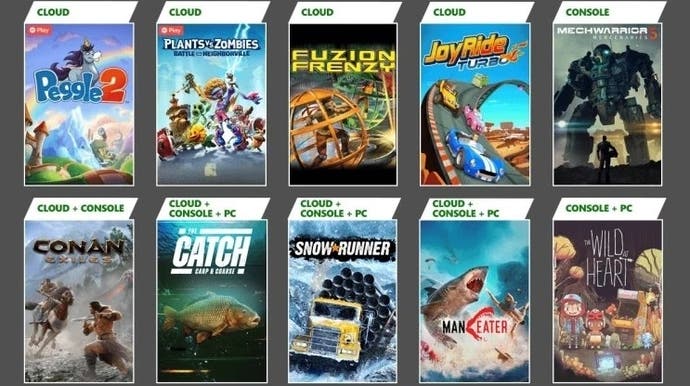 Slime Rancher on PC plus SnowRunner for console, cloud and PC headline the next two weeks of Xbox Game Pass additions.
SnowRunner arrives for all Xbox Game Pass platforms today - coincidentally the day it confirmed a £20.99 Year 2 Pass for even more post-launch content.
PopCap puzzler Peggle 2 and third-person shooter Plants vs Zombies: Battle for Neighborville meanwhile both arrive on Thursday, 20th May for cloud devices via EA Play.
Multiplayer horror Secret Neighbor (for PC) and lovely-looking indie The Wild at Heart (for console and PC) also turn up on the 20th.
The Catch: Carp & Coarse Fishing (cloud, console and PC) turns up on Friday 21st, the same day Knockout City launches into EA Play for consoles and PC.
Beyond that, action RPG Maneater is swallowed up by Xbox Game Pass on 25th May for cloud, console and PC.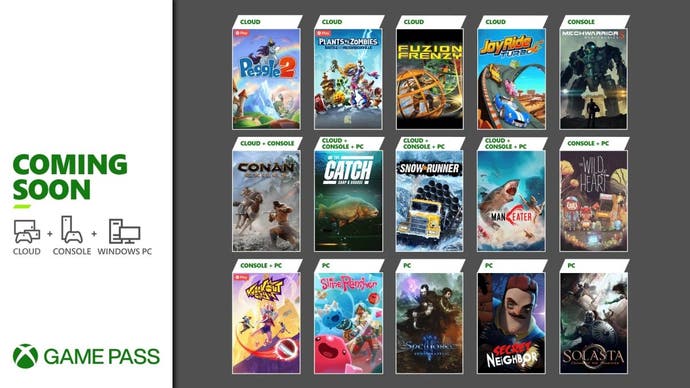 As previously announced, Conan Exiles turns up for cloud and console on 27th May.
That day also brings Xbox original Fuzion Frenzy and arcade racer Joy Ride Turbo, both to cloud.
The popular Slime Rancher turns up on Xbox Game Pass for PC on 27th May too, while MechWarrior 5: Mercenaries turns up for console.
Finally, that day also sees the addition of SpellForce 3: Soul Harvest and Solasta: Crown of the Magister, both for PC.
Seven more Xbox Game Pass games for cloud have received support for touch controls: Banjo-Tooie, Call of the Sea, Genesis Noir, Narita Boy, Nier: Automata Become As Gods Edition, Rain on Your Parade and Two Point Hospital.
And as ever, a handful of games leave Xbox Game Pass at the end of the month. Leaving on 31st May are Assetto Corsa (cloud and console), Broforce (PC), Kingdom Hearts HD 1.5+2.5 Remix (console), Kingdom Hearts HD 2.8 Final Chapter Prologue (console), Surviving Mars (cloud, console and PC) and Void Bastards (cloud, console and PC).