Francois admits that getting the balance right has been hard, and it's clear that the system Ankama has devised is not as simple as handing the community the keys to the kingdom and sitting back while they burn it down. Alongside the player quests, there will also be "dynamic challenges" available - presumably created by the development team. "These are selected from a semi-random list and are launched only when several conditions are met," said Francois.
However the final balance works out - and it's a relief to note that there are at least a few pre-planned dungeons ready to go - it's a huge change from the quest system most players are used to, and it's hard to judge how successful it will be from the beta. My own limited wanderings around Wakfu have revealed a world that's understandably still fairly empty, and the only dynamic challenge I faced was when I accidentally dropped a cup of coffee into my lap when reaching for a biro. It remains to be seen how things will play out with a bigger population and a fuller feature set when the game goes live.
Neither is Ankama stopping with reinventing quests. It's also allowing the game's population to influence the actual environment. Chop down too many trees in Wakfu and you'll end up with deforestation. Kill too many of a certain kind of animal, and they may move on or become extinct. Elected player governments can create laws for each island, deciding on long-term aims and strategies, and potentially even dictating the course of the plot. "Having control of the whole world will be impossible," says Francois, "but depending on their actions they will be able to unlock, or re-lock, dungeons or whole areas of gameplay. Judging on the Wakfu status at any moment, the team will be able to get the meta plot-moving, going from one piece of the storyline to another, and reacting to whatever the player will do."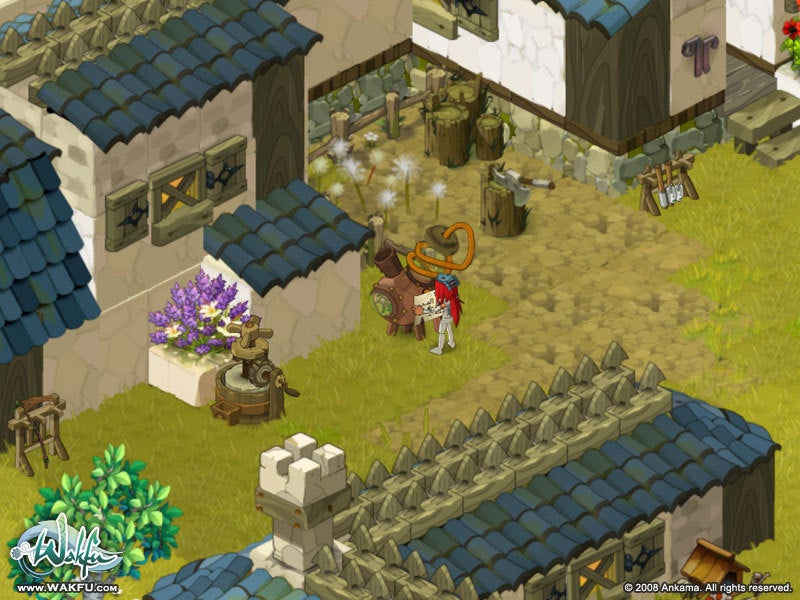 This is ambitious stuff. Throw in an ecology of AI-driven wildlife that grows, migrates, and reproduces, along with a day/night cycle and dynamic weather, and Wakfu's starting to look more like a simulation than an MMO.
But it is still an MMO, and many of the staples of Dofus will be recognisable in the finished product. The twelve original races make a return, five of which are already implemented in the beta, and there's the promise of new flavours to be added. Many of the originals have had a bit of a makeover in the last 1000 years - Srams (the assassin class) now wear cool skeleton-print pyjamas, for example, and elsewhere colours are brighter, eyes are blanker, and armour is more extreme and exaggerated.
The combat has also survived intact, with a few additions. The grid is no longer so clearly superimposed, and there are bonuses available if you attack from an angle, getting your enemy in the side or back. Elsewhere, experience has been tweaked so that you level specific skills as you use them, and the crafting system has been broadened. There's also been a change to the user interface, which is now more streamlined and unobtrusive, and can be rearranged as needed.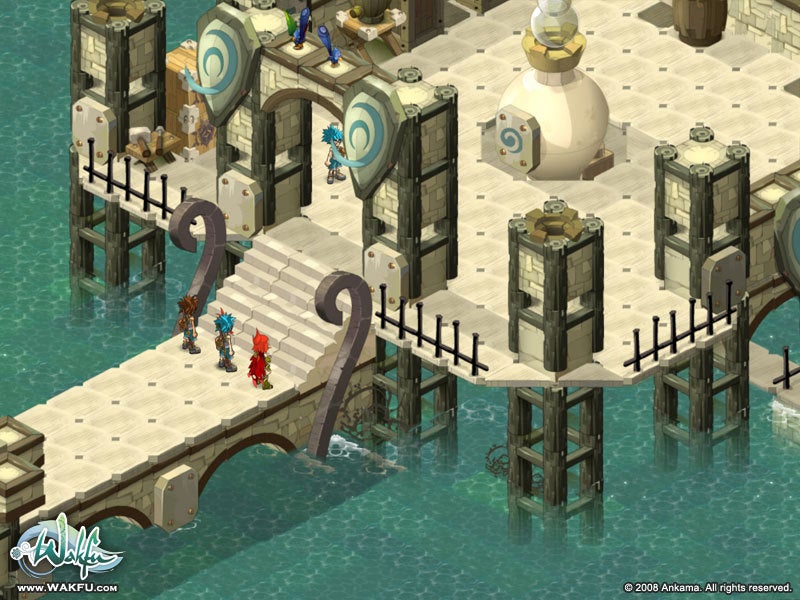 Wakfu's shaping up as a bold and potentially insane experiment in partial self-governance. It's impossible to judge from the beta what this will mean for the game's long-term chances, but the planned shift in server population from the 5000 of Dofus to 25,000 will potentially make the community even less wieldy. Ankama's developers have previously shown themselves to be astute custodians of their own work, so they hopefully know what they're getting into, and they're certainly betting considerable money on Wakfu, with a cartoon and a standalone non-MMO DS title alongside releases for Mac, PC and Linux systems.
Ultimately, the sheer ambition of Wakfu makes it deeply intriguing. Dofus saw the team throwing caution to the wind in competing against the bigger boys of the MMO schoolyard with a thoughtful, slower-paced kind of experience, but the risks they're taking with Wakfu make that gamble look insignificant. They're about to hand over real power to their players, and as Spider-man's Uncle Ben once said, with great power comes great responsibility. Only time will tell if Ankama's community is yet ready to handle either.
Will you support Eurogamer?
We want to make Eurogamer better, and that means better for our readers - not for algorithms. You can help! Become a supporter of Eurogamer and you can view the site completely ad-free, as well as gaining exclusive access to articles, podcasts and conversations that will bring you closer to the team, the stories, and the games we all love. Subscriptions start at £3.99 / $4.99 per month.