Video: Dead Kings, phallic flamethrowers and Gat Out of Hell
Plus more from Outside Xbox.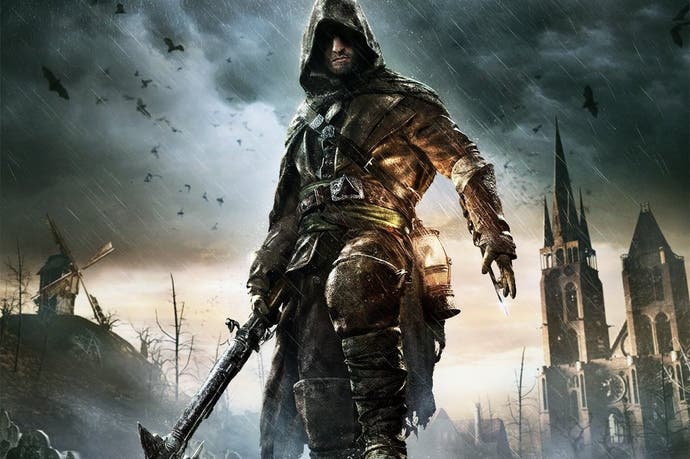 Ubisoft says "sorry, our bad" for the trouble with Assassin's Creed: Unity with free DLC Dead Kings, available to download now. This make-good DLC whisks Arno to the gloomy burg of Franciade, known as Saint-Denis prior to the church-hatin' Revolution.
The video above shows how to start Dead Kings by taking a carriage out of the city, plus Arno's new oil lantern for fending off underground critters in Franciade's royal crypts. The DLC also expands Arno's arsenal with a "guillotine gun", which should be a gun that fires guillotine blades at neck height, but is instead a kind of grenade launcher with a bayonet.
Speaking of ludicrously dangerous inventions, consider these seven inventors killed in video games by their best work. Sometimes it's an unlucky break for a well-meaning genius, sometimes it's a lethal dose of comeuppance for a hubristic boffin, and sometimes it's a phallic flamethrower with improper venting. Beware spoilers in the video below, though none for games released later than 2013.
Last of all in this Saturday's Outside Xbox video sampler, Show of the Week eyes up Saints Row: Gat Out of Hell, an 'expandalone' for Saints Row 4 in which series mainstays Johnny Gat and Kinzie Kensington go to the hot place to rescue the boss.
Xbox One and PS4 owners can get the game bundled with Saints Row 4: Re-Elected, which contains Saints Row 4 jazzed up for the new consoles plus Gat Out of Hell on the side.
Thanks for watching, Eurogamer friends, and meet you back here next week. For yet more videos in the meantime, visit us at outsidexbox.com.