UK university to investigate whether Kinect can help stroke victims
Will track the patient's face as they perform exercises.
A UK university will spend 18 months developing a Kinect-powered prototype it hopes will be used to help stroke victims.
Nottingham Trent University has been awarded a £347,000 grant to build a prototype system which uses Kinect to give real-time feedback to patients and clinicians.
The idea is to create a system that detects and tracks asymmetries on either side of a patient's face, including mouth corner, eyelids and cheeks, while they perform facial exercises.
As this is happening the information will be shown on a TV or monitor to give feedback via an avatar of the patient.
Dr Philip Breedon, reader in smart technologies Nottingham Trent University's School of Architecture, Design and the Built Environment and lead academic on the project, said the system will lead the patient through exercises and indicate the degree of success, with the information sent electronically to a clinician so they can track the patient's progress.
The traditional method of doing this involves giving the patient a series of exercises on printed paper, which limits the ability to assess improvements and performance.
Dr Breedon said: "It is hoped that improved rehabilitation will be achieved through two methods; firstly by the patient themselves getting real-time feedback on position and magnitude of asymmetries on the face, along with their changes over time, thus showing where to concentrate their efforts.
"Secondly, the therapist will get to see data produced whenever the patient exercises. This increased data should help improve diagnosis and planned recovery.
"It is crucial that a non-technical person should be able to use the system without difficulty; so much emphasis will be placed on designing an intuitive and user friendly experience."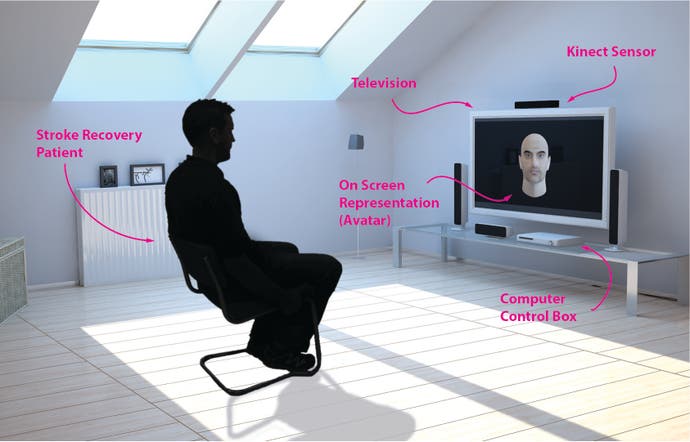 The project is funded by a National Institute for Health Research Invention for Innovation, and will begin in April and last for 18 months. The goal is to create a prototype that will eventually be mass produced.
As for the device itself, at this stage it's an interface box that runs the software and is linked to the Windows Microsoft Kinect and the patient's TV.
Dr Breedon continued: "The daily recommendation of stroke rehabilitation for facial paralysis is 45 minutes. We're hoping that this technology will not only help to reduce the burden on the NHS but more importantly improve the quality of life of stroke survivors, providing them with encouragement and recognising the accomplishments during their recovery."