Twitch clamps down on unlicensed music ahead of rumoured $1bn Google buyout
Mutes own Twitch Weekly video.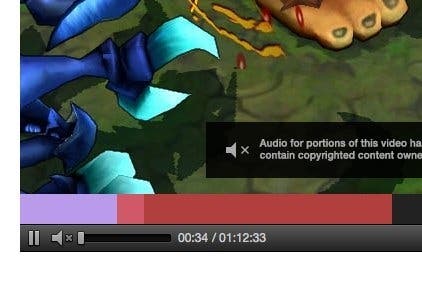 Game broadcasting platform Twitch has announced major changes to the way it works ahead of a rumoured $1bn Google buyout.
Starting today Twitch will clamp down on VODs that contain unauthorised third-party audio.
Currently the new audio recognition tech applies to VODs only, not live broadcasts. But users are worried the writing is on the wall.

"We respect the rights of copyright owners, and are voluntarily undertaking this effort to help protect both our broadcasters and copyright owners," Twitch said in a blog post.
Twitch will use Audible Magic to scan past and future VODs for music owned by Audible's clients. This includes in-game and ambient music - a stipulation that is already worrying the Twitch broadcasting community.
If the scan detects music in Audible's database, the affected portion of the VOD will be muted and volume controls for that VOD will be turned off.
It scans for third-party music in 30 minute blocks. If third party audio is detected anywhere in the 30 minute block the entire 30 minutes will be muted. Flagged content will display an on-screen notification informing viewers that content owned or controlled by a third party has been identified. The progress bar will also be red for the duration of the muted section.
"Audio Recognition will only be run against audio in VODs," Twitch stressed. "We are not scanning live broadcasts and there is no automated takedown of live content."
The company warned the audio recognition is not 100 per cent accurate and may return false positives or miss content from copyright owners who do not work with Audible Magic.
"If you wish to include music in your VODs, please remember that you are responsible for clearing all such rights (this includes ambient music that may be playing in the background while you are broadcasting)," Twitch advised. If you feel your video has been flagged wrongly, you can appeal the decision by sending Twitch a counter-notification compliant with the provisions of the Digital Millennium Copyright Act.
Twitch may want to send an appeal to itself. The new tech has already started working, and one of the affected videos was made by Twitch.
The video, below, is of a Twitch Weekly broadcast from 18th July. It's a chat show that discusses the latest new moves in the Twitch universe, taking in the recent Dota 2 International 4 tournament and Evolution Championship Series. You can see the audio is muted from the 30 minute mark to the 60 minute mark.
Meanwhile, Twitch announced it will change the way it manages VODs, removing the "save forever" option for past broadcasts. Highlights will be saved indefinitely, but will now be limited to two hours in length.
Explaining the decision in another blog post, Twitch said 80 per cent of its storage capacity is filled with past broadcasts that are never watched. "That's multiple petabytes for video that no one has ever viewed."
Twitch will begin removing past broadcasts in three weeks. "If you would like to keep your past broadcasts, we encourage you to begin exporting or making highlights of your best moments so that they're saved for posterity."
These changes come ahead of Google's rumoured $1bn purchase of Twitch, which has grown rapidly over the last couple of years.
If the deal is real, it would arguably give Google a monopoly over streaming video since it already acquired YouTube in 2006 for $1.65 billion. Apparently the Twitch purchase is being handled by Google's YouTube division.
Twitch was founded just over two years ago by co-founders of Justin.tv Justin Kan and Emmett Shear. In its first month it had 3.2 million monthly active users, while it now has over 50 million monthly active users with approximately 1.1 million members broadcasting videos each month. Thousands of people tune in to watch a huge range of games, but League of Legends, Dota 2 and Hearthstone are among the most popular.
According to networking equipment company Sandvine, Twitch accounted for 1.35 per cent of all internet traffic in March.