Transport Tycoon to be "revitalised" for iOS and Android this year
UPDATE: Confirmed as not free-to-play, first screenshots revealed.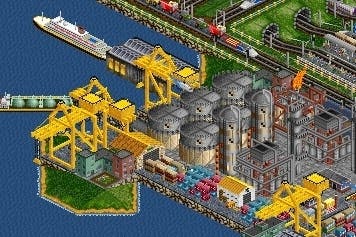 UPDATE #2: More good news about Transport Tycoon - creator Chris Sawyer has confirmed that the game will not be turned into a free-to-play experience.
Speaking with Gamasutra, Sawyer said he didn't like the business model of micro-transactions.
"It's a paid title," Sawyer explained. "The game doesn't suit the free-to-play revenue model, and I'm also not a great fan of the way free-to-play titles try to make money through in-game purchases or advertising."
Sawyer originally intended to focus entirely on the business side of development, but gradually found himself being drawn back into it.
"As time went on I got drawn into working quite closely with the development team, overseeing the design and helping with debugging, and generally trying to help get what is a massively complex game working on mobile platforms.
"The game is completely re-written (a consequence of the original games being written in 8086 Assembler, which can't be recompiled for other platforms)," he added, "but the game design is very much based on my older games with updated interface and controls to suit mobile platforms."
UPDATE: The first screenshots for Chris Sawyer's iOS Transport Tycoon remake have been revealed, and thankfully the game looks largely unchanged.
We're told that the screens are taken directly from the game - albeit with the various overlays hidden so you can get a better look at the environments themselves.
"Chris Sawyer and the team at Origin8 have elected to stick with a graphical style that harks back to the original games, but also looks glorious, detailed and intricate on modern screens - particularly on retina iPads," said publisher AppyNation. "We're confident that this will show fans that the team is taking the game incredibly seriously, and making every decision based on how best to bring this classic back into our lives."
See the gallery of screenshots below:
ORIGINAL STORY: Classic management sim Transport Tycoon has been given a fresh MOT for release on iOS and Android devices this year.
The new version is set to debut in "late 2013".
Transport Tycoon creator Chris Sawyer is back overseeing the project, which will "revise" the classic for launch on touchscreen devices.
There's no information so far on whether the game will be a regular paid launch or free-to-play.
Transport Tycoon was highly praised on its original 1994 PC release, and Sawyer went on to create the just-as-excellent Rollercoaster Tycoon shortly after.
A trailer and reveal website are due to go live on TransportTycoon.com later today - we'll keep an eye out for any new information.