Trailblazers' latest video offers a closer look at its paint-smearing co-op racing
UPDATE: Out on PS4, Xbox One, PC next week, Switch version coming in June.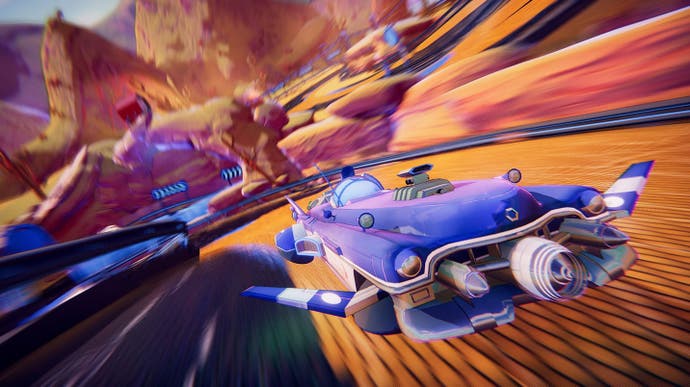 UPDATE 1/5/18: Developer Supergonk has announced that its paint-smearing, co-op-focussed arcade racer Trailblazers will launch on PC, PlayStation 4, and Xbox One next week, with a Switch version now slated for June.
The latter bit of news is something of a surprise, given that Supergonk and publisher Rising Star had previously stated that Trailblazers would be coming to "all major gaming platforms" this month - but at least the Switch edition isn't lagging too far behind.
If it's firm dates you're after, Trailblazers will release on PlayStation 4 and PC next Tuesday, May 8th, while the Xbox One version arrives a day later on May 9th. As previously confirmed, cross-platform multiplayer is supported between PC and PS4, and PC and Xbox One. Once the Switch version launches, it'll be compatible online with PC and Xbox One.
---
ORIGINAL STORY 27/4/18: Developer Supergonk has released a new video for its intriguing arcade racer Trailblazers in the run-up to release on PC and consoles next month, offering a closer look at the vaguely Splatoon-like paint-spreading mechanic that drives its co-operative 3v3 core.
When Supergonk unveiled Trailblazers, it gave a cursory introduction to the game's unusual co-operative rhythms: essentially, one team member paints the track as they race along, and the others get a speed boost if they stick to that new racing line. Simple enough, but not immediately easy to visualise - especially given the frenetic pace of Trailblazers' debut trailer.
Supergonk's latest video, above, dials back the pace to offer a clearer look at Trailblazers' paint-spreading action, highlighting some of the strategies you might choose to deploy with your team as the arcade racing unfolds - ranging from slingshotting to the front when the leader runs out of paint, to deliberately sabotaging your opponents' racing line to slow them down.
Supergonk adds a few mechanical wrinkles on the Trailblazers website too. The longer you're able to continuously drive on your team colour, for instance, the higher your boost will level, increasing its top speed. Additionally, every driver on Trailblazers' roster has different abilities, with some favouring painting, and others favouring boosting. A key to victory, says Supergonk, is to ensure a team picks complementary racer stats.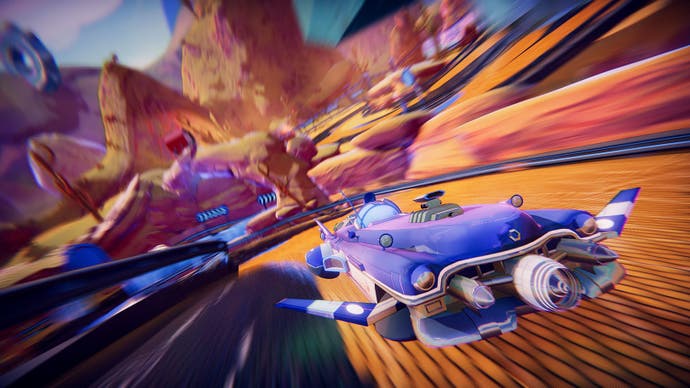 Trailblazers features local and online multiplayer, both with full split-screen support. Online multiplayer also promises cross-platform play, either between PC and PS4, or PC and Switch and Xbox One. Additionally, there's a single-player story campaign set across a number of unique chapters, each featuring "a distinct series of asymmetrical objectives to complete".
Trailblazers is being published by Rising Star Games, and is due to release on Switch, PlayStation 4, Xbox One, and PC on May 8th.