Toy Soldiers: Cold War
Commie get some.
The tightrope between the hands-on shooting action and the more traditional strategic requirements of tower defence is one that the first game also wobbled along, but it sometimes feels that the gung-ho nature of the 1980s setting has tipped the balance too far. Even in the last game, the AI of your turrets felt nerfed, prompting you to take the trigger yourself, but here it gets a little ridiculous as the single-player campaign escalates. Turrets will wait until enemies are virtually on top of them before opening fire, and will often miss vital shots.
It's less an option to take direct control than a constant necessity. Blasting away yourself is never less than fun, but it does make the later stages more like frantic busywork. It's most reminiscent of the curious RTS elements in Brutal Legend, where you can't help but admire the effort while cursing the frantic clumsiness.
Behind the giddy thrill of the presentation and the visceral pleasures of sending plastic soldiers spiralling to their doom with a well-placed shell, there's the lingering sense that Toy Soldiers favours micro-management over actual strategy and as such isn't a particularly great tower defence game. That it masks its shortcomings in such entertaining style is testament to its shameless milking of nostalgic cliché and commitment to offering new stuff.
Cold War offers a slew of enjoyable new features. Cold War opens up two new ways to play as you beat each map: Elite tips things to the action side of the equation with truculent turrets that won't fire automatically, while General mode goes the other way, forbidding any direct intervention.
General is pure tower defence, in other words, and the fact that it often feels unbalanced and frustrating reveals the weakness in the game's design. Nowhere is this awkward alliance between the game's two pillars more evident than the last campaign mission, which sets you against an enormous boss that is virtually impossible to defeat without hopping from jet to chopper to tank and chipping away at its health in a pure shoot-'em-up fashion. Beating the level feels more like an aggravating obligation than a fist-pumping finale.
But wherever Cold War disappoints, it earns your affection back with its exuberant personality and generous nature. There are multiplayer modes wherever you look. All 11 of the campaign maps are playable in two-player co-op, both online and in local split-screen. The same is true of the new Survival mode, which boasts only three maps but is a decent enough diversion.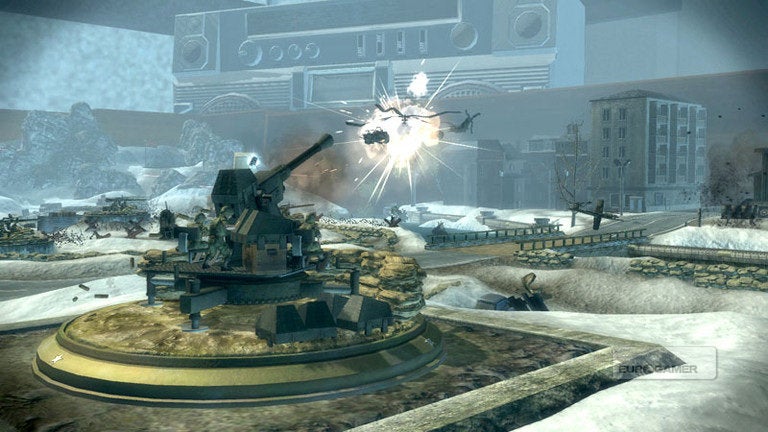 There's a straight Versus mode, of course, which can also be played online or off. With the option to send your own attack waves, as well as use of the Commando units to capture contested build spots, it's a more tactical game and it's a shame that this, too, has only three maps. There are also mini-games, six in all, spun off from the main gameplay: shooting galleries and such. They're amusing but fall short is in their rigid construction and tight time limits.
It's this slightly wonky give-and-take that counts against Cold War in the long term. Each element appears thin in isolation. The single-player campaign can be cleared in an afternoon, while you'll exhaust the Survival, Versus and Minigame modes in a few days at most. There's not much to cling to. Add it all together and you get a package that looks substantial, but runs dry all too quickly.
In terms of quantity, Toy Soliders: Cold War is a definite improvement over its predecessor, and simply a more entertaining game in its tone and style. But it does feel as if, in trying to offer so many game modes, the developer has overstretched itself and sold the fundamentals a little short.
Stuck awkwardly between action game and top-down strategy, Cold War is an affectionate and exhilarating blast in the short term - but much like the cheap action figures it pay loving homage to, it can't survive more than a few days of intense play.
Will you support Eurogamer?
We want to make Eurogamer better, and that means better for our readers - not for algorithms. You can help! Become a supporter of Eurogamer and you can view the site completely ad-free, as well as gaining exclusive access to articles, podcasts and conversations that will bring you closer to the team, the stories, and the games we all love. Subscriptions start at £3.99 / $4.99 per month.