Total War: Shogun 2 Gold Edition sets sail for Europe in March
Features both expansions, retail only.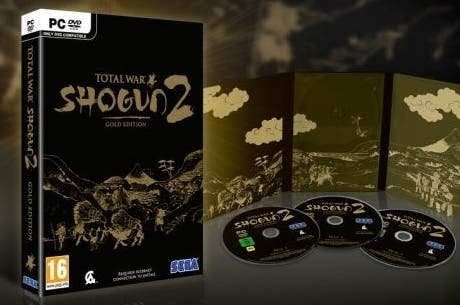 Award-winning PC strategy game Total War: Shogun 2 is being repackaged as a Gold Edition that will include its Rise of The Samurai and Fall of The Samurai expansions along with all the DLC for the series - excluding the Blood Pack, Sega has announced.
Due on 8th March in Europe and Austrailia (and 5th March in North America), The Shogun 2 Gold Edition and its nifty Wajima-nuri inspired packaging will be exclusive to retail - i.e. not distributed digitally, Sega told us. No price has yet been announced.
"Those after a sumptuous, weekend-whittling strategy epic heaving with flavour and challenge can reach for their uchi-bukuro with confidence," wrote Tim Stone in our 9/10 Total War: Shogun 2 review. "This is a corker."
Our Paul Dean felt favourably towards its Rise of the Samurai expansion as well, which he called "a fine choice as either a standalone expansion or a welcome addition to Shogun 2" in his 8/10 review.