Tiger Woods PGA Tour 10
Weak tee.
It's inevitable that the annual updates for the leading EA Sports titles fall into a cyclical rhythm. New features are introduced and refined, and then age, and we all grumble about how the games haven't changed until new features are finally introduced and the whole giddy roundabout starts up again. After two years of impressive entries, which saw the addition of fairly revolutionary changes to the golf game formula, the latest Tiger Woods effort finds the series most definitely on the downswing of this cycle.
A good indication of this stagnating design is the introductory video which, as last year, welcomes you back into the world of PGA with an overview of what new elements have been added this time around. With bold, genre-changing features like Photo Game Face, GamerNet, and simultaneous online play all now firmly established as the core of the game, there's just not very much on offer here that will leave fans eager to part with their cash.
For golf aficionados, the big news is that the US Open is now part of the career, along with the USGA Championship and, therefore, the official USGA rulebook. There are six new courses: Bethpage Black, Hazeltine, Oakmont, Pinehurst, Torrey Pines and Turnberry. Two new pro golfers have also joined the roster - Anthony Kim and Rocco Mediate - the latter of which I'm fairly certain was actually created by a spam email generator.
But what of gameplay changes? Well, those are thinner on the ground. The biggest change to the controls is the addition of analogue putting, a long overdue feature which makes the most frustrating part of the game feel more tangible. You can also opt to explore each course in practice mode, taking shots from wherever you fancy. This option has wisely been linked directly to the Club Tuner, so you can tweak your tools based on specific course conditions for each tournament.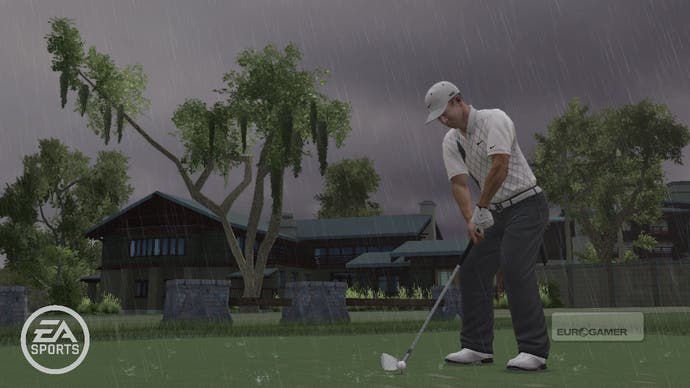 The game makes a lot of noise about rain, with The Weather Channel now feeding live meteorological data via the EA servers, so that conditions can match the actual course in real time. Given that the game only has four weather settings - sunny, cloudy, light rain and steady rain - it's not exactly a subtle tool. Rain slows the fairway, but most players won't even notice the difference this makes to the game.
Those rigid crowd mannequins have been overhauled as well, although as with the weather the result is only noticeable if you know to look for it. They're more detailed, more animated and - from what I could tell - their responses to your game are more vocal. Cheers when you land on the green turn to groans if the ball rolls off, for example. As cute as this is, these are clearly cosmetic tweaks rather than anything of major importance.