The treats in store for Eurogamer supporters this month
And one for non-supporters too.
How are you all doing? I'm here to tell you about what's coming for supporters this month on Eurogamer. And quickly, if you didn't know, yes we have a Supporter Programme that we overhauled earlier this year. It's £3/$3/€3 a month and features ad-free viewing of Eurogamer plus the kinds of things you'll read about below.
In case you missed it, we launched the first proper episode of our behind the scenes podcast recently. It's called Inside Eurogamer and in the first episode, I hear from new editor-in-chief Tom Phillips about his vision for the site, as well as from reviews editor Chris Tapsell about our move to a five-star reviews score system. We also had time to answer some of your questions so do keep sending them in - we'll email you asking for them in the build up to the new episode next month.
We've been doing some giveaways, too, and I've got a new one that's 'coming soon', as the gaming world says - though I do actually mean soon. As in, next week, and I think you'll like this one a lot.
You might have seen a T-shirt giveaway recently, too, for new yearly supporters and some randomly selected existing supporters. A quick update on that: there's a shipping issue with the store that I'm waiting to be resolved so I've pressed pause on sending codes for now. Sorry about this, but know that I'm on it and I will get you a T-shirt as soon as I can.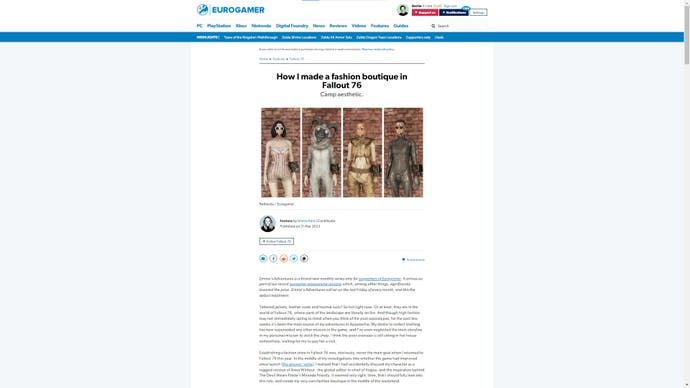 Columnist Emma Kent, meanwhile, has a brand new adventure for you this Friday [UPDATE: it's being moved to Sunday 28th so it can have some breathing space], and I think it's one of her best - the lengths she's gone to this time are extraordinary. It includes her practising in her back garden for a final, scored performance. How intriguing! I shall say no more.
To give everyone else a taste of her work, and maybe to create a bit of FOMO around it, I'm going to make Emma's first adventure column, the Fallout 76 fashion boutique one, available to everyone on Thursday [UPDATE: Also being moved to Sunday 28th]. I hope you enjoy it!
Weekly supporter series Five of the Best and Game of the Week have been rolling along. I've had some great discussions with you in Five of the Best about dungeons - how I'd not thought of that as a topic before I do not know - and about mini-games and songs . And in Game of the Week, Donlan has tried to capture the pleasures of starting out in Zelda, which I'm sure is familiar to a lot of you at the moment, and about legendary designer Tetsuya Mizuguchi's new game Humanity. It's been funny seeing Donlan write that he's "focusing on Humanity today" in our work chat. What a name for a game.
That's all I'm allowed to talk about for the moment but there are some exciting things for the Supporter Programme in the works. One of them involves an actual in-person event! Oops did I say that out loud? And there are plenty of other plans too.
I hope you've enjoyed this month in supporter-land and you enjoy the month to come. As always, I'll do my best to be in the comments below so if you have any questions, please ask them.