The Last of Us Part 2, Iron Man VR delayed "until further notice"
UPDATE: Digital copies now refunded.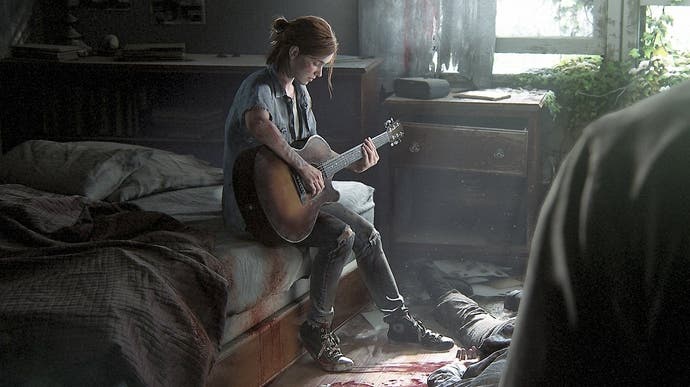 UPDATE 7/4/20: Digital pre-orders for both The Last of Us Part 2 and Iron Man VR are now being refunded, PlayStation has said via its support site.
Neither game was given a new release date after being indefinitely delayed last week.
---
ORIGINAL STORY 2/4/20: Sony says the release of The Last of Us Part 2 and Marvel's Iron Man VR will be delayed "until further notice" as a result of the ongoing coronavirus pandemic.
The news comes via a post to the official PlayStation Twitter feed, which explains the company has made the "difficult decision" to delay both PlayStation 4 titles as, "Logistically, the global crisis is preventing us from providing the launch experience our players deserve".
While Sony's rather cryptic use of the phrase "launch experience" doesn't exactly shed light on the specifics behind its decision to indefinitely delay The Last of Us Part 2 and Iron Man VR, Naughty Dog elaborated further in its own follow-up statement, reassuring fans that development on The Last of Us Part 2 is "nearly done" and that the studio is currently "in the midst of fixing our final bugs".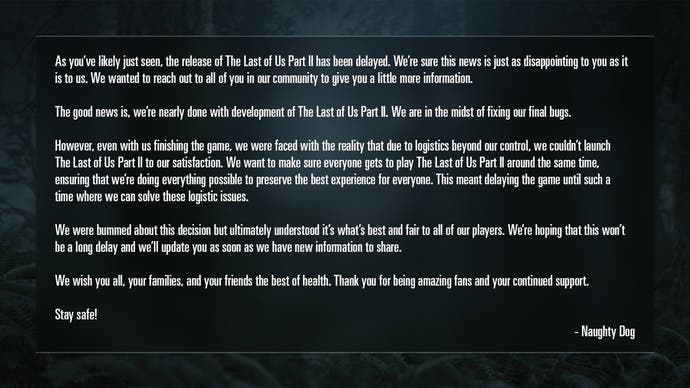 "However, even with us finishing the game," the company wrote, "we were faced with the reality that due to logistics beyond our control, we couldn't launch The Last of Us Part 2 to our satisfaction. We want to make sure everyone gets to play...around the same time, ensuring that we're doing everything possible to preserve the best experience for everyone. This meant delaying the game until such a time where we can solve these logistic issues."
"We were bummed about this decision but ultimately it's what's best and fair to all of our players," Naughty Dog continued, "We're hoping that this won't be a long delay and we'll update you as soon as we have new information to share".
This, of course, marks the second delay for Naughty Dog's highly anticipated post-apocalyptic sequel, which was originally due to launch on 21st February this year before seeing its release shunted back several months to 29th May for additional polishing.
Sony says there are currently "no other delays to report" as a result of the current coronavirus situation, but that it will provide further updates should things change.