Teaser images point to new Wolfenstein game by some of the people behind The Darkness and Chronicles of Riddick
UPDATE: Bethesda makes it official. Out later this year.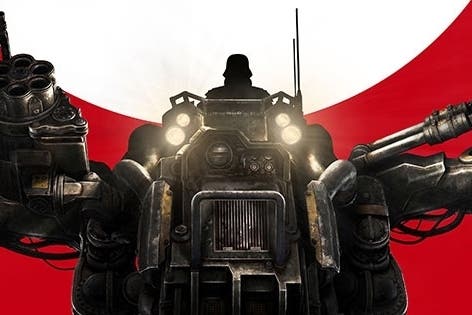 UPDATE: Bethesda has announced Wolfenstein: The New Order, a first-person shooter due out on PC, PlayStation 3, Xbox 360 and unspecified next-generation consoles at some point during Q4 2013.
On the subject of release platforms, Bethesda marketing chief Pete Hines took to Twitter to say: "We (intentionally) aren't being specific on what platforms 'next-gen' covers. Stay tuned." Could he mean a Wii U version is planned, or that the next-gen version is exclusive to the PlayStation 4 or next Xbox?
According to Gamespot, it's set in 1960 in a what if? scenario that sees the Nazis win World War 2. You play American war hero B.J. Blazkowicz and fight back.
As rumoured, Wolfenstein is being made by MachineGames, the ZeniMax-owned studio founded by former members of The Darkness and Chronicles of Riddick maker Starbreeze.
"We are excited to bring a new chapter of Wolfenstein to gamers everywhere," said Jens Matthies, creative director at MachineGames. "As fans of the series, working on this game is an honor, and our team is driven to create an unforgettable action-adventure experience that will make FPS fans proud."
The announcement trailer is below.
ORIGINAL STORY: Teaser images released by publisher Bethesda suggest a new Wolfenstein game will be announced imminently. The Bethesda Twitter account posted a collage of three images (above), then, later, a fuller picture alongside the hashtag 1960 (below). Speculation suggests the images relate to Bethesda's long-rumoured new Wolfenstein game, reportedly in development at Swedish studio Machine Games, which was founded by former members of The Darkness and The Chronicles of Riddick developer Starbreeze before being bought by Bethesda parent ZeniMax Media in 2010.
"This morning's tease is not related to anything @BGS_Devs is working on," another Bethesda tweet said, confirming Bethesda Game Studios, creator of the Elder Scrolls and Fallout games, has nothing to do with this latest reveal.
The Wolfenstein game, codenamed Project Tungsten, is rumoured to be built using id Software's idTech5 game engine.
We haven't seen a new Wolfenstein game since 2009's Activision-published PC, PlayStation 3 and Xbox 360 shooter co-developed by Raven Software, id Software and a raft of other studios.