Taiwanese horror Devotion finally gets re-release after being pulled from Steam last year
But only in Taiwan for now.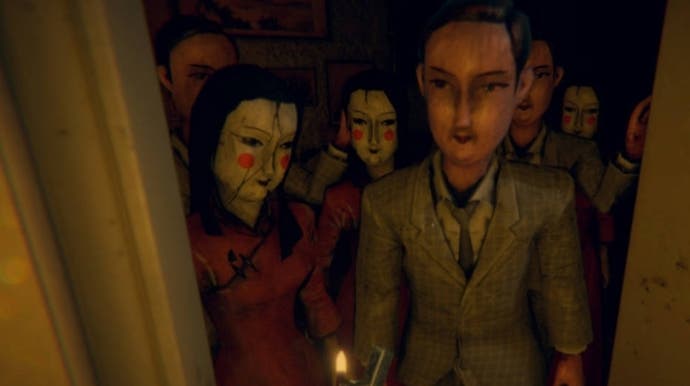 Acclaimed Taiwanese horror game Devotion, which was pulled from Steam shortly after its release last February following the discovery of a controversial art asset, has finally resurfaced and will be getting a physical release - albeit only in Taiwan for the time being.
Devotion is the work of developer Red Candle Games, previously responsible for acclaimed point-and-click horror Detention, and follows the plight of a troubled young family over seven years in a single, cramped apartment in 1980s Taiwan - a journey that builds outward from a core of PT-style first-person horror, melding shifting architecture and striking visual metaphor to create an experience that's ultimately as tender as it terrifying.
Unfortunately, shortly after release, an unflattering reference to China's president Xi Jinping was discovered in-game. The outcry among Chinese players was immediate, and the fallout saw Red Candle's account shut down on China's enormously popular social media platform Weibo, the cancelation of its publisher's business license by the Chinese government, and, finally, the game's removal from Steam, despite its strong critical reception.
As the months drew on, many were eager to know if Red Candle's situation had changed sufficiently to enable the acclaimed game to return to digital stores. The studio addressed these queries in a statement posted to Twitter last July (and in a slightly spoiler-heavy conversation with Eurogamer last year), in which it once again offered its "most sincere apology to all impacted team and personnel" as a result of the "art asset incident".
While the developer acknowledged a turning tide of sentiment, saying "many players, industry friends, and the media are starting to understand that the incident was indeed a malfunction of project management, not a deliberate act", it confirmed it had "reached a unanimous decision to not re-release Devotion in the near term". The decision might be reversed, however, it continued, "if, in the future, the public would be willing to view this game rationally and allow us the opportunity to rebuild our trust with our players".
Almost one year on, it seems Red Candle is now willing and able to at least begin the process of re-releasing Devotion, and has announced two gorgeous physical editions of the game - exclusive to Taiwan for the time being - both available for pre-order unti 15th June.
In a new statement posted to (and translated by) Facebook accompanying today's release news, the studio wrote, "Although we took the initiative to stop all business actions after the controversial incident, we still receive concern and inquiries from players from all over the world. All members of Red Candle are truly grateful for this."
"Throughout the year since the shelf," it continued, "we've been thinking about how to respond to all players who support Red Candle [and] the physical version is the latest small step for the team." And while it acknowledged that the limited Taiwan-only release "will definitely not satisfy all players" looking forward to Devotion's return to digital stores, it asked for "more trust and patience" from fans as it continues to "try various possibilities".