Super Street Fighter IV
Ten new challengers appear.
If you're more into Zangief and Rufus rather than Chun-Li and Cammy, then forget Juri as Turkish oil wrestler Hakan is your man. I actually had to check this out on Wikipedia as I genuinely thought it had been made up, but it turns out oil wrestling is actually Turkey's national sport. Go figure. This being Capcom, the entire concept has been taken to the extreme, and Hakan's moves are outlandish even by Street Fighter standards. As well as a goofy 360 command grab and a belly slide sweep - appropriately called the Oil Rocket and Oil Dive - Hakan's most useful special is his Oil Shower.
By dosing himself in olive oil Hakan's slide-and-grab reach will temporarily increase while he stays lubed up, and many of his moves focus on giving him the space to do this. The red giant also has the very useful ability of being able to slide towards his opponent while charging a focus attack, a skill possessed by no other character. But his craziest contributions to SSFIV are his Ultras, the first of which is his own greased-up take on the Final Atomic Buster and does a similar level of damage.
The second however, called the Oil Combination Hold, is the most effective anti-air in the game. If you jump on Hakan as he lies on his back then he's going to straddle you, oil you up and send you hurtling towards the arena wall for moderate damage. Only in Super Street Fighter IV.
So there you have it, a basic roundup of the eight most interesting fighters in SSFIV, which hopefully imparts a few bits and pieces that you didn't already know.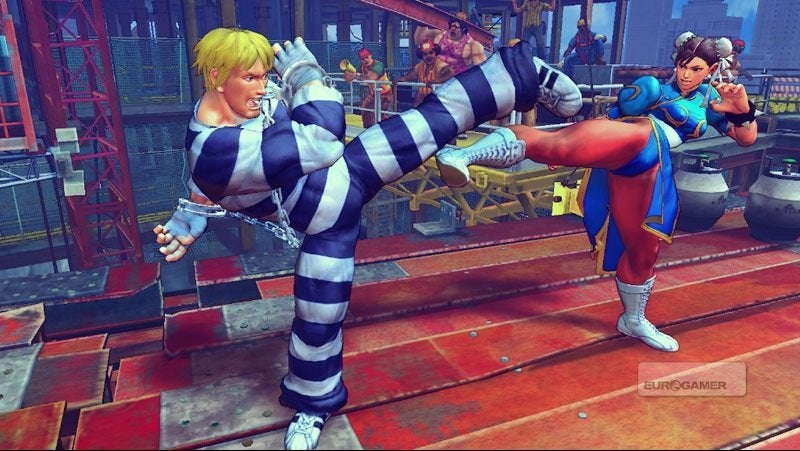 There's also Dee Jay and T. Hawk, who play more or less as expected, and as for the changes that have been made to the existing cast, there isn't room to go into that in any detail, but the tweaks are numerous. Examples include Ryu's Dragon Punch, which now hits twice at medium or above if you hit it deep, and Sagat's Tiger Uppercut which, along with him in general, has lost a lot of priority and damage. That said, he has a new Angry Charge move that allows him to power up the next hit at the cost of one Super stock.
Those who played SFIV to death are also going to find their tech and link timing needs readjusting, as the tempo for SSFIV has been turned up. The new dual-Ultra system ups the variety on offer by a considerable degree, and a lot of the returning characters are now more competitive thanks to their extra firepower.
Dhalsim, Balrog and E. Honda have command throws, Fei Long and Cammy have reversals, and Rufus supplements his insanely combo-able Space Opera Symphony with the new Big Bang Typhoon, which has little combo-ability but will catch you out if you so much as sneeze.
So on the whole SSFIV is shaping up to be every bit as impressive as its predecessor, offering fans more diversity and a tighter fighting experience. It will also be interesting to see if Capcom can improve the netcode to offer an online experience that is more on the level of BlazBlue, which still stands as the fighter benchmark.
Whatever the outcome, Capcom has already set the foundation for its greatest follow-up yet, and come 30th April it will be time to ditch the old main and hit the training mode with one of SSFIV's brilliant new characters. The only question is, who will you choose?
Super Street Fighter IV is due out for PS3 and Xbox 360 on 30th April.
Will you support Eurogamer?
We want to make Eurogamer better, and that means better for our readers - not for algorithms. You can help! Become a supporter of Eurogamer and you can view the site completely ad-free, as well as gaining exclusive access to articles, podcasts and conversations that will bring you closer to the team, the stories, and the games we all love. Subscriptions start at £3.99 / $4.99 per month.