Source 2 images show next-gen Left 4 Dead 2 prototype - report
Valve presentation leaks online.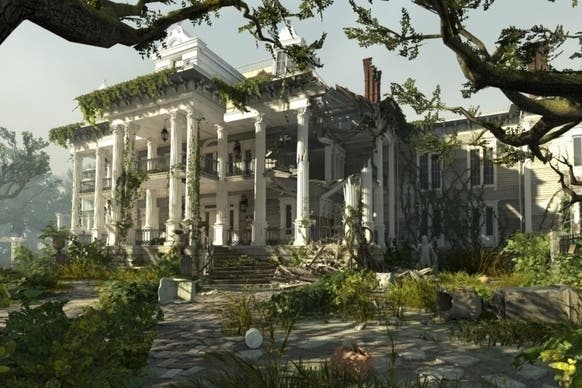 Valve's in-the-works Source 2 engine appears to have been unmasked by a set of images from a next-gen Left 4 Dead 2 prototype.
The screenshots, from a confidentential Powerpoint presentation posted by Valvetime.net, show off a remade version of the game's Plantation level. The remake includes a vastly improved level of detail, plus upgraded lighting and shadows.
There's no indication that this prototype version of the game will ever see light of day. According to presentation slides, Source 2 will include "simple, automatic compiling of content", a "powerful GUI front end for content authoring", "can be easily extended with custom and pre-game assets" and has a "browser for quickly finding, managing, editing assets".
Valve boss Gabe Newell confirmed Source 2 was in development back in November 2012, but said at the time that the company was "waiting for a game to roll it out with".
References to both Left 4 Dead 3 and Source 2 were then spotted last August during a tour of Valve's office by Dota 2 fans.
If Source 2 materialises this year it will be a round decade since Valve's original Source engine debuted with Counter-Strike: Source and Half-Life 2 in 2004.
Perhaps Source 3 will launch with Half-Life 3 in 2024?