Phoenix Wright: Ace Attorney Trials And Tribulations
Hold it! Love it.
Maya, have this dance
Where PW2 (and I know they have more proper titles than this, but mine are a lot easier to understand) put Maya slightly more into the background, and gave new assistant Pearl more attention, PW3 brings Maya right back to the fore, and, delightfully, gives her a much bigger role in the dialogue. When talking to the various characters, Maya will often take the lead, which of course only offers far more opportunities for her to be completely daft, and even better, mock Phoenix mercilessly. Pearls, as Phoenix calls her, is focusing on her studies back at the training camp, while Maya seems oddly uninterested in her spirit-channelling training.
Being as unspecific as possible in order to not give away the contents of any of the stories, you should know that this time out you'll get another chance to see Maggey Byrde, Adrian Andrews and of course Detective Dick Gumshoe. And there's a thief called Mask*DeMasque, a private eye called Luke Atmey (ouch), a mobster called Bruto Cadaverini, and a hugely built, fat-bellied, cross dressing chef. Seriously, is there anything else you want? A Phoenix Wright impostor, with similarly spikey hair? Sure, have one of them too.
The dialogue is consistently wonderful. Nearly every conversation is hilarious, or brilliantly written (but for one really disturbing moment where Phoenix's awful friend Larry Butz decides to flirt with 9-year-old Pearls. What on EARTH? Thankfully Phoenix is aghast too, but still a very strange decision). Also, in this Japanese version with an English option (the US and UK versions are due October 23rd) there are quite a few typos, and even one completely missing word. In what must be tens of thousands of words, it's very rare, and the Western releases should be completely tidied up. However, there are some of us who can't wait, and it's available in Japan now.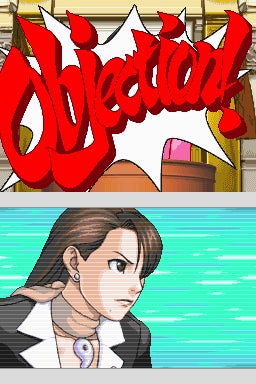 But once more, despite my adoring the dialogue, roaring with laughter at the characters, and enjoying the success of correctly presented evidence, it does once more limit itself to an 8. It's a 9-flavoured 8, but again the mechanics of the court sequences are often so stupidly frustrating that it would be wrong to mark any higher. The problem is that you can see where the situation's going, you know what the contradiction is, and you have the evidence to prove it. It's just, you're either doing it too soon, or you've thought of something perfectly legitimate that the designers missed. And the game punishes you for it. Without the penalty system, where your green bar of tolerance from the judge goes down with wrong objections, the game would be far more entertaining, and would save you the need to save (and thus quit out) and reload again before every interrogation, just in case it robs you of lifelines you completely deserved to keep. In fact, with the Psyche Locks - the protection people put on their secrets in the out-of-court sections of the game - there's a system where successfully cracking someone refills the bar. Why isn't this the case in court? Dude! The fools.
Pearl's of wisdom
Knowing where things are going reminds me of something important. Perhaps an issue with the first two games was being stuck in court situations where you'd completely fathomed who the murderer was, but the game was holding you back from presenting the evidence, leaving you frustrated that your character was missing the obvious. Not this time. This time the game seems remarkably aware of what you've already realised, and plays with this. In one chapter I worked out the twist pretty early on, and was disappointed that it was going to be a long slog before Phoenix and Maya did. But not so! Knowing I was thinking this, it manipulated the twists beautifully, surprising me completely legitimately, and living up to the "turnabout" that appears in every chapter title. And this occurs throughout, with the story respecting your intelligence, and causing you to have to second-guess yourself throughout.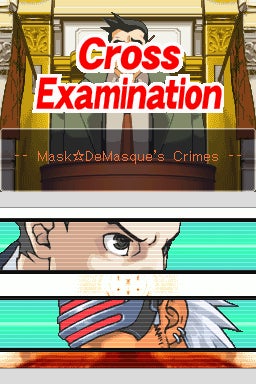 This is a game that has people that say things like, "I atta beat you so hard, it'll feel like youse were smoochin' the express train!" It's a game where people have prescriptions from the otolaryngological clinic. Where characters go to Ivy University, and have names like Doug Swallow. It's also one of very few games to have used the word "sagacity" in its script. And to feature a head nun called Bikini. Or a magazine special described as "The New Year's issue of "Oh! Cult!", Winter Spiritual Locations Special!"
The platonic love between Maya and "Nick" (as she nicknames him) is joyful. Pearls' consistent belief that they are madly in love is funnier than ever, and never more-so than when she believes "Mr Nick" is cheating on her by flirting with other women. It pops and zaps and kerblams and slams throughout, the text appearing with wonderful timing, the sound effects, although simple, always hilarious, and the theme music (thankfully) much improved, with a madcap tune for one location (a restaurant called Très Bien) that I'm desperate to have as my ringtone.
It's agony not to just enthusiastically tell you about the scenarios, the cases themselves, but I hate reviewers that get to experience something completely freshly for themselves, and then rob that opportunity from all who read the review. So believe me, if I told you you'd want to play, and then be cross I told you. So just skip to the wanting to play.
Become a Eurogamer subscriber and get your first month for £1
Get your first month for £1 (normally £3.99) when you buy a Standard Eurogamer subscription. Enjoy ad-free browsing, merch discounts, our monthly letter from the editor, and show your support with a supporter-exclusive comment flair!