Ouya publishes bizarre vomit-fuelled YouTube advert
UPDATE: Ouya confirms it made the ad to "get feedback from our community."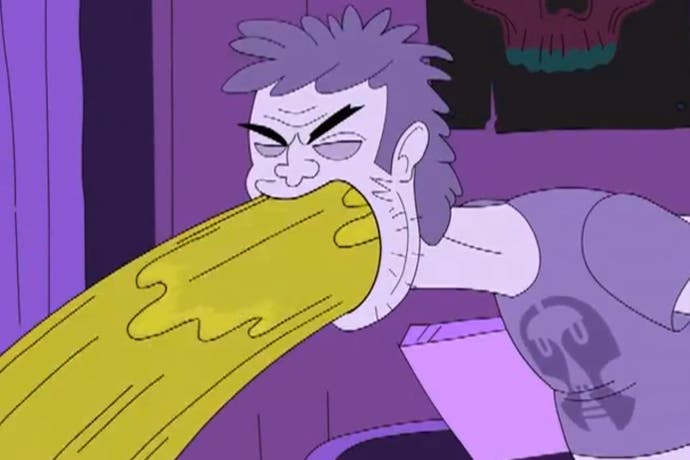 UPDATE: Ouya has confirmed that this ad was in fact put out by the console manufacturer, but it was only meant to "get feedback" from users rather than stay a permanent installation.
The company explained this in a statement to Eurogamer, where it added: "We are experimenting with animated content and posted this video briefly to get feedback from our community. Stay tuned for our official video!"
Original Story: Android gaming console Ouya has been promoted in a bizarre and bloody new advert posted to the company's official YouTube channel last night.
The outlandish commercial included vomiting and a fair bit of violence, and evoked a confused reaction from initial YouTube viewers.
It was pulled shortly afterwards.
The 30-second animation depicts a male gamer sitting in his pants holding a copy of "Medal of Duty 12". Angry at the fact he has bought "exactly the same game" again he begins vomiting.
Cut to a few hours later, his living room awash with sick. Now angry at the fact it cost $60, the animated gamer proceeds to pull out his own spine via his mouth and beat himself with it.
The advert was archived by NeoGAF user Wario64 and is available to watch below (thanks, AGB).
The possibility remains that Ouya's channel was somehow hacked and this was uploaded by another party, but judging by the overall animation quality it seems unlikely. We've asked Ouya for comment on the matter.