New Sekiro gameplay shows off stunning Corrupted Monk boss fight
Death.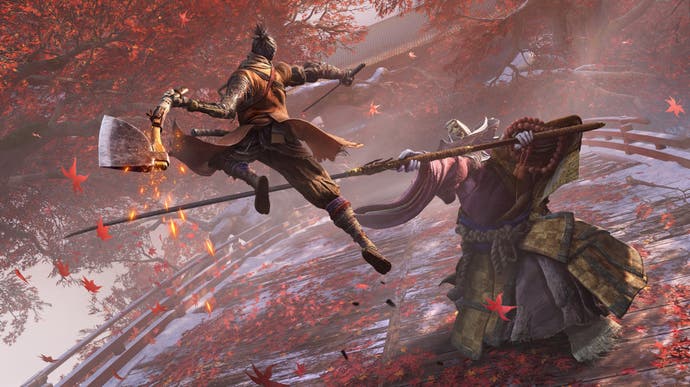 Sony has published gameplay of Sekiro: Shadows Die Twice, showing off a new area and a stunning boss fight.
The video begins in the snowy, enemy-littered area we've seen before and shows how you're able to take on different enemies and a mid boss using various weapons and tactics.
Things get really interesting when the player works their their way across a mountain pass while avoiding the attention of a giant, monstrous snake.
Then, through a secret door, the player emerges into a beautiful, autumnal garden area with red brown leaves and sunshine bleeding through tree branches. On a leaf-littered bridge the player encounters the Corrupted Monk, a complex, rock hard boss fight that involves employing a raft of tactics, such as forward parrying, dodging and quick-fire strikes.
The towering Corrupted Monk looks the business, with free-flowing clothes, wonderful animations and a varied moveset. At one point, she transforms into a shadow entity that appears from some random location, the player unable to lock-on or predict the source of attacks. It's quite the aesthetic! The player can escape up into the trees - but it's no safe area.
Sekiro: Shadows Die Twice is developed by From Software, the creator of Bloodborne and Dark Souls. It's due out 22nd March 2019.