New Baldur's Gate expansion Siege of Dragonspear off to a rough start
Criticisms of bugs and a political agenda plague product reviews.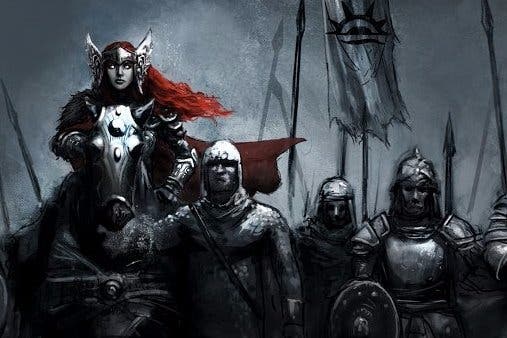 It's been a rough start for new Baldur's Gate expansion Siege of Dragonspear - yes you read that correctly, a very old game has a new expansion (it was released 31st March).
The £15 game, which requires the Enhanced Edition of Baldur's Gate (significantly reduced in price on GOG) to run, is getting a stream of negative reviews on shops Steam and GOG.
A lot - probably the majority - of the negative reviews mention problems with bugs that result in game crashes and mods not working. And multiplayer apparently barely works at all.
There's more controversy, however, about the game's writing which, for some people, isn't up to the standard of the original Baldur's Gate games, and for other people, pushes a political agenda.
There are two particular examples of political agenda that people are discussing, although they may not be the only examples in the game. One example is the character Minsc making a quip about ethics, saying, "Really, it's about ethics in heroic adventuring." The other example is a shopkeeper who is transgender and readily reveals that to you.
She, the cleric Mizhena, says: "When I was born, my parents thought me a boy and raised me as such. In time, we all came to understand I was truly a woman. I created my new name from syllables of different languages. All have special meaning to me; it is the truest reflection of who I am."
The flurry of negative Dragonspear reviews on Steam and GOG related to political agendas tend to also cite a recent Kotaku article in which the game's writer, Amber Scott, referred to the "sexism" of the original Baldur's Gate games and then in brackets was quoted as saying "we tried to fix that".
She said: "In the original there's a lot of jokes at women's expense. Or if not a lot, there's a couple, like Safana was just a sex object in BG1, and Jaheira was the nagging wife and that was played for comedy. We were able to say, 'No, that's not really the kind of story we want to make.' In Siege of Dragonspear, Safana gets her own little storyline, she got a way better personality upgrade. If people don't like that, then too bad."
Scott's words are cited as evidence of the game having a political agenda.
In response to the negative Dragonspear reviews, the game's leader Trent Oster posted on the Beamdog (developer) forum asking the community for help. He asked people playing the game and "having a good time" to "please consider" posting a positive review "to balance out the loud minority which is currently painting a dark picture for new players".
His post sparked a few concerns, the main one being that a string of positive reviews could cover up the many reviews criticising bugs - ie. the negative reviews that don't mention political agendas - and that wouldn't look good.
Oster followed up his forum post with a statement on TechRaptor.
"I find the controversy ridiculous," he wrote. "Yes, we have a transgendered character. I know a number of transgendered people and they are genuine, wonderful humans. Yes, we also have a character who cracks a joke about ethics. The original Baldur's Gate had a whole sequence about the Bob Newhart show. If this generates controversy it makes a sad statement about the world we live in.
"As for my post on the forums, I merely asked people who were enjoying the game to share their positive feedback. I know our fans can become engrossed in their enjoyment and I really don't want potential fans to miss out on the series because of protest reviews by small-minded individuals."
Eurogamer has no review of Dragonspear in the works, so I can't comment directly on the expansion's quality nor its problems. But it's worth pointing out there are plenty of people writing about having a great time with the expansion. Nevertheless, it may be prudent to wait for patches addressing the many bugs reportedly in the game before you buy it.
Beamdog has previously developed Enhanced Editions of Baldur's Gate 1 and 2 as well as for Icewind Dale. The company recently hired long-time lead BioWare writer David Gaider, the suggestion being - and this is a recurring theme with Beamdog - that it wants to make Baldur's Gate 3. Whether that will ever happen I don't know, but I expect Dragonspear's performance will have a lot to do with it.