Multiplayer run n' gun platformer Ravensdale comes to Kickstarter
From the creators of Giana Sisters: Twisted Dreams.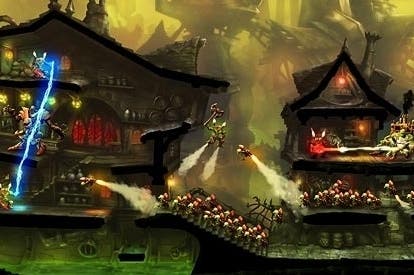 Last month Giana Sisters: Twisted Dreams developer Black Forest Games announced its intentions to Kickstart its next project, a 1-4 player side-scrolling platformer/shooter called Ravensdale, and now it's launched said crowdfunding campaign.
And why wouldn't it? Giana Sisters: Twisted Dreams was born of Kickstarter before it launched last autumn to critical success.
This cartoonishly metal "garage fantasy" epic is set in a medieval oil rig that looks something like a bio-mechanical riff of World of Warcraft with plenty of rustic orcs, goblins and knights - only now they're called "Furnace Orks," "Nitro Goblins" and "Piston Knights," because everything in this world runs off oil. Plus it just sounds cooler that way.
While there will be a single-player mode, Ravensdale's emphasis is on co-op and teamwork where players will have to work together to ward off waves of bloodthirsty foes. Positioning will be important and you'll have a device called the Arc Connector that can be used to launch yourself from another player's position like a slingshot, create a shield, dangle from ledges, or alter the trajectory of your jumps and dashes.
Ravensdale will launch on PC around May 2014. Early backers who pledge $15 will receive the game when it's ready at a reduced price, $35 comes with the digital soundtrack by medieval metal band In Extremo, and $50 comes with all of the above and early access to the closed beta.
While Ravensdale has only been announced for PC, Black Forest noted "as the campaign progresses, we may have a clearer picture of what else we can do," so with any luck it will come to consoles as Giana Sisters: Twisted Dreams did before.
Having just launched three days ago, Ravensdale's Kickstarter is at $26,007 towards its $500K goal.