Soft Body resembles Sound Shapes, only you control two snakes at once
Minimalist musical bullet hell heading to PS4, Vita and PC.
Soft Body is not as sexy as it sounds, but it may be no less alluring. A minimalist merge between a bullet hell shmup and a puzzler, Soft Body looks a little like an abstract, action-focused successor to Sound Shapes.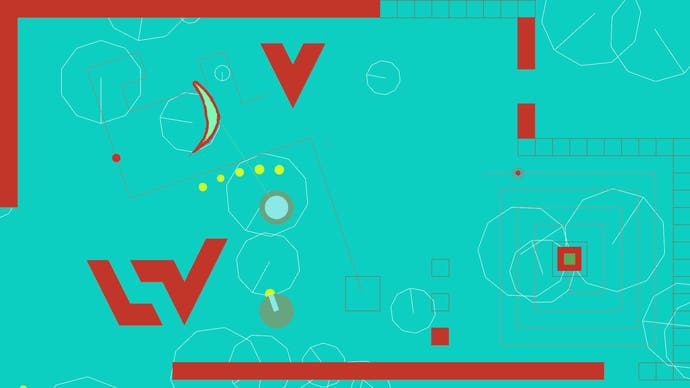 The premise puts players in control of two snakes - the titular Soft Body and its doppleganger, the Ghost Body - as each tries to paint the world by brushing alongside various blocks.
The catch is that players can control both snakes at once, each with a different analogue stick (ala Brothers: A Tale of Two Sons).
They won't have to though, if they don't want to. Developer Zeke Virant noted on the PlayStation Blog that there will be a more relaxing option called Soft Mode. In here, both bodies will remain attached, though players will be able to separate them at will should they wish to practice the dual-control mechanic.
"I wanted to create a game that offered a smooth difficulty curve and levels that flowed into each other visually and aurally," Virant explained. "I understood that learning to control two characters at the same time is a complicated affair, and so I designed a mode that could facilitate people gradually learning the game's mechanics and rules."
In Hard Mode, however, you must control both bodies simultaneously. This seems to be where the meat and potatoes of the experience lies.
"I wanted to take full advantage of the game's unique, brain-splitting mechanics," Virant said. "I wanted to make something that could push people to master the challenge of controlling two things at the same time - something stoically difficult, unforgiving, but fair and rewarding. Hard Mode gives you control of both bodies at the same time, all the time. If either body is popped by an enemy or a projectile, it's game over, and you restart from the beginning of the level."
The developer noted in a comment that there will be a co-op mode, but it won't be as simple as each player controlling the different snakes. More details will be revealed about that later.
When likened to the works of Jonathan Mak (Everyday Shooter, Sound Shapes), Virant explained, "Although I am a fan of Jon Mak's work, I think that Soft Body's moment-to-moment action is more akin to earlier shmups like Striker's 1945 II or DoDonPachi (the former far more than the latter) than Everyday Shooter. For one, Soft Body's movement is much quicker."
Soft Body is due this summer on PC, PS4 and Vita, where it will offer Cross-Buy support.