Local co-op and leagues are coming to Alienation via a free update in July
Along with new difficulty levels and other bits and bobs.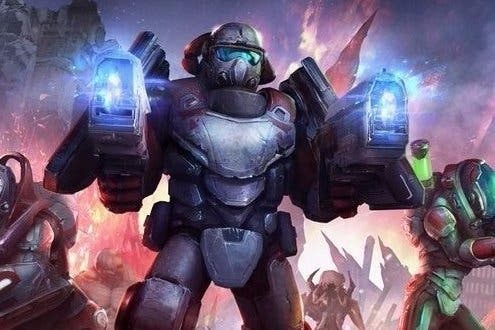 There is a rainbow in my heart, as Chang once said (in The Blue Lotus?). The good news is that Housemarque is adding a load of new stuff to Alienation for free this July. The bad news is that this probably means that some people at Housemarque are working on Alienation when they should be prepping the Eugene Jarvis Project for release ASAP. Swings and roundabouts. (Also a Chang quote.)
Writing in a post over on the Playstation Blog, Housemarque's Tommaso de Benetti broke down the update that arrives on the 5th of July. First off, there's couch co-op for up to four players, all of whom will now have to fight over loot crates. Then there are leagues, five whole ranks of them, with cycles lasting a week. They'll allow you to unlock new bullet colours.
On top of that come two new difficulty levels, Expert and Master, and a rejigged Arkship with new rooms and better loot. Finally, there are new hero levels and Trophies, and a bit of tinkering with legendary weapons and loot drop rates.
That's the free stuff. At the same time, Housemarque's also adding a Season Pass and a Survivor's Pack, which includes a Vortex Grenade that goes off like a mini black hole. The Survivor's Pacl will cost €2.99, apparently (I'll hunt down the UK price in a minute, which will be fun as I have a new keyboard that doesn't have any currency symbols on it at all) and comes as part of the Season Pass, which will cost €7.99. Alienation is good, BTW.