Life is Strange official comic continues one of the game's endings
Sitting on the dock of the bae.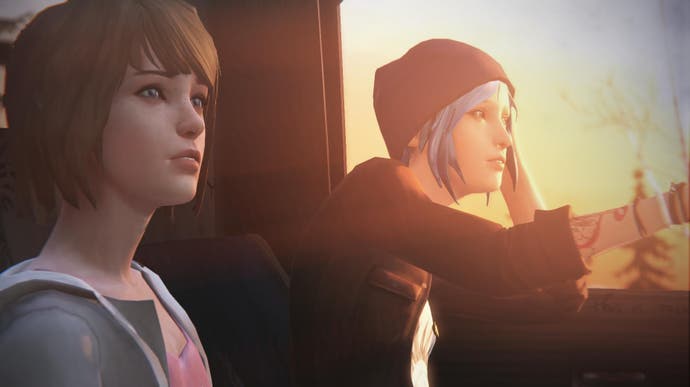 Ever since the original Life is Strange concluded with that choice, fans have debated which of the game's two endings was canon. Now, Life is Strange's upcoming comic series will explore what happened next after one ending in particular.
(If for some reason you're reading this and haven't finished Life is Strange - full spoilers follow.)
Did you choose bae or bay? The game's final decision saw you either save or (incorrectly) sacrifice your best friend/girlfriend Chloe at the expense of your town, Arcadia Bay. Life is Strange developer Dontnod has been careful not to confirm either ending as canon, and its upcoming sequel series is believed to be entirely unrelated.
But the franchise's official comic book series, first announced last month, has seemingly picked the "bae" ending. Its story will act as a direct continuation, once again starring main character Max and a very much alive Chloe.
The comic's Amazon product description now details the continuation thus:
"A thrilling, time-twisting game-changer; an unexpected, emotional rollercoaster ride! A brand new comics story in the beloved Life Is Strange universe - following Max and Chloe into a bold potential future! In the video game Life Is Strange, aspiring photographer Max Caulfield returned to her hometown of Arcadia Bay in order to attend the prestigious Blackwell Academy.
"There, in response to a shocking and violent event, Max developed superhuman time travelling powers. Powers that brought her back into contact with her former best friend, Chloe Price. Powers that thrust her into conflict with all manner of threats - personal, parental, and supernatural. Powers that led to a final, fatal decision with epic consequences - an impossible hurricane that swept into the Bay, as Max's temporal tinkering with cause and effect bore deadly fruit!
"Following on from one of two possible endings of the game, Life Is Strange: Dust takes the saga of Max and Chloe into a new and uncertain future, in an all-new comic strip adventure. No matter which ending you chose, this deep dive into Max and Chloe's potential future will thrill, shock, and surprise you all over again. You thought Max and Chloe's story was over? Their trials are only beginning! And in the end, dust will be all that remains..."
Fans have debated - a lot - which of Life is Strange's two endings was the better option. On the one hand, you're potentially saving a town full of people at the expense of one person. On the other, Max had already sacrificed much to keep Chloe alive throughout the series, the relationship between the two characters was the game's linchpin, and many fans felt like Max and Chloe deserved to end up together. There was also the uncomfortable trope of a gay character being killed off to create drama.
Regardless, fans agreed that the ending where Chloe lives is the least rewarding to watch within the game itself. Pick that option and you get a brief scene where Max and Chloe leave a destroyed Arcadia Bay, with little time to assess the consequences of the decision or find out if anyone else survived. Pick the option where Chloe dies and you get a full funeral scene - and an admission of love between the pair.
This comic will finally act as the epilogue fans of the Bae ending have been waiting for, then - although it sounds like there's still trouble ahead.