Kinect Sports
Sporting gesture.
Outside of the game, menu navigation via Kinect can become a right pain. Rare's solution is, unsurprisingly, the same as Microsoft's for the dashboard: guiding a hand icon to the relevant part of the screen and holding it for a set period to confirm selection.
It's novel for a short while, but over time you'll get frustrated at how long it takes and yearn for the clinical efficiency of a controller – which is surely the exact opposite of what Microsoft would want.
Change your mind about an event at the last moment and you'll need to wave your arm at the top-left corner and keep it there while it slowly flips back through multiple screens. After a long session, when your limbs are knackered, it's an unnecessary chore.
It's important to stress that this is mainly a design problem rather than a technical one. By far the neatest navigation method I've tried so far is the one Harmonix has developed for Dance Central - horizontal gestures that are a pleasure to use and feel a hell of a lot more satisfyingly sci-fi and cool as a result.
Is your home Kinect-ready? Microsoft recommends six feet of space in front of the telly for single-player games and eight feet for two players. In our initial sample of two gaming spaces - Ellie's living room and my studio flat - solo play was problem-free (after the inevitable furniture shifting), but there were issues when a second player joined.
This was most evident in football. In split-screen multiplayer, in both locations, responsiveness took a noticeable hit – mainly through kicks not always registering. With two players practically on top of each other both kicking for the ball, the camera may well be struggling to track which bit is going where.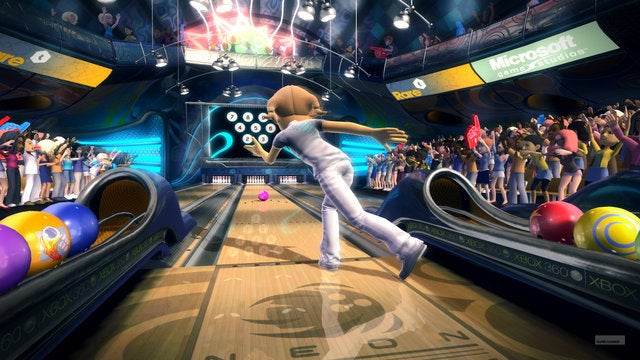 Despite the odd moments of confusion, though, whether playing co-op against the computer or head-to-head, it strikes the right note of engagingly silly party competition.
Both Kinect Sports and Sony's Sports Champions are transparent attempts to deliver a Wii Sports experience to their respective platforms. Both have seized upon and advanced the gameplay formula according to their strengths; but only Rare has understood the presentational lesson in Nintendo's success.
Enjoyment of Sports Champions is always in spite of its sterile, bargain-bin aesthetic. Rare's effort, in comparison, is an effervescent treat for the eyes and ears, bursting with charm, energy and flair.
Kinect party games are the natural home for the Mii-aping avatars which Rare, which knows a thing or two about Nintendo success, created for Microsoft. The most delightful application of full-body tracking in Sports is perhaps the simplest: wave at the adoring crowd; perform gloating, celebratory dances; punch the air as you sprint to victory. You can even do jazz hands while shaking your ass.
The surprising wealth of licensed music only adds to this. Score a goal, a strike or win a crucial point and you can bask in the glow of replay glory while a clip plays and the crowd goes berserk.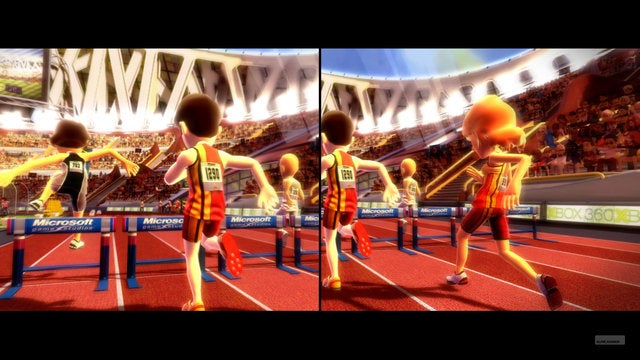 Good Vibrations, Just Dance, I Feel Good, Let Me Entertain You, We Are The Champions, U Can't Touch This, Hollaback Girl – it's the Now That's What I Call Sporting Celebrations of soundtracks, giving an irresistibly cheesy vibe that's part Gladiators, part stop-start American sports. Perfect party fodder, in other words.
A deliciously OTT voiceover from Peter "X-Factor" Dickson is the icing on the cake of what is, aside from occasionally intrusive advertising (a T-Mobile bowling ball? Really?), faultless presentation.
As with its Wii inspiration, to criticise it for lack of depth and complexity is to miss the point to a large extent. It's easy to pick holes and point out the game's limitations, but stick it in front of a family over Christmas and I suspect Kinect Sports would prove a big hit.
As a demonstration of the tech, it offers fleeting glimpses rather than a comprehensive examination of the potential of controller-free gameplay – with Kinect Adventures arguably offering superior examples. And it does little to answer questions on the hardware's application in core games further down the line.
But as a lively, funny, polished and varied genre title that will slap a smile on the face of the most jaded cynic, Kinect Sports does its job admirably.
Just watch out for dangling lights.
Become a Eurogamer subscriber and get your first month for £1
Get your first month for £1 (normally £3.99) when you buy a Standard Eurogamer subscription. Enjoy ad-free browsing, merch discounts, our monthly letter from the editor, and show your support with a supporter-exclusive comment flair!