I don't know anything about Captain Tsubasa, but just kicking a ball in his new game looks awesome
I can't wait to give it a shot.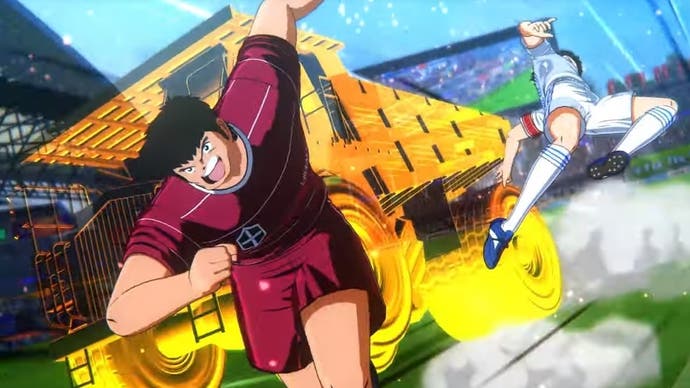 I don't know anything about Captain Tsubasa, but I am going to play his new video game because every kick of the ball looks like a Dragon Ball fight and I can't wait to give it a try.
My (very) basic research tells me Captain Tsubasa is a manga from the '80s that was a massive hit in Japan. There's an anime, too - and it's still going. It's all about the title character, a school kid who dreams of playing for Japan at the World Cup.
Today, publisher Bandai Namco released a video showcasing the story mode for Captain Tsubasa: Rise Of New Champions. I'm not entirely sure what's going on, but I'm kicking every ball right with the players.
Speaking of the players, they seem to be able to conjure the help of various animals as they kick and tackle, such as a falcon (one of the players is described as a "falcon shooter"). Makoto Soda is dubbed "ace killer". The Tachibana Bros combine for some sort of aerial acrobatic move that sees the soles of their boots meet before they hit a "twin shot". Mitsuru Sano is "performer on field", which I assume means he's a number 10. The ball is often on fire. One kick turns the ball into a swerving razorblade. At one point a player summons the power of what I think is a dump truck. One player shoots the ball so hard it drives the keeper back into his goal. There's a bear on the field, too.
Tsubasa, though, trumps them all with the "Drive Shot", a strike that summons the power of an eagle. As he wallops the ball he screams "take off!" The ball then defies the laws of physics, much like a Roberto Carlos free kick, for top bins.
As a veteran FIFA player who hit the wall with FIFA 20 late last year, I am very much up for a football video game palate cleanser and I cannot wait to give Captain Tsubasa a shot. I'm sure the actual football match gameplay won't be up to much, but with this much enthusiasm, gravity-defying tackling and super shot screaming on show I know I'm going to have a good time. EA Sports, take note! I want more animal summons on the pitch for FIFA 21.
Anyway, I have so many questions about Captain Tsubasa. Does he realise his dream of playing for Japan in the World Cup? How come everyone's got all these super football powers in the first place?
And what's up with that dump truck?