Gearbox partners with controversial game key reseller G2A for Bulletstorm: Full Clip Edition bundle
UPDATE: Gearbox says G2A needs to change its ways or the deal's off.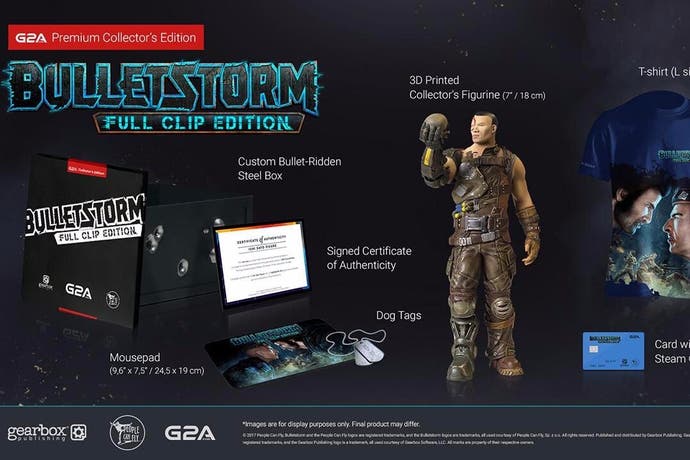 UPDATE 06/04/2017 9.38pm: Gearbox sent Eurogamer a response to the criticism of its partnership with G2A over the Bulletstorm: Full Clip Collector's Edition. The publisher demands that G2A implements some changes in an effort to legitimise the marketplace or it won't comply with the game key reseller.
Here's the full statement via a Gearbox spokesperson:
Gearbox Publishing heard loud and clear the concerns voiced by John 'TotalBiscuit' Bain. Gearbox was then provided with a lot of documentation on the subject, after which John was gracious enough to spend time across the last two days with our head of publishing Steve Gibson to put together a proposal and a deadline for G2A to act upon.
Before Bulletstorm Steam launch, G2A makes a public commitment to this: Within 30 days, G2A Shield (aka, customer fraud protection) is made free instead of a separate paid subscription service within terms offered by other major marketplaces. All customers who spend money deserve fraud protection from a storefront. To that end, all existing G2A Shield customers are notified by April 14th that fraud protection services are now free and they will no longer be charged for this.
Before Bulletstorm Steam launch, G2A makes a public commitment to this: Within 90 days, G2A will open up a web service or API to certified developers and publishers to search for and flag for immediate removal, keys that are fraudulent. This access will be free of charge and will not require payment by the content holders.
Before Bulletstorm Steam launch, G2A makes a public commitment to this: Within 60 days implement throttling for non-certified developers and publishers at the title, userid, and account payable levels for a fraud flagging process. This is to protect content providers from having large quantities of stolen goods flipped on G2A before they can be flagged.
Before Bulletstorm Steam launch, G2A makes a public commitment to this: Within 30 days, G2A restructures its payment system so that customers who wish to buy and sell legitimate keys are given a clear, simple fee-structure that is easy to understand and contains no hidden or obfuscated charges. Join the ranks of other major marketplaces.
Gearbox Publishing won't support a marketplace that is unwilling to make these commitments and execute on them.
ORIGINAL STORY 06/04/2017 5.03am: Gearbox has teamed up with controversial game key auction site G2A to sell special editions of Bulletstorm: Full Clip Edition.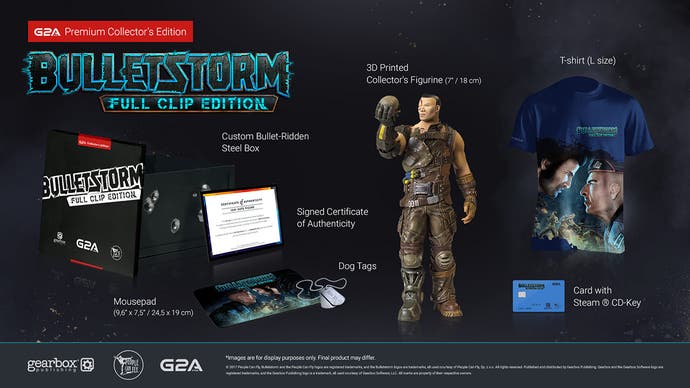 This seems like a very odd move given G2A's shady reputation, as it's been under fire for allegedly selling game keys acquired with stolen credit cards. SpeedRunners publisher tinyBuild, accused G2A of selling $450k worth of its game keys obtained through fraudulent means, while a recent Reddit AMA curried little favour for the reseller market.
We've requested comment from Gearbox as to why it's partnered with G2A and will update should we hear back. G2A did recently announced plans to legitimise the key-reselling business, and it seems to have convinced Gearbox that it's all on the level.
As for what it's actually selling, there's going to be three different standard Collector's Editions of Bulletstorm: Full Clip Edition for €99.99. Each includes a Steam key, dog tag, a hand-signed certificate by People Can Fly head of studio Sebastian Wojciechowksi, and a 3D-printed and airbrushed figurine of one of the game's three leads: Grayson Hunt, Trishka Novak, or Ishi Sato.
There will be 48 of these total. 16 with Grayson, 16 with Trishka, and 16 with Ishi.
Big spenders can splurge €249.99 for the Premium Collector's Editions, which comes with all the same goodies along with a uniquely patterned bullet-ridden steel box (shot by real 9mm bullets!), a Bulletstorm T-shirt, and a decorative mousepad. There will only be six of these spendier editions available in total: two with Grayson, two with Trishka, and two with Ishi.
"The figurines included in the collector's editions have never been available anywhere else, and will not be available again," G2A noted. "They have been specifically designed and carefully crafted by G2A's 3D-printing platform, G2A 3D, exclusively for Bulletstorm: Full Clip Edition."
Bulletstorm: Full Clip Edition is due on 7th April and it includes a playable Duke Nukem. Come git some!