Frostpunk expansion On the Edge gets a release date
Won't slip.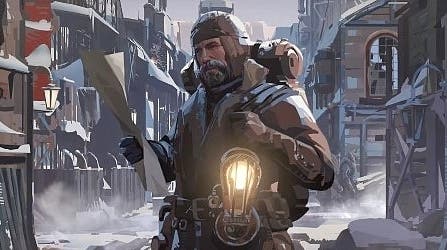 On the Edge, the third and final expansion for survival city-building game Frostpunk, will be released 20th August on Steam, GOG and the Humble Store.
On the Edge takes place after the main game ends. The mega-storm you survived exposed another outpost you will be able to take over and control, and where you will be able to build brand new structures as well as impose - sorry, implement - brand new laws. A core theme seems to be whether you will divide your people or unite them, presumably with regards to your two settlements working together, and there will be new mechanics for achieving this. There promises to be a "gripping" story revolving around all of this.
I reviewed Frostpunk when it came out a couple of years ago and highly recommend it. It's a gorgeously crafted city-builder set against a thrilling survival backdrop where you lead the last human settlement on a frozen Earth, and the temperatures just keep dropping lower and lower. You will be constantly stretched as you try to keep your community heated, fed, housed and healed, and sometimes desperate times call for desperate measures, which is where the Book of Laws comes in. You can put children to work, you can try to sneakily cook corpses. You can do a lot of things. The question is, will you?