Fighting game community in a flap over Killer Instinct teabagging ban
Go home and be a family man.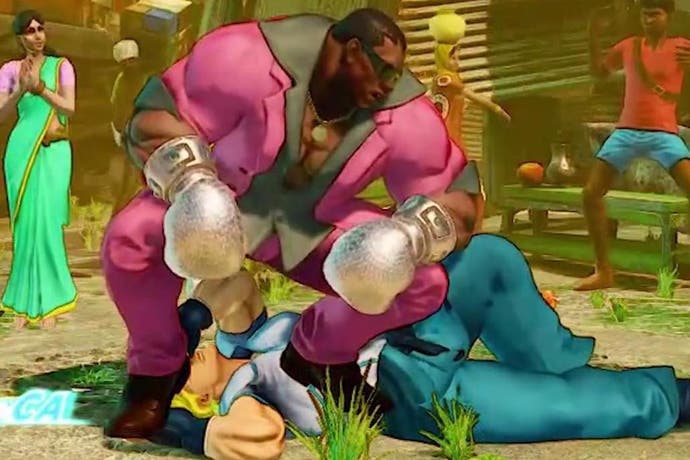 The organisers of a big, upcoming Killer Instinct tournament have banned teabagging - a decision that's sparked a vociferous debate within the fighting game community.
The people behind the Killer Instinct World Cup, set to take place in March in Texas, served notice of the ban on Twitter (thanks, EventHubs).
Teabagging is perhaps most famous in first-person shooters such as Halo, but it's prevalent in fighting games, too. In the likes of Killer Instinct and Street Fighter, repeatedly pressing down so your character crouches in quick succession is considered teabagging - a virtual taunt more annoying than the built-in taunts the characters have at their disposal. In fighting games, you'll sometimes see players teabag their opponents when it looks like they're going to win the round - or their opponent is "dizzied".
that anti teabagging rule cannot be real. must be early April fools. I'm going to teabag have fun banning me!

— The Nerf Button (Keits Prime) (@TheKeits) January 23, 2017
So, why ban something so silly as teabagging? It's important to note that last year's Killer Instinct World Cup carried a similar ban, but it was reiterated this year after things got ugly on Facebook.
Apparently a few Killer Instinct players got into a heated argument after a series of online matches in which teabagging took place - and a threat of real world violence was made.
That was enough to convince the organisers of the tournament to stick with the teabagging ban, but unlike last year's decision, this time the community has taken notice - and it's not particularly happy.
In a follow-up Facebook post, Killer Instinct World Cup organiser Brandon Alexander expanded on the reasoning behind the ban to say it was about promoting "a fun, professional and safe experience, not a violent and unprofessional one". Going by reaction on social media, it looks like the reasoning is falling on deaf ears.
A number of high-profile fighting game pros took to Twitter to stress the ridiculousness of the ban, including Killer Instinct pro Dominique "SonicFox" McLean.
I often use tbaggin as a way to make the opponent crack or get angry as well too. Dirty but efficient if you get tight easily :P

— SonicFox @ MFF (@SonicFox) January 23, 2017
I think we should ban zoning too. Fighting games are about punches and up close not spamming projectiles. Not professional ya know?? xDDDDDD

— SonicFox @ MFF (@SonicFox) January 23, 2017
One of the points critics of the decision have made is that such a rule is pretty much impossible to enforce. Take a player such as Daigo Umehara - perhaps the most famous fighting game player - for example. He often crouches repeatedly through the course of normal gameplay as he vies for an advantage against his opponent. Where do you draw the line between tactical play and teabagging?
Then there's the issue of defending the spectacle of the fighting game genre, as Killer Instinct game designer Adam "Keits" Heart raised in a series of tweets.
fighting games are psychology. disrespecting your opponent can be a psychological play. a ban for taunting removes important human aspect

— The Nerf Button (Keits Prime) (@TheKeits) January 23, 2017
I happen to agree with Heart's point. One of the wonderful things about watching fighting game tournaments is seeing the personality of the players bleed through into matches. And there's always something to be said for a spot of cockiness - especially if that can, and often does, come back to haunt the person teabagging.
Right or wrong, the ban remains in place. But will players take notice?