Fans can decide Minecraft's newest mob during the MineCon Earth livestream this weekend
Plus nifty free cosplay skins for all platforms.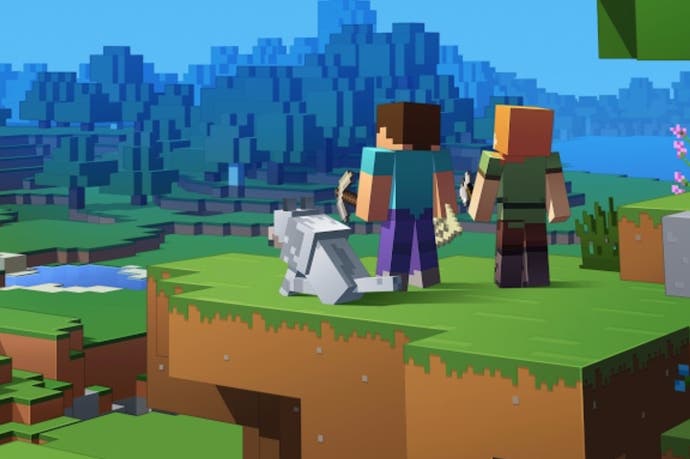 As part of MineCon Earth 2017 this weekend, Minecraft fans will have the opportunity to vote for one of four brand-new mobs, with the most popular creature making it into the game.
MineCon is, of course, Minecraft's enormous annual community event in which many cube-shaped things are celebrated and shown. The set-up this year is a little bit different, however; rather than taking place in a major city out in the real-world, MineCon Earth 2017 will be a much swifter, entirely livestreamed affair. Oh, and it's presented by Will Arnett.
If you fancy having your say on Minecraft's newest mob, voting will occur during the livestream on Saturday, November 18th. MineCon Earth is due to begin at 5pm in the UK and will last around 90 minutes.
To ensure that its audience is sufficiently informed on the choices available prior to voting, Mojang has released four videos, each introducing one of the new mob candidates in a little more detail. You can see them all below.
INTRODUCING MOB A
Mob A is "the monster of the ocean depths". It's capable of attacking with its tongue-like appendage to drag its victim to a watery end.
INTRODUCING MOB B
Mob B is a flying manta ray that spawns at high altitudes, known as "the monster of the night sky". If implemented, it would be the first flying overworld creature in Minecraft.
INTRODUCING MOB C
Mob C, or The Hunger, is mostly mouth and feeds off enchanting powers. It's able to sink into the ground with its mouth wide open, in order to ensnare unsuspecting passersby.
INTRODUCING MOB D
Nether-based Mob D is "the hovering inferno", a massive blaze with shield-like body parts that can be used to protect itself.
Also in the run-up to Minecon Earth, Mojang has released the free Minecon Earth 2017 Skin Pack, featuring eight nifty skins for console, mobile, and Windows 10 versions of Minecraft.

These, as you can see above, are all based on existing Minecraft creatures and characters, albeit given an endearing cosplay twist. They should be available on all platforms now.