Face to face with the President of Virtual Reality
"I am championing the rights of the people."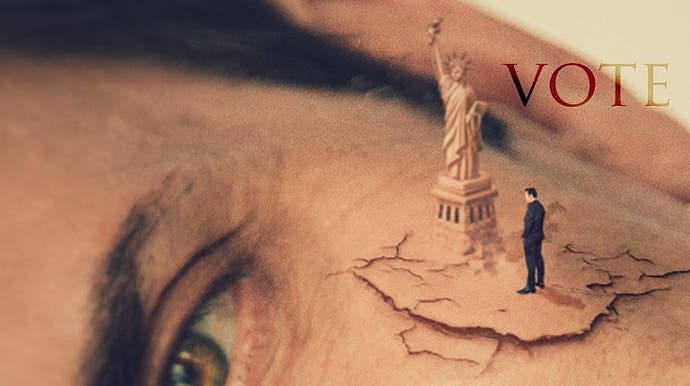 In a modernist hotel lobby on the outskirts of Barcelona I sit face to face with the President. He's pretty casual as far as presidents go, dressed in jeans and a t-shirt, wearing sunglasses even though we're inside. He's got a tattoo up the underside of his forearm which reads 'Neverdie'. It's his alias, but more of a name to him now than Jon Jacobs ever will be. He is President of Virtual Reality. It has nothing to do with Oculus Rift or VR goggles, and it's not some silly title in a game. President of Virtual Reality means president of all virtual realities - World of Warcraft, Eve Online, Destiny, the lot.
Who voted for him? Entropia Universe players, mostly. There, Neverdie is a celebrity, the man who sold a nightclub on an asteroid for a staggering $635,000. The election was held on Facebook in spring 2016, and Jacobs did a proper campaign trail for it. He even made ridiculous promises like a real politician - "talking a bunch of shit" he calls it - pledging to create billions of jobs by building a teleportation system to transfer characters between virtual worlds.
But two years later his presidency isn't going well, or at all, really. "I ran for President, did this thing and then everybody in Entropia Universe says, 'We don't want one!' They're like, 'You're not our President - bugger off!' It was a complete 'fuck you!' from the userbase! And then Entropia Universe [creator MindArk] said, 'Umm no we're not interested.' So I became President of Virtual Reality and they basically rejected my entire thing! And there was nothing I could do about it."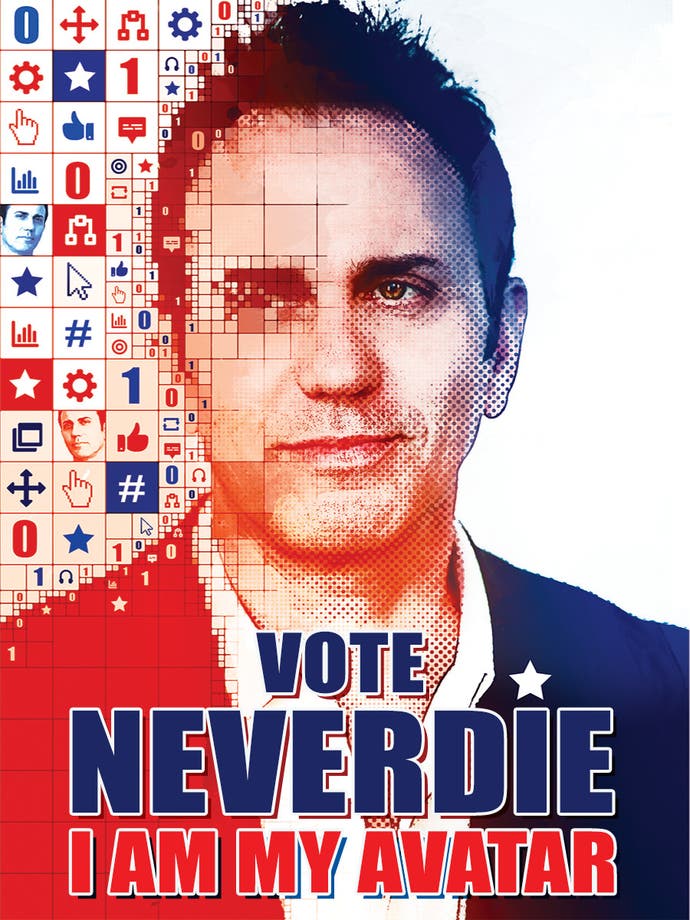 Who was going to listen to Jacobs without Entropia backing him up? "I was championing - and I am championing - the rights of the people who've invested their time in avatars, and I'm trying to help guide the next wave of development so they don't close their borders." But try doing that with only a few thousand Facebook votes behind you. "I'm on my own like a loony saying, 'I'm the President of Virtual Reality!'" At one point he met with Eve Online big cheese Hilmar Veigur Pétursson, to pitch him the dream. I would love to have seen that.
The virtual worlds didn't want to listen to Jacobs and he was losing his voice trying to convince them. Fed up, he gave up, and the Presidency fell dormant. But Jacobs didn't let go of his dream. He went away and built it.
"I was championing - and I am championing - the rights of the people..."
Jacobs wandered headfirst into blockchain and cryptocurrency, which was booming, and the idea of decentralised power belonging to people not companies fit him perfectly. He set to work. His Neverdie company began developing a cryptowallet and currency for the huge Ethereum platform. But not just any wallet. A wallet which looks like a character page from a role-playing game, with an avatar paperdoll and listed attributes like dexterity and strength. And everything the wallet displays it reads - and stores invincibly on - the blockchain. It's your character in your pocket, usable in any game which will allow it.
"How many times in your life can you build an avatar from scratch?" he asks. "You can reinvent yourself to have a new identity and that's part of the pleasure of it, but the problem is the practicality of the time investment. It has just become impractical. World of Warcraft was a universally immersive game for so many people but it was the last successful MMO. Nobody else could sustain a userbase because everybody was already too invested in their World of Warcraft avatars.
"That's why we're not seeing new MMOs at the rate you would hope for. They're in trouble, all MMO developers are in trouble. They're in trouble at financing stage, they're in trouble after two years... Imagine you make a fabulous MMO but people don't play it because they already spent 10 years on World of Warcraft. It happens!
"We have to tackle the avatar creation system and the way we look at it differently in order for us to go into more than one world."
It's like if you go to Paris for the first time in the real world, he says. "It's still all brand new. You can still go to Paris, move there and reinvent yourself. However you're not a baby again - that's being reborn. You take all your experience with you, your skills and some of your property. That's what we need in MMOs in order for them not to die as worlds; you get this beautiful cross-pollination - you're moving to Paris and someone else is moving to London."
It's up to individual games how much data they read from the wallet. They may not support the skin you wear in World of Warcraft but your stats - which have been fairly constant across all character-based online worlds for yonks - should be the same. "You may have to use their avatar creation system but all of the skills, everything you've developed, is inside your wallet because it's yours - it doesn't belong to World of Warcraft."
If a game wants to prevent unfair early advantages it could turn wallet-reading off for the first 30 levels; if one game thinks another is too generous with Strength it could halve the amount it reads. There's no hard and fast rule. It's up to the game.
This is the technology - the API - Jacobs' company has built, and he shows it working in real-time on his phone before me. He has also built a game for it called Dragonking. Don't get excited, it's not much. It's a very simple web-looking game built to demonstrate what's capable.
In Dragonking you and other people buy dragons which hatch and fly around, then every eight hours a volcano erupts and wipes 10 per cent of the dragons out. For around 25 cents you can buy a buff to protect your dragon and ensure it survives, and when it does, it increases in value. In a day you will have recouped what you spent and, whenever you like, you can cash out. In other words you can make money - Ether or Neverdie cryptocurrency - by playing Dragonking, and this is a crucial aspect of what virtual existence is all about for Jacobs. It's what made Entropia Universe unique.
"Entropia really is, or was, the closest thing there was to virtual reality," he believes. "The real money component - people made a living, like me. In a way the reality of that world was greater than any other, because in World of Warcraft, even if you put all the time in and you're emotionally invested up the kazoo, you don't have any rights to your - they won't give you US dollars at the end of it. It's all worthless, and they don't even support trading on eBay.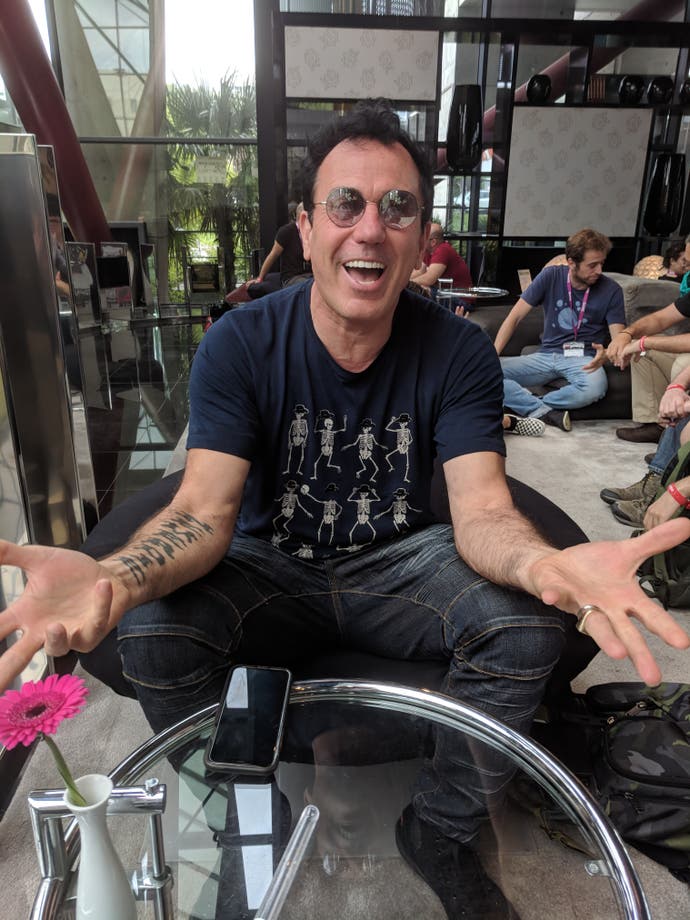 "What I've gotta do, what I know I've gotta do, is make about five games that show this in a different way, so people go 'ohhh' and it's a no-brainer," he says. "That's what it's gotta be, a no-brainer." Then, he hopes, bigger fish will bite. In fact they already have.
In this very same hotel last year Jon Jacobs met Ultima creator Richard Garriott and they shook hands on a deal. Shroud of the Avatar will - as part of Episode 2, which is currently in planning - support the Neverdie wallet and currency. I separately checked this with Garriott and it's legit.
The way Garriott talks about it is as something to reward players with for creating some kind of unspecified content in the game. "There's something special about saying, 'Here is a virtual commodity which is not just trapped within this one game world,'" Garriott tells me. "Players can say, 'Look I'm playing these games, I'm earning these tokens, and I can translate them back and forth between games.' That should mean players' time in games is well spent.
"Basically every other independent game creator either one of us knows conceptually finds this a compelling idea," he says, "and you'll find more and more of us are signing on to do it."
This time people are listening to Jon Jacobs. It's hard not to. Not only is he entertainingly bizarre company, he's actually got something to show for himself - the cogs really look like they're turning. Shroud of the Avatar might not be World of Warcraft but Richard Garriott is still a big name; it's a start. And it's time for the President to make a comeback.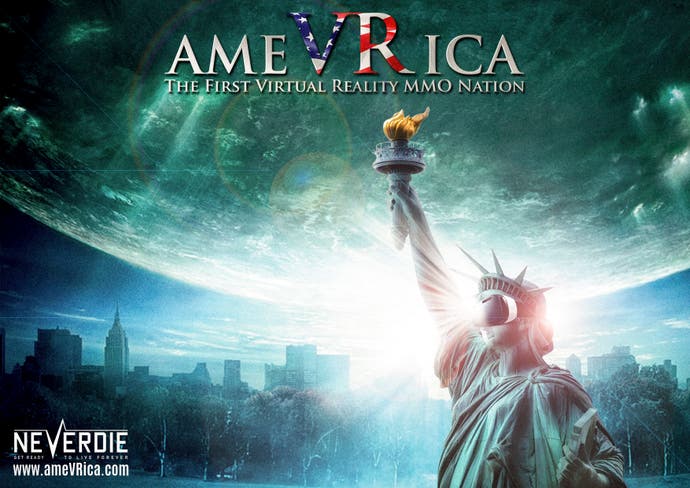 "I'll go public with this," he says after some consideration, "the CEO of MindArk is gone. The one who is the CEO, and the other guys, they've gone. And basically... I'm going back. And you know what? If the players don't want it, it's going to be on a new planet in Entropia Universe called AmeVRica."
Yes Jacobs is building a new planet for Entropia Universe called AmeVRica, "The first cross-platform, decentralised, open source, blockchain governed, MMORPG/virtual reality hybrid world with a cryptocurrency-based hunter-gatherer economic system," the website says. What a mouthful. But what a prospect, and apparently the powers that be are on board.
(Incidentally, Entropia Universe allows partners to create planets, which can be like whole new games. There are only six and Jacobs already runs one of them, Rocktropia. It was the first non-MindArk planet ever added.)
"All I want to do is finish," Jacobs says. "Have the teleportation system in Shroud of the Avatar, the teleportation system on the Entropia Universe platform, and three casual type games on mobile, whatever they are, and then that's it, I built the system. I can say, 'I did that.' Maybe I haven't created a billion jobs today but the billion jobs will be... it will support it as adoption grows. That's all I can really do."
Who knows? We could be on the cusp of something big, something transformational. Like blockchain it's all so uncharted and full of potential. And somehow Jacobs seems succeed, somehow he manages to get things done. Sell asteroids, raise millions through initial coin offerings, build blockchain technology, make movies: he's done it it. He's done a lot. "There were a lot of battles involved in being Neverdie and trying to move things beyond - forward," he tells me. That's why he got it tattooed on his arm: every day he's reminded. He's committed to it.
This LA-living movie-making dreamer might not be the person you expect to lead a revolution, but he isn't President of Virtual Reality for nothing. Two years from now, in 2020, elections will roll around again, and this time they'll take place fully on the blockchain. Maybe this time many more people will turn out, maybe the Presidential mandate will be bigger as a result. Maybe this time the virtual worlds will listen. But it won't be to Jon Neverdie Jacobs because he's not running for office again. This time someone else can take the reins.
That's the plan, anyway.