Eurogamer Expo 2012 early bird tickets go on sale
Range of options available including new Super Passes, with special discounts for Virgin Media customers.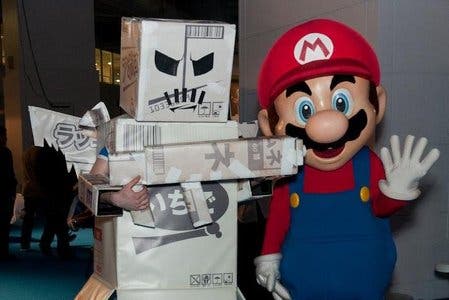 Oh em eff gee! Barely a week after we announced that Virgin Media is the new headline sponsor of the Eurogamer Expo, early bird tickets have now gone on sale for the four-day show taking place at London's Earls Court from 27th-30th September 2012.
Early bird tickets will be available from www.eurogamerexpo.com at discounted rates until 1st June 2012. Check out the table below for pricing. Virgin Media customers can also purchase an exclusive discounted ticket for just £6. To find out more information on that and buy tickets, visit tickle.virginmedia.com.
| | Early Bird (pre 1st June) | Standard (after 1st June) |
| --- | --- | --- |
| Day Tickets | £10 | £12 |
| Afternoon Tickets | £7.50 | £9 |
| Early Entry Tickets | £12 | £16 |
| Virgin Media Early Entry Tickets | £6 | £6 |
| Super Passes (Early Entry for all four days) | £40 | £40 |
This year we're able to offer options for full days, afternoons and early entry as well as the brand new Super Passes, which guarantee early entry for all four days of the show.
The Eurogamer Expo is now in its fifth year and is the best way to play masses of triple-A games before they're released. We're also planning an amazing Developer Sessions schedule, featuring some of the biggest names in games development, as well as classic fixtures like the Indie Games Arcade, tournament area and much more.
We'll be able to start announcing the software line-up and other attractions in the coming months as we gear up for the show, which will be bigger and better than ever, taking up more room at the epic Earls Court venue and welcoming around 50,000 gamers. Only TWO HUNDRED AND SEVENTEEN DAYS to go. Get in.