EA details Battlefield 5 livestream reveal, coming next week
Presented by The Daily Show host Trevor Noah.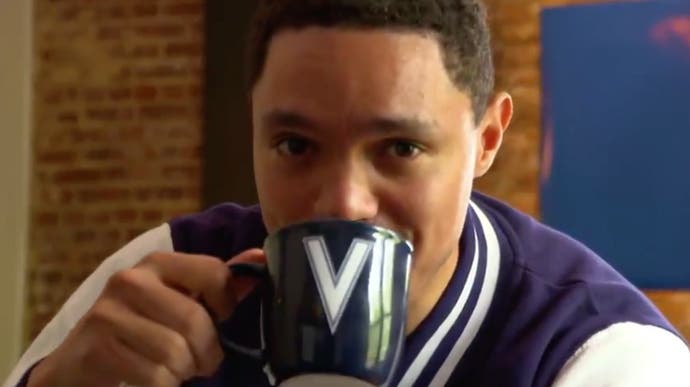 Following on from the Battlefield community's impressive sleuthing earlier this month, EA has now officially confirmed that a Battlefield 5 reveal event will take place on May 23rd.
The news first broke in a tweet from Trevor Noah, host of the US satirical news programme The Daily Show. "The rumors are true," Noah wrote, "I will be hosting the Battlefield Live Reveal on Wed, May 23rd."
Although the tweet made no explicit reference to Battlefield 5, Noah's sign-off of "V EXCITING" - not to mention the coffee mug emblazoned with a massive, unmissable "V" toward the end of the accompanying video - were pretty major hints.
Luckily, any lingering doubts can be quickly dispelled by following Noah's instructions and visiting the official Battlefield YouTube channel. Here, you'll a video titled Battlefield 5 Live Reveal, scheduled to begin on Wednesday May 23rd at 9pm in the UK/1pm PT.
"Join us for the Battlefield V Live Reveal on May 23," says the blurb hovering beneath the reveal video, "as The Daily Show host Trevor Noah and the DICE development team show you how the battlefield will never be the same."
As DICE's next Battlefield game has drawn closer, rumours about its nature have inevitably become more frequent. Last year, there were rumblings that 2018 might see a resurrection of the Battlefield Bad Company series, although those rumours quickly fell out of favour.
Other reports, understood to be correct by Eurogamer, have pegged the next Battlefield as being set during WW2, while EA boss Andrew Wilson suggested that it would not, unlike the Call of Duty series, be dropping its single-player campaign. It might, however, be in line for a Battle Royale mode if latest whispers are to be believed.
We will, of course, know more when EA's Battlefield 5 Live Reveal airs on May 23rd.