Dragon Age: Origins
BioWare on consoles, online, tools and depth.
Eurogamer What sort level cap and overall length can we expect from Dragon Age: Origins?
Dan Tudge
Like we said before, this is very much an experience for our core users, and really it's not going to be a short, little game. We don't have an exact length, but this is something that has been built for core fantasy RPG gamers, so we're going to give them a lengthy experience.
Eurogamer Are we talking, as a rough guide, something similar to a game like Oblivion?
Dan Tudge
Well Oblivion is such a different animal so that's not probably a great comparison. If we're using our past games as an example, then obviously the Baldur's Gate games were extremely long, but with the level of next-gen content those days are almost unachievable now. But we're certainly trying to really use Baldur's Gate and make Dragon Age: Origins a spirtual successor.
Eurogamer What do you say to arguments made by Warren Spector that long games are dead, or dying - that we should expect to be able to realistically finish games we start?
Dan Tudge
It depends what type of game you're playing. Our fan-base - the core fantasy RPG fan - are looking for that meaty adventure. Maybe they're not as long as they were back in the days when you thought of your own maps - I've certainly got great memories of that - but those days are gone. But certainly a nice, good, lengthy and meaty RPG with a great story-driven experience is something I think fans are dying for.
Eurogamer You touched on the difference between Dragon Age: Origins and the openworld environment of Oblivion; can we expect your game to be more enclosed and scripted?
Dan Tudge
The main difference there is the story-driven experience. Dragon Age: Origins is a very, very emotional and gripping game that really is heavily affected by your origins stories and the way you play those. That story-driven element is really what separates us from a lot of the other openworld-type RPGs.
Eurogamer How deep will the relationships between characters in Dragon Age: Origins go?
Dan Tudge
The relationship within your party is something that I think was a key pillar in the Baldur's Gate series, and is something we've definitely taken to heart in Dragon Age: Origins. A large chunk of our story is dedicated to the interplay between the characters in your party; that will be a very big component. Dragon Age: Origins is also the biggest story we've ever created.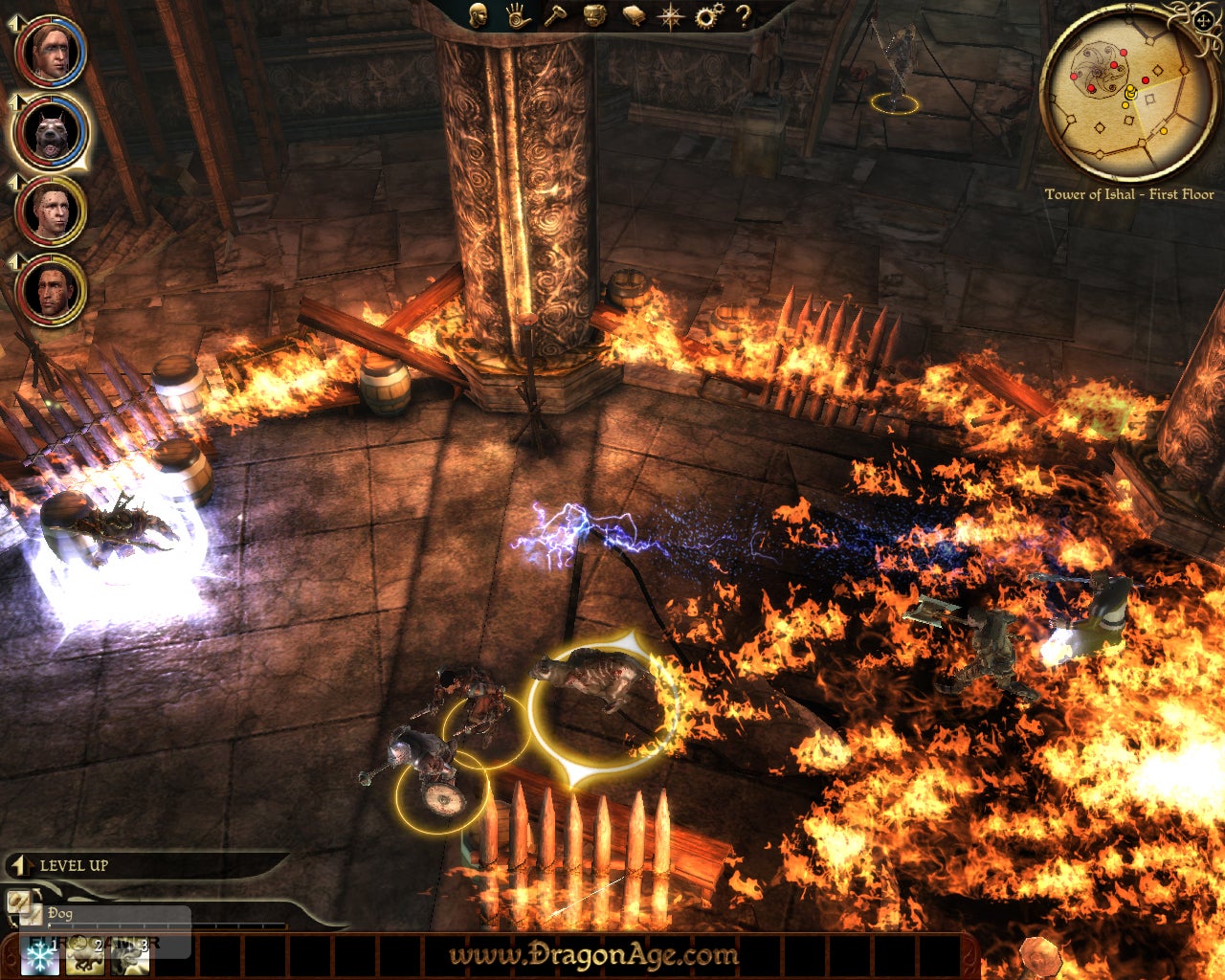 Eurogamer How do you go about creating such a gigantic fiction from scratch?
Dan Tudge
The fantasy team at BioWare are huge fantasy nuts so there's been inspiration from everything: obviously D&D, we're big fans of Lord of the Rings, I'm a big fan of Conan, and a lot of dark heroic fantasy. We've really taken a lot of inspiration from everywhere - any good author does. We took our time, we took a lot of inspiration, and a lot of the things we have never seen but really wanted to see, we worked in.
Eurogamer What sort of things?
Dan Tudge
The dark, heroic element; the matureness, the grittiness of the world, of the characters, the lore - that's what really sets us apart from a lot of other fantasies. So much fantasy, especially in videogames, has been high fantasy. Our setting goes really deep: into the world, into the characters, and there's a lot of realism within the creatures and encounters.
Eurogamer Having had all of this creative freedom, why did you stick with fantasy?
Dan Tudge
Oh! It's one of the things BioWare does best. Quite honestly, we've got a huge group of fantasy fans here. Myself, out of all the projects, working on a fantasy RPG is a dream come true. I don't think we could get away without doing a fantasy RPG at BioWare. And really, honestly, it's where we started, right? It's our roots, it's where we got our... really what gave birth to the BioWare that everyone sees today.
Eurogamer Could you give us an example of something dark and gritty from Origins?
Dan Tudge
Some of the moral choices you need to make, there's a lot of choices that really aren't right or wrong, but they're hard, they're hard to make. And you don't come away thinking I role-played that as a good character, or I role-played that as a bad character, it comes across as a deep choice. And that really reflects the world and that sacrifice that needs to be made in order for the better good or for your better evil. The choices all the way through are a really good example of the darkness, the grittiness.
And obviously if you saw any of the footage from E3, the combat is a great example - it's definitely the bloodiest and goriest combat BioWare has ever done.
Eurogamer Are you worried that might push the rating up?
Dan Tudge
We've actually been looking at every single territory and where there bar is and been very aware of what needs to be done. But that being said, we're not pulling any punches, we're not shying away from the maturity rating.
Become a Eurogamer subscriber and get your first month for £1
Get your first month for £1 (normally £3.99) when you buy a Standard Eurogamer subscription. Enjoy ad-free browsing, merch discounts, our monthly letter from the editor, and show your support with a supporter-exclusive comment flair!