No Man's Sky on PS4 Pro delivers the 1080p60 dream
But the Path Finder update's 4K support needs some work.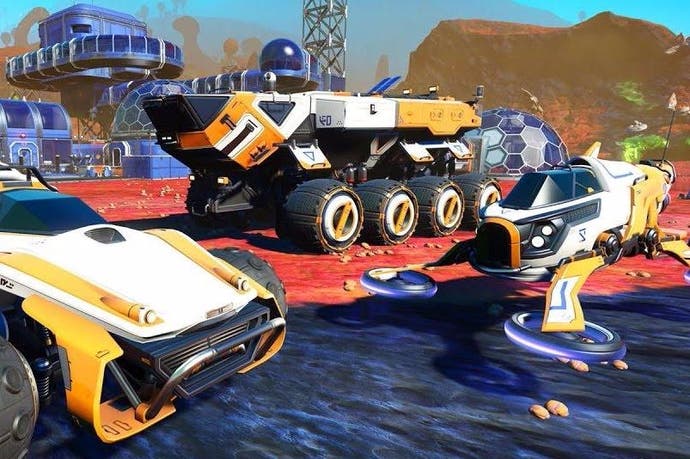 No Man's Sky's latest 1.20 patch - the Path Finder update - is the biggest update the game has seen so far, and its new PS4 Pro feature set is getting a lot of positive attention. And rightly so: couple your console to a full HD display and Hello Games' space epic delivers a nigh-on locked 60fps at native resolution, representing an extraordinary upgrade over the base PlayStation 4 code, which in turn has received some welcome optimisation too. It's not a complete success though, and the Pro's 4K resolution mode isn't anything like as accomplished.
While we'll be concentrating on the Path Finder update's visual and performance improvements, we should stress that the update is hugely impressive in terms of the increase to content and in-game features. Bases can be shared online, there are three new vehicles - including buggies - along with a permadeath mode, new weapons, expanded trading options and classes, and a slew of other smaller upgrades.
The Path Finder update's Pro implementation gets little mention in the patch notes, but there is the promise of '4K optimisation'. Meanwhile, the 1080p60 performance of No Man's Sky gets no coverage at all, coming as a welcome surprise for those who have their Pro hardware attached to full HD screens. And it should be stressed that there's no way in-game to access this mode if your Pro is configured at the front-end for a 4K output: by default, you'll get access to the game's higher resolution set-up instead. No Man's Sky actually offers one of the best 'higher performance' modes we've see on Pro, but it's a shame that you have to manually configure the front-end to 1080p output in order to access it.
If your hardware is configured to 2160p output, the game opts for a native 1800p - 3200x1800 - instead, with a temporal anti-aliasing pass that mostly resolves the remaining jagged edges. There's no checkerboarding here, and 1800p brings a stark boost in image quality next to the standard 1080p presentation. For perspective, that's a 2.8x increase in pixel output, and for a game with such massive vistas, it means we're able to pick out more detail at a greater range.
Now as great as 4K looks, there are a few minor drawbacks to PS4 Pro's presentation. Firstly, the game's temporal AA doesn't cope with sharp, brightly-lit edges you'll catch around space stations. There's a visible pixellation on these lines at slow turning speeds, even with that massive boost in resolution. The good news is, while exploring planets with heavy vegetation, it's not an issue at all, and with 4K selected the image is smooth and clear. You won't catch these artefacts on the planets themselves - it's just a blemish with interior areas, where the TAA can struggle.
Frame-rates are the main issue in 4K mode, however. The main issue here is PS4 Pro runs with an unlocked frame-rate regardless of resolution output, but falls far short of 60fps while pushing this 2.8x increase in pixels. Simply put, it would have been better to cap it at 30fps, to keep motion more even. Fill-rate is clearly an issue with PS4 Pro in 4K mode too: the game can drop below 30fps when faced with lots of particles, post-effects and alpha (in fact, base PS4 holds up better in these scenarios). It's only when staring right up at the sky that you'll ever actually hit 60fps.
These sub-30fps drops are easily repeatable. At 4K, simply mining resources can see frame-rates drop to the low 20s, while the 1080p mode only drops momentarily to 57fps. Meanwhile, the base PS4 sticks doggedly to 30fps; the standard console has significantly fewer drops in frame-rate than previous iterations of the code. Terrain streaming at speed while flying over a planet still causes minor hiccups on base and Pro, but it's really a non-issue now. 4K aside, the turnout is commendable: 1080p30 on base PS4, 1080p60 on Pro. There's more stability for base hardware, and a performance mode that actually delivers on the new console.
Overall, PS4 Pro owners have an interesting choice to make. Either run at 1080p at a practically locked 60fps, or alternatively you can opt for its 4K output, delivering 1800p with performance ranging between 20-60fps. Regardless of the option you choose, HDR rendering is now in, a superb addition as No Man's Sky easily makes one of the best uses of it. Those using 4K OLED screens especially are in for a real treat; the deep blacks of space play against the game's bright neon lines to make a great example of the technology. HDR is a perfect fit for No Man's Sky's aesthetic. More so than the 4K support on PS4 Pro, to our eyes it represents the Path Finder update's biggest visual upgrade, provided you have a compatible display.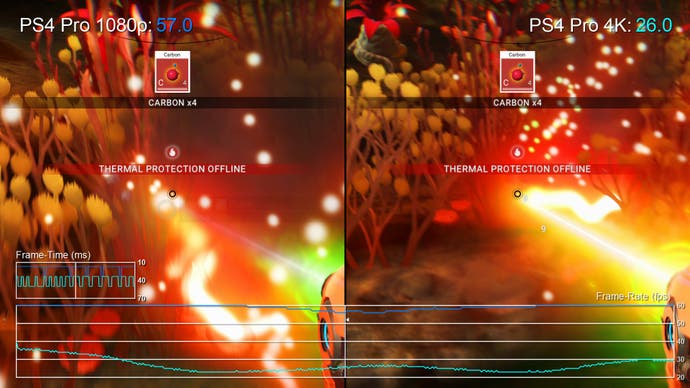 But there are other enhancements too: a new horizon-based ambient occlusion feature is added on all formats. It's the same quality effect across platforms, filling out corners of the world with shade. The results are mixed though. On the one hand, it does add depth to terrain, shading across the ground to create a fuller looking landscape. But look too close and the illusion is shattered. Raising the view weapon against any surface, you're left facing a dithered, messy patch of shade. It happens on both consoles and PC, and even objects around the space station use the effect to an excessive degree, creating banding artefacts. There must be a middle ground here; when it works, it looks great, but these worst-case areas are a distraction.
On PC, there's also a new light shaft effect. It's a brilliant addition that blends well with the environments, adding hugely to the atmosphere of each planet. On console though, these light shafts are absent. On PS4 Pro for example, you only get bloom and lens flares affecting the corners of a spacecraft, a slight bleed around the edges - a clear visual downgrade.
No Man's Sky's Path Finder update is highly impressive overall though. The base PS4 benefits from the additional content and more stable frame-rates, while Pro's 1080p60 mode is transformative - far more so than any other performance-orientated mode we've seen on the platform. On top of that, there is an additional Pro upgrade worthy of comment: improved loading times. Based on a stock drive face-off, loading a saved game that takes us to a freshly discovered world takes just 23 seconds on PS4 Pro, compared to 34 seconds on the regular PS4. That's a third of the wait cut off, and a welcome improvement.
As things stand, the Path Finder update is a winner in almost every regard, though a touch ironic that only PS4 Pro's 4K rendering is mentioned in the patch notes, when this is the weakest area of the update. Optimisation for the worst performing areas would be welcome, along with the option for a 30fps cap. On top of that, signposting performance and resolution modes in-game really is a must - with no mention at all of a 1080p60 mode, Pro users with a 4K screen would be forgiven for missing this functionality completely. And that would be a shame: 1080p60 No Man's Sky on a good HDR display is by far and away our favourite way to play the game on console right now.