The best graphics cards under £100 / $130 and under £130 / $160
Play the latest games well without breaking the bank.
We start out our guide with the best graphics cards you can buy for under £100, and our recommendations begin with AMD's R7 370 and Nvidia's GTX 750 Ti. Now, there are cheaper GPUs available, but enthusiast gaming with a 1080p resolution in mind requires a certain level of both processing power and onboard RAM. These two GPUs not only have the bare minimum of memory required to run the latest games well - 2GB of GDDR5 - but they also possess the rendering capabilities to offer up a gameplay experience that matches or surpasses Xbox One and can even beat the PlayStation 4.
Indeed, the R7 370 from AMD is actually based on the exact same graphics hardware found in the Xbox One - the difference coming in the form of much higher memory bandwidth and a higher core clock, which brings it more into line with the kind of performance you'd expect from PS4. For its part, Nvidia's GTX 750 Ti may well be based on an entirely different architecture, but it's a surprisingly good mimic for the PS4's graphics core when we've tested it in multi-platform titles.
Now, it's important to remember that these are entry-level enthusiast GPUs. You can't just ramp everything up to the maximum and expect a decent experience. Here are our tips for getting the most out of this tier of GPU:
You'll be reading this tip often, but turn off MSAA (multi-sampling anti-aliasing) on all modern titles, and utilise alternatives like FXAA, SMAA or MLAA instead.
Be realistic with quality presets. Don't go for ultra, go for the very high or high quality presets instead. Frame-rates will shoot up.
Even an £80/$130 Radeon R7 360 should be good for 1080p gaming, but on the rare titles that aren't, consider 1600x900. Reducing resolution can turn an unplayable game like Assassin's Creed Unity into a console-style 30fps experience.
Titles like Battlefield 4, COD Advanced Warfare, Ryse, Dragon Age Inquisition and Shadow of Mordor have in-built scalers, allowing you to maintain 1080p output on 2D elements on-screen, but run at a lower resolution with a small quality hit on the 3D aspects. This offers better results than simply dropping to 1600x900 and increases performance.
Buy the graphics cards tested on this page from Amazon with free shipping:
So, in the table below you'll see a performance overview of our two chosen GPUs in this price bracket. You'll note that we're not running any of these games at their maximum settings here, instead we're either operating a notch down at the high preset or its equivalent, or else we've approximated console settings as best as we can (and we reckon we've got a pretty tight lock there). You'll find that frame-rates are usually well over the 30fps console-style threshold with only titles like Assassin's Creed Unity letting the side down.
You'll also note that we've actually benchmarked both GPUs twice and offered both minimum and average frame-rate metrics. The standard way of benchmarking graphics cards is to pair them with an overclocked Core i7 in order to isolate pure GPU performance. However, this ignores that entry-level cards are more likely to be paired with less capable processors, so we've included Core i3 benchmarks too. You'll see from the minimum frame-rates that the GTX 750 Ti holds more of its performance than the R7 360, and that's because AMD's driver actually consumes quite a lot more CPU power than its Nvidia equivalent - something to be aware of at the budget end of the market.
Of the two entry-level cards, the GTX 750 Ti is noteworthy in that it has a remarkable level of overclocking headroom built in. Our tip for all owners of this card is to increase core clock by 200MHz, and RAM by 400MHz, using an overclocking tool like MSI Afterburner. Our reference design using a minuscule cooler barely increases in temperature and the boost to performance is palpable.
| 1920x1080 (Low/Avg FPS) | R7 360 i3 4130 | R7 360 i7 4790K | GTX 750 Ti i3 4130 | GTX 750 Ti i7 4790K |
| --- | --- | --- | --- | --- |
| The Witcher 3, Console Settings, HairWorks Off, Custom AA | 13.0/30.2 | 21.0/30.5 | 25.0/31.7 | 25.0/31.7 |
| Assassin's Creed Unity, High, FXAA | 21.0/26.0 | 22.0/26.1 | 22.0/25.9 | 22.0/26.1 |
| Battlefield 4, High, Post-AA | 33.0/41.0 | 34.0/41.2 | 38.0/45.9 | 38.0/46.0 |
| Crysis 3, High, SMAA | 24.0/37.0 | 28.0/36.9 | 31.0/44.5 | 30.0/45.0 |
| COD Advanced Warfare, Console Settings, FXAA | 52.0/68.0 | 57.0/70.7 | 50.0/65.2 | 53.0/69.0 |
| Grand Theft Auto 5, Console Settings, FXAA | 30.0/38.7 | 30.0/38.7 | 33.0/43.9 | 33.0/43.9 |
| Far Cry 4, High, SMAA | 28.0/41.4 | 30.0/41.7 | 34.0/38.9 | 35.0/40.0 |
| Shadow of Mordor, High, FXAA | 34.0/44.7 | 34.0/44.7 | 32.0/43.2 | 32.0/43.2 |
| Ryse: Son of Rome, Normal, SMAA | 19.0/31.7 | 23.0/32.6 | 24.0/29.5 | 24.0/29.7 |
Moving onto the more expensive GPUs under £130/$160, we still think that the R7 370 and the GTX 950 are potential partners for less capable CPUs, so once again we have benchmarked both cards twice, with the Core i7 and i3 respectively. Once again, you'll note that the lowest frame-rates tend to occur on the AMD side, but for a more accurate picture of what is actually happening during the benchmark sequences, we urge you to watch the videos. We use a system that accurately maps performance on a per-frame level to the visuals, so you can see split-second drops in frame-rate, which manifests as stutter or judder during gameplay.
What is also interesting to note here is that the extra cash you fork out in jumping up from the R7 360 and the GTX 750 Ti to the more expensive cards can produce some pretty exceptional leaps in performance - anything up to 44 per cent. But one thing to bear in mind is that in this sector, board manufacturers like MSI, Asus and others introduce factory overclocks to add value. To introduce some level of parity in our comparisons, we've stuck to factory overclocked versions from the same company - in this case we're comparing the MSI Gaming 2G variants of the R7 370 and the GTX 950.
And it's the Nvidia card that emerges triumphant: we see anything from like-for-like performance on Shadow of Mordor to a clearly significant 20 per cent boost on Crysis 3. The AMD card is competitive in Call of Duty (we seem to be hitting CPU limits here as the game is running so fast on console equivalent settings) and Crytek's Ryse, but generally speaking, across nine games, the GTX 950 is around ten per cent faster.
| 1920x1080 (Low/Avg FPS) | R7 370 i3 4130 | R7 370 i7 4790K | GTX 950 i3 4130 | GTX 950 i7 4790K |
| --- | --- | --- | --- | --- |
| The Witcher 3, Console Settings, HairWorks Off, Custom AA | 17.0/37.8 | 26.0/38.4 | 25.0/44.6 | 35.0/45.1 |
| Assassin's Creed Unity, High, FXAA | 27.0/34.2 | 28.0/34.1 | 33.0/38.7 | 33.0/38.9 |
| Battlefield 4, High, Post-AA | 50.0/57.5 | 50.0/57.7 | 55.0/65.8 | 57.0/67.0 |
| Crysis 3, High, SMAA | 30.0/53.0 | 39.0/54.0 | 32.0/62.2 | 44.0/65.2 |
| COD Advanced Warfare, Console Settings, FXAA | 55.0/81.3 | 75.0/92.3 | 58.0/91.7 | 70.0/96.0 |
| Grand Theft Auto 5, Console Settings, FXAA | 30.0/50.0 | 42.0/54.8 | 38.0/58.7 | 46.0/62.3 |
| Far Cry 4, High, SMAA | 29.0/52.1 | 31.0/54.6 | 39.0/56.2 | 53.0/58.1 |
| Shadow of Mordor, High, FXAA | 47.0/62.1 | 47.0/61.7 | 47.0/61.2 | 47.0/61.3 |
| Ryse: Son of Rome, Normal, SMAA | 26.0/42.5 | 32.0/44.8 | 36.0/44.4 | 37.0/45.3 |
Finally, let's take a look at power efficiency across all four cards we've tested on this page. Nvidia has an enviable reputation for the frugality of its cards, and generally speaking, it is well deserved. The GTX 750 Ti runs without the need for any power from your PSU, for example, while the gulf in power consumption on higher-end cards like the GTX 980 and the R9 390X is quite astonishing. However, in the entry-level enthusiast stakes, we find that the GTX 750 Ti is only around 20W more efficient when the card is pushed to its limits compared to the R7 360. Now it may not seem like that much of a win for Nvidia here, but we have to bear in mind that not only does it consume 20W less, we are also getting significantly higher frame-rates.
It's a situation that persists as we move onto the GTX 950 and its AMD rival, the R7 370, though the gap does seem to close a touch. Peak power consumption is separated by just 13W in Crysis 3, but once again we see a clear 20 per cent increase in raw performance. On top of this, both the GTX 750 Ti and the GTX 950 are considerably more capable in terms of overclocking than their AMD equivalents.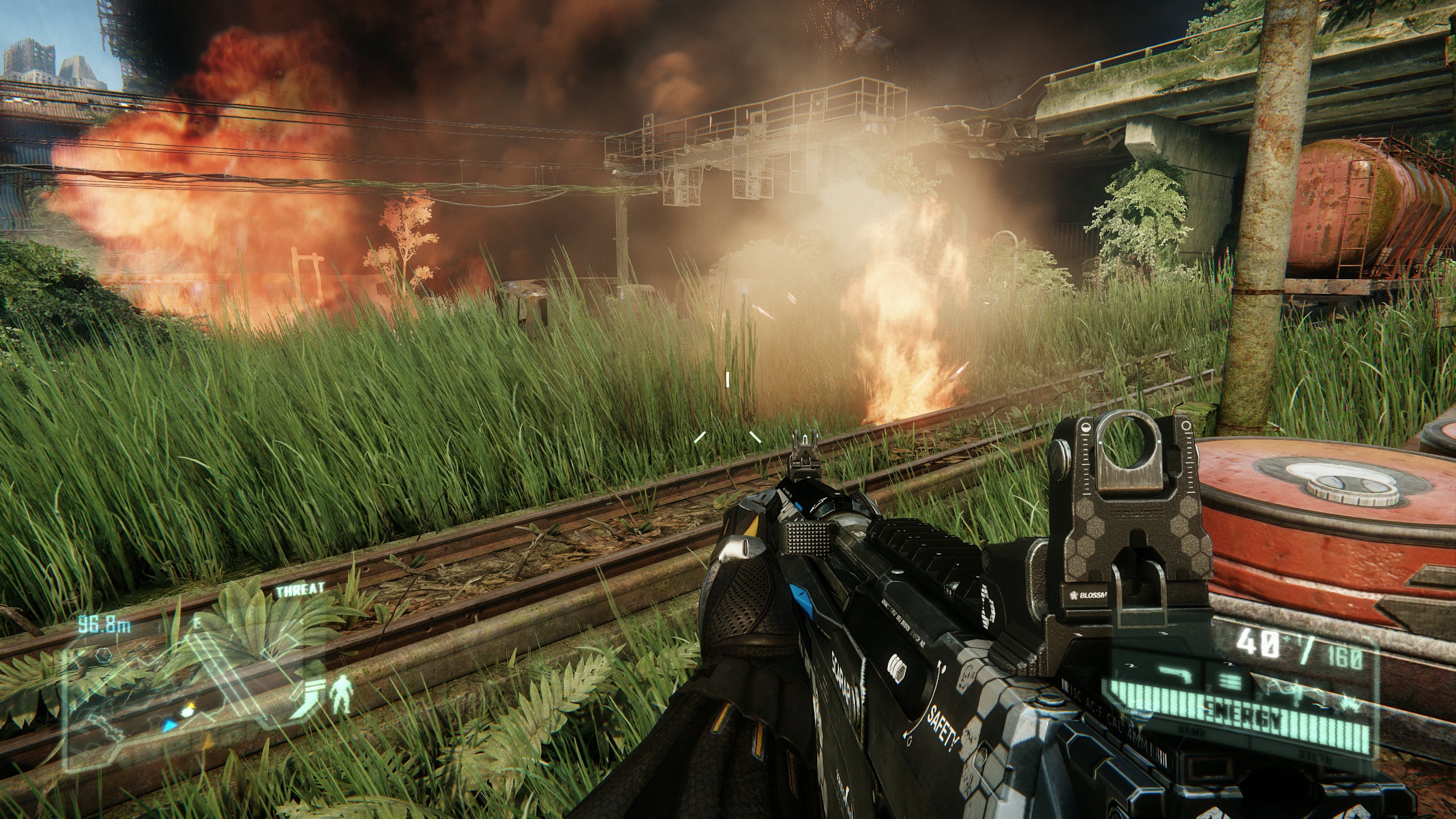 | | R7 360 | GTX 750 Ti | R7 370 | GTX 950 |
| --- | --- | --- | --- | --- |
| Peak System Power Draw | 173W | 158W | 228W | 215W |
---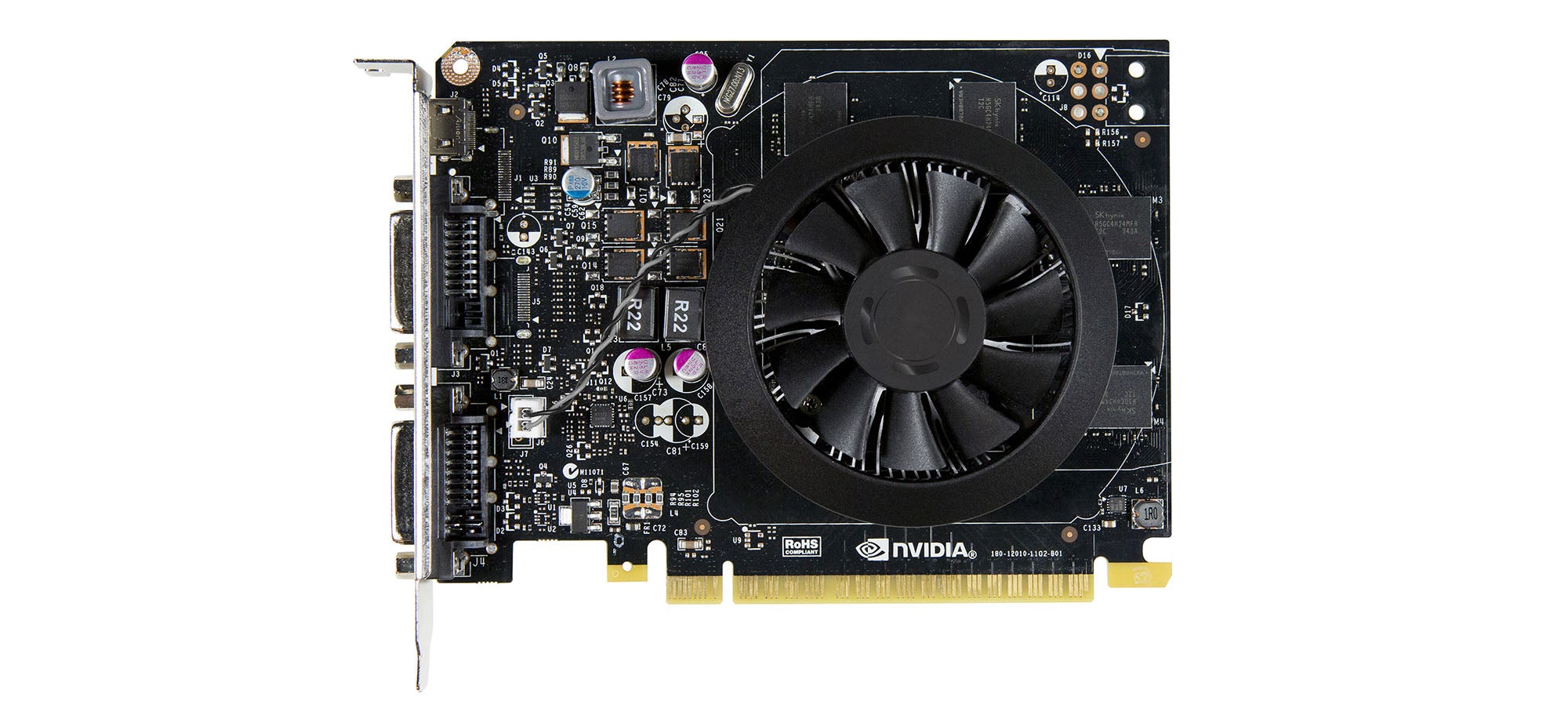 The best graphics card under £100 / $130: GeForce GTX 750 Ti
Honourable mention: Radeon R7 360
AMD's Radeon R7 360 seems to be a worthy replacement for the older R7 260X, and in our experience, just equalising clocks (1100MHz on the core, 1625MHz on RAM) produces an identical level of performance to the prior model, which makes us wonder whether there are some models out there which are simply rebadged cards. This is curious bearing in mind that on paper at least, the R7 360 is actually a downgraded version of the 260X. Still, with careful settings management, the R7 360 easily offers comparable performance to Xbox One, and gets within striking distance of PlayStation 4 performance on multi-platform titles. But in the sub-£100 range, the GTX 750 Ti is simply unstoppable.
At stock speeds, Nvidia's budget offering offers frame-rates unerringly in line with what we see on PlayStation 4, and on the games that don't quite match Sony's console, simply bumping up GPU core frequency by 200MHz and RAM by 400MHz allows you to push beyond console settings - something we saw most recently in Metal Gear Solid 5, where we attained nigh-on identical frame-rates with improved image quality over both console versions. Nvidia's drivers also include support for adaptive and half-rate adaptive v-sync - something lacking on the AMD side. This allows you to easily cap frame-rates to 30fps and 60fps, introducing tearing only when the card can't sustain the frame-rate - it's a trick used extensively on console, and it's used for a reason. It's all about getting the smoothest performance with limited GPU resources.
So, higher performance, more options for getting the smoothest gameplay... that's why the GTX 750 Ti is our pick for our own £300 budget PC build. The final layer of icing on the cake? It doesn't require any power input from the power supply, meaning it can run in many more budget-orientated PCs
---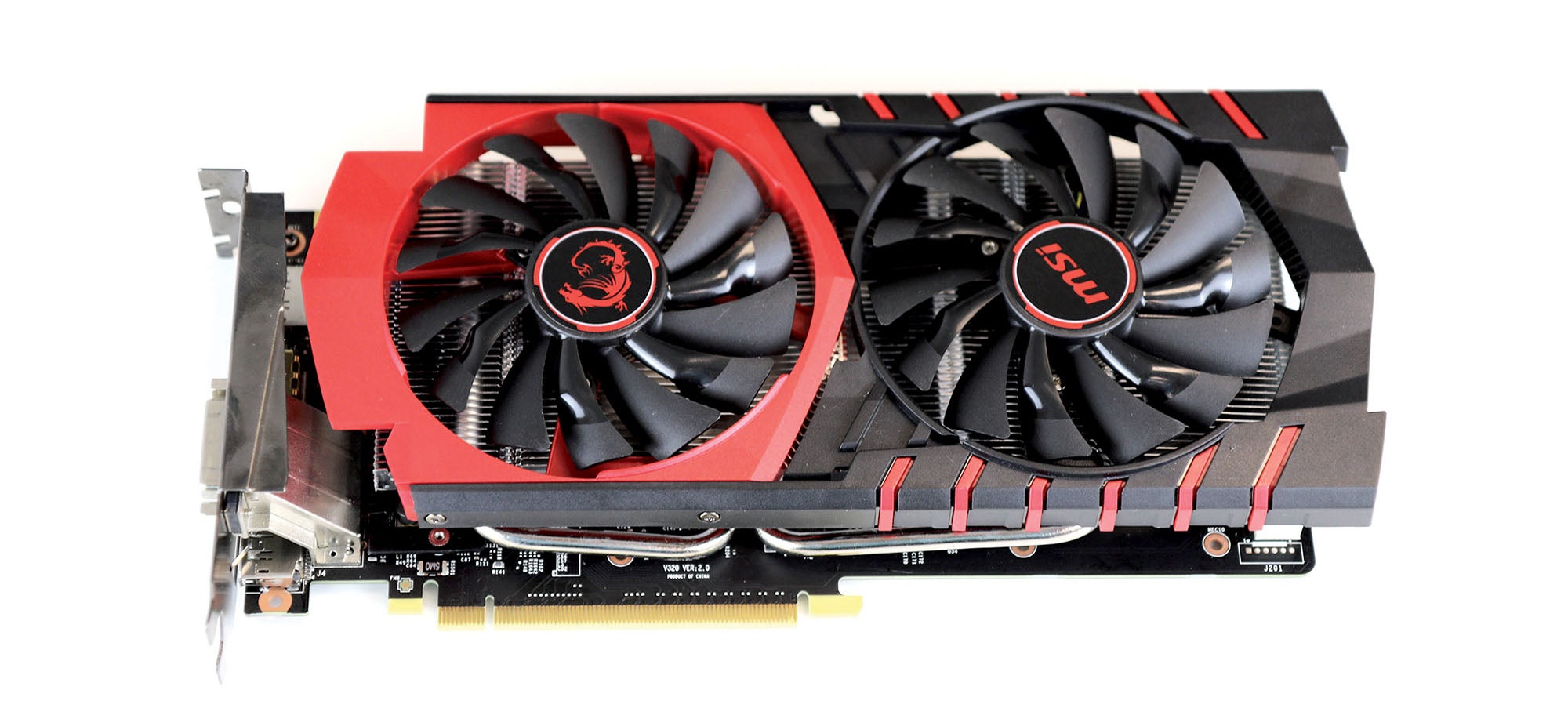 The best graphics card under £130 / $160: GeForce GTX 950
Honourable mention: Radeon R7 370
The R7 370 is a good product but also a somewhat cynical one. Put simply, it is priced as a replacement for the old R9 270 and 270X, yet it is not as powerful as either of them, with 1280 shader cores in the older cards and just 1024 in the replacement. Bearing in mind AMD's traditional strength in its value graphics heartland, this is somewhat disappointing. The R7 370 really is little more than an overclocked Radeon HD 7850 - a card that's three-and-a-half years old now.
By default, this makes the GTX 950 the one to get. It's generally faster (though how much faster depends on whatever factory overclock you end up with - this will vary between cards), it's stupendously easy to overclock for even higher performance and it comes with that highly useful adaptive v-sync we talked about earlier. On top of that, the fact that it is based on more modern silicon means it is more capable in other regards too. It can encode and decode the latest generation of media codecs, including Google's VP9 and h.265, better known as HEVC. Our only issue with the GTX 950 is its pricing. Nvidia is charging a £10/$10 premium, meaning that it is perilously close in price to the better GTX 960, and indeed 4GB versions of the R7 370. Hopefully market forces will bring it down to the £120 price-point it should sell for.
Will you support the Digital Foundry team?
Digital Foundry specialises in technical analysis of gaming hardware and software, using state-of-the-art capture systems and bespoke software to show you how well games and hardware run, visualising precisely what they're capable of. In order to show you what 4K gaming actually looks like we needed to build our own platform to supply high quality 4K video for offline viewing. So we did.
Our videos are multi-gigabyte files and we've chosen a high quality provider to ensure fast downloads. However, that bandwidth isn't free and so we charge a small monthly subscription fee of £4.50. We think it's a small price to pay for unlimited access to top-tier quality encodes of our content. Thank you.
Support Digital Foundry