Diablo 3 servers "at full capacity" following midnight launch
Error 37. Error 37. Error 37. Error 37.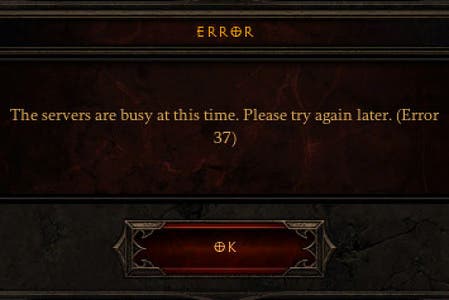 UPDATE: Blizzard has taken Battle.net offline and launched more servers as players struggle to play Diablo 3 this morning.
The company issued the following update on Diablo 3 server capacity:
"Please note that due to a high volume of traffic, login and character creation may be slower than normal. If you're unable to login to the game or create characters, please wait and try again. We've temporarily taken our Battle.net websites offline and launched more servers to accomodate for the traffic. We hope to resolve these issues as soon as possible and appreciate your patience.
ORIGINAL STORY: The Diablo 3 servers are at full capacity, preventing many from playing the game.
Players across the globe are reporting "Error 37" when trying to log in following Diablo 3's midnight launch in the UK at 11pm last night and, just hours ago, on the West Coast.
"Due to high concurrency the login servers are currently at full capacity," Blizzard wrote on the Battle.net forum. "This may cause delays in the login process, account pages and web services.
"We apologise for any inconvenience this may cause and thank you for your patience while this is being resolved."
Blizzard had warned fans about the dreaded error 37 message last week in a blog update designed to pre-empt player complaints.
It predicted delays of up to 40 seconds when trying to log in during the launch of Diablo 3. It appears that estimate was incorrect.
Then, Blizzard advised players try to log in again after receiving the error 37 message. "It's possible we'll need to adjust the rate at which we're logging people in to ensure a stable experience, and if we do you may see a delay when attempting to login," Blizzard warned.
"Please be aware that a delay of up to 40 seconds is possible while the game attempts to connect you. If your connection doesn't succeed in 40 seconds, you'll be presented with an Error 37 message and asked to try again.
"If you see this error it does in fact mean that you should try again. We'll be working around the clock to keep you informed of any issues that are occurring through the in-game breaking news window, as well as the official forums."