Darkest Dungeon's The Color of Madness DLC dated for October on consoles
Coming to Xbox One, Switch, and iPad too.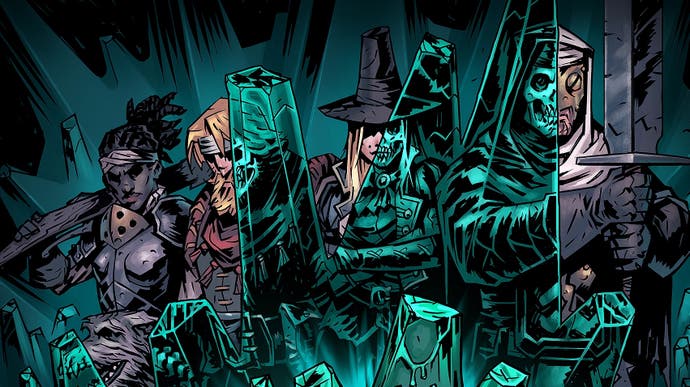 The Color of Madness, Lovecraftian strategy RPG Darkest Dungeon's third paid DLC expansion, is coming to Switch, Xbox One, and iPad on October 11th, developer Red Hook Studios has announced.
The Color of Madness initially launched on PC earlier this year, and follows on from Darkest Dungeon's The Crimson Court and Shieldbreaker expansions. Inspired by H. P. Lovecraft's The Colour Out of Space, this latest addition moves beyond the miserable hamlet that cowers beneath Darkest Dungeon's tenebrous manor, and takes its punishing turn-based action to an area of gloomy countryside known as The Farmstead.
Encounters here are somewhat different to those endured in the base game and previous expansions, with The Color of Madness offering a wave-based survival experience against a monstrous undead army of The Miller's loyal workmen - transformed by the "ever-growing crystalline influence" of a mysterious crashed meteorite.
When The Color of Madness arrives on Xbox One, Switch, and iPad, it'll be accompanied by a significant balance patch (already available on PC), and a second DLC offering known as The Musketeer. This smaller-scale update introduces the Musketeer hero class - a functionally identical reskin of the Arbalest, which was initially given out to Kickstarter backers - and will be completely free on all platforms.
Red Hook also notes that, "With the release of the new DLCs we wanted to update the Digital Ancestral Bundles on the console marketplaces. To do this we had to take down the old bundle and put up a new bundle with all the DLCs included."
As a result, anyone that purchased Darkest Dungeon's digital Ancestral Edition prior to October 11th will need to buy The Color of Madness separately. However, the updated version, due on launch day, will include all new content. Additionally, everything new will be bundled up into a single free patch for owners of Darkest Dungeon's physical Ancestral Edition on Switch.
Darkest Dungeon's The Color of Madness DLC will cost $4.99 USD (likely equating to £4.99 if the currency conversion used on on Steam is any indication) when it comes to Xbox One, Switch, and iPad on October 11th. Red Hook says PS4 and Vita versions are "close behind" but have not yet cleared certification. These will launch "as soon as possible".