BioWare Austin unveils four-on-one online RPG Shadow Realms
Modern fantasy setting, episodic storyline, PC next year.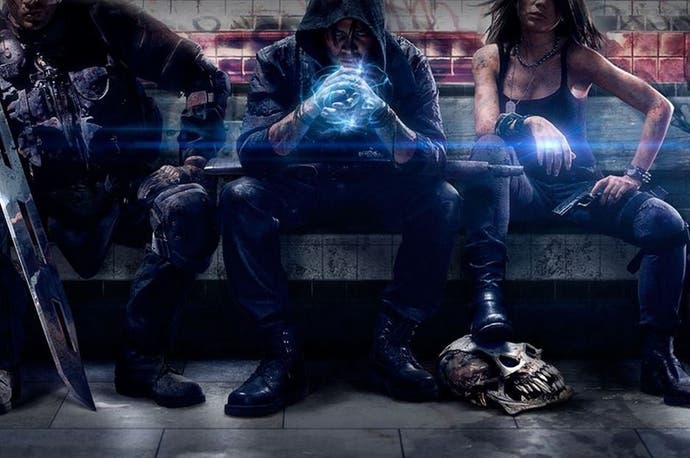 BioWare has revealed an all-new game in development at its Austin studio: Shadow Realms, a novel online RPG with a modern fantasy setting. It's coming to PC in late 2015 - no other formats were mentioned.
It's an asymmetric multiplayer game, with four hero characters cooperating against a single player-controlled enemy, the Shadowlord, who has extensive powers to manipulate the game world.
Introducing the game at publisher EA's Gamescom presentation, studio manager Jeff Hickman described it as an attempt bring back the magic of pen-and-paper role-playing, with players collaborating to pit their wits against a human game master.
The Shadowlord will combat his opponents by "possessing, entrapping and destroying with insidious power", Hickman said. Whether playing as good or evil, players will accrue XP and progress as they play.
In BioWare tradition, Hickman said, Shadow Realms will be a story-driven game, but the story will be released in episodes "like a great TV series". The "modern fantasy" setting seems to combine down-to-earth present-day elements with wild supernatural stylings; it's partly reminiscent of Funcom's online RPG, The Secret World. According to a post on the Shadow Realms site, it concerns a bridge between present-day Earth and an ancient magical realm called Embra. Gameplay takes place in both locations.
Opposing the Shadowlord, there are six hero classes: Warrior, Assassin, Wizard, Cleric, Ranger and Warlock. They sound like classic archetypes, but the modern setting gives them a very different look and access to modern technology and weaponry, including firearms. Gameplay is in the "action RPG 'dungeon crawler'" mode with a "third-person over the shoulder camera". The Shadowlord plays in this perspective too, remaining unseen until they possess a monster or choose to reveal themselves.
Explaining the vision for the game on the site, creative director James Ohlen - a BioWare veteran and designer on Baldur's Gate, Star Wars: Knights of the Old Republic and Dragon Age: Origins - writes:
"It is a game that finally fulfills that fantasy of a never-ending RPG where the players meet up regularly to keep their epic adventures going for as long as they want. All the enemies, traps and challenges are squarely in the hands of another player, who controls them just like a Dungeon Master. The monsters and villains are smart and unpredictable, making every battle a test of strategy and power. Best of all, everyone gets to enjoy a story that plays out like their favorite TV series, but where they decide the fates of its world and characters.
"Shadow Realms isn't just hearkening back to those early BioWare PC games - it's finally bringing the magic of tabletop RPGs to the digital realm."
There's no word on Shadow Realms' business model yet. We haven't seen the game in action yet either, but it's playable at Gamescom and we'll bring you impressions as soon as we can. You can sign up to participate in the game's alpha testing phase at the Shadow Realms site.