American McGee cancels failing OZombie Kickstarter
UPDATE: Alice: Otherlands Kickstarter launched.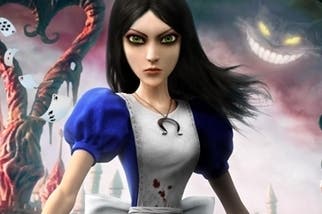 UPDATE: American McGee has now launched the Alice: Otherlands Kickstarter to develop animated films based on his dark game series.
McGee is asking for $200,000 and has generated $36,348 at the time of writing. The campaign has 19 days to go.
Otherlands will continue the storyline of McGee's existing Alice games and see the character using her powers to enter the minds of others, such as old-time contemporaries Queen Victoria, Charles Darwin and Jack the Ripper, McGee suggests.
ORIGINAL STORY: Alice: Madness Returns creator American McGee has cancelled the failing funding drive for his zombie-themed Wizard of Oz game.
The campaign had raised just $141,513 in four weeks of funding, of a $950,000 goal.
In a blog post explaining the cancellation, McGee said the project's removal from Kickstarter would now allow him to launch another crowd-funding attempt - this time for his illusive Alice animation rights.
The rights to create animated movies based on McGee's dark retelling of the Alice in Wonderland universe were previously added to the OZombie Kickstarter as a wildly-ambitious stretch goal, before being removed again just days later.
"Since working to remove [the film rights] from the Oz campaign we've been unable to launch it as a separate campaign here on Kickstarter," McGee explained. "The submission has been rejected multiple times and our appeals have failed (multiple campaigns are not allowed). To launch a campaign for the Alice films rights means we must first shut down the Oz campaign.
"For Oz, we can always launch another campaign in the future. On the other hand, the Alice film rights are only within reach during a rapidly closing window of opportunity. We'll sacrifice Oz today in order to have a real chance with Alice.
"Securing these film rights would be nothing short of a major coup. We'd control a significant portion of Alice's future. Being able to produce animations, feature films and related merchandise means keeping Alice's world fresh, no matter what else might happen with the game portion of the property. I hope you'll join us in making this a reality."
The rights to McGee's Alice series are currently owned by Collision Entertainment. McGee will need to pay $100,000 each year to develop films based on the property, or $500,000 to buy the option outright.
A just-released teaser for the new Alice animated series lies below. Its new Kickstarter is due to go live this week.