Win a UT3 PC case and Sound Blaster!
And a copy of the game.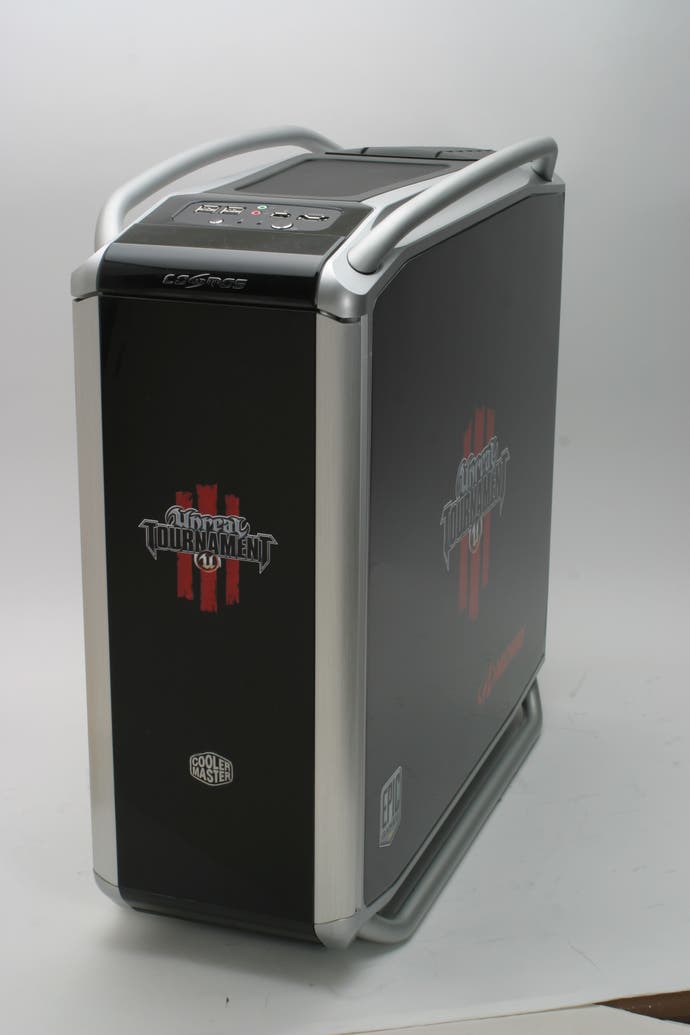 Computers can be incredibly dull. Dan who puts the screenshots up has never convinced his to go paragliding, and mine won't even come to karaoke. Fortunately there is a solution: rip them apart and enclose them in a spectacular new PC case! Good thing, then, that we have teamed up with our friends at Midway to provide one of you lucky lot with the Unreal Tournament III-themed Bit-Tech PC case. Imagine reaching under the table to turn something like that on. It's enough to make your knees tremble. If they need help, you can also excite your joints with a Creative Sound Blaster X-Fi Platinum Fatal1ty Champion Series sound card to go with the case, and a copy of Unreal Tournament III to play.
Unreal Tournament III, of course, marks the return of Epic's premiere multiplayer first-person shooter series to the PC, and its debut on the PlayStation 3 (the latter due out here in early 2008). UT3 is based on the Unreal Engine 3, allowing you to bask in smashingly detailed visuals as you tear around the Internet using the likes of the Link Gun, Bio Rifle, Rocket Launcher and Flak Cannon to undo the machinations of the evil foreign teenagers, or perhaps pinging yourself across CTF games with the iconic Translocator. In addition to its online options, UT3 is home to a considerable single-player campaign helping you to get your head round the Necris invasion (and helping you to blow their heads apart), with new characters with enhanced abilities, and lots of "stick-time" with the game's range of new vehicles. The game also ships on PC with the Unreal Engine 3 Toolset, so you can modify and edit to your heart's content - or more likely so that other people can and you can download their best efforts.
However you choose to play it, you'll be wanting to answer the ridiculously simple question below correctly in order to win the Bit-Tech Unreal Tournament 3 PC case, a Creative Sound Blaster X-Fi Platinum Fatal1ty Champion Series and a copy of the PC game, and if not that then one of our nine copies of the PC game for runners-up. Good luck.
What is the latest version of Unreal Tournament to hit the shops?
Friday 11th January
Any user of Eurogamer is eligible for entry to the competition. All correct entries will be eligible for the draw on 11th January 2008. The first name drawn will win a Bit-Tech Unreal Tournament 3 PC case, a Creative Sound Blaster X-Fi Platinum Fatal1ty Champion Series and a copy of Unreal Tournament 3. Nine runners up will each win a copy of Unreal Tournament 3. Winners will be notified via email by 14th January 2008. The winners will need to claim their prize by the 16th January 2008. The Promotion is open to Eurogamer members, aged 18 years or over only. Employees (and their families) of Eurogamer Network Ltd or Midway Games Ltd and any affiliates, subsidiary companies, as well as representatives or agents of those companies and anyone else who may be professionally connected to the promotion are not eligible. Eurogamer Network Ltd reserves the right to contact another winner, should they not be able to contact the first winner, or if the first winner is unable to accept the prize. No responsibility accepted for any loss or damage whatsoever caused by matters relating to this offer. The prize has no cash substitute and is non-transferable. Eurogamer Network Ltd reserves the right to substitute items of a greater or equivalent value should unforeseen circumstances require it. Entrants acknowledge that their entries may be released or displayed to the public by Eurogamer Network Ltd or any agency connected with the competition and assign all rights necessary for promotion, publication or of such entries to Eurogamer Network Ltd. Participants in the competition who did not win will not be notified. Judges' decision is final, and no correspondence will be entered into. Only one entry per Eurogamer account. No monetary alternative will be offered. No purchase necessary. The competition shall be governed by the laws of England and Wales.
© 2007, Epic Games, Inc. ALL RIGHTS RESERVED. Epic, Epic Games, Unreal, Unreal Tournament, the Circle-U logo, and the Unreal Tournament 3 logo are trademarks or registered trademarks of Epic Games, Inc. in the United States of America and elsewhere. Distributed under license from Epic Games, Inc. by Midway Games Ltd. Midway and the Midway logo are trademarks or registered trademarks of Midway Amusement Games, LLC. Used by Permission