VR shooter smash Boneworks adds zombie arena, Boardgun tool and more
Update 1.5 out now on PC.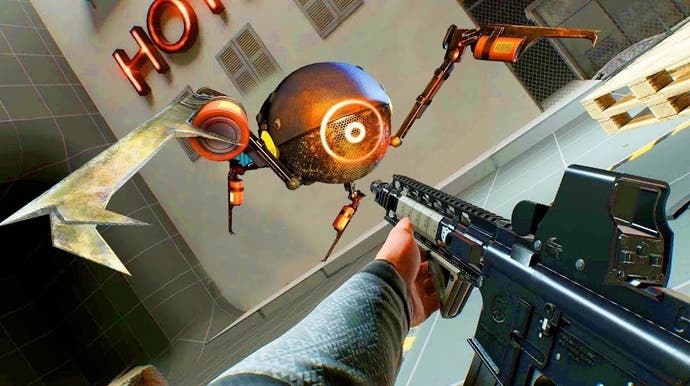 Developer Stress Level Zero's acclaimed shooter and "experimental physics VR adventure", Boneworks, has just received its hefty 1.5 update on PC, adding a new zombie-themed arena, a new tool to mess around with, and more.
Boneworks, which released at the tail-end of last year, cast players as a virtual security director, setting them loose within Monogon Industries' artificial intelligence operating system, Myth OS. What that amounts to its reality is a fairly ludicrous sandbox playground, where players are free to grip, yank, climb, toss, wave, heave, and shoot pretty much anything they can get their hands on as they traverse Boneworks' expansive environs, solving puzzles and generally delighting in the unfolding goofy mayhem.
"The way this game recreates real-world physics in a virtual world is just unbelievable," wrote a very impressed Ian Higton last year, "and while there are certain ways to solve the game's many puzzles, this realism allows you to play in a free-form, experimental way and it actively encourages you to cheat puzzles if you're able to think outside of the box...I've not felt this sense of 'being' in a game since my brain tricked me into feeling the G-Force as flew fighter planes in Ace Combat 7 VR."
And now that dizzying playground of possibility has just got a little bit more playful thanks to Boneworks' new 1.5 update. It introduces a whole new level in the form of the Zombie Warehouse, which features five challenge modes, each with multiple difficulty settings, experimental enemy AI - terrifyingly enabling foes to climb, drop off ledges, jump through windows, and ride zip-lines to reach you - plus experimental health mechanics tied to challenge difficulty. Some settings might, for instance, slow healing while others can stop recovery altogether, requiring players to gather health pickups from fallen enemies.
Players can also expect new music and Achievements, as well as a brand-new physics tool known as the Boardgun, which is used to create wooden planks between two selected points, and can be unlocked for use throughout the entire game. Stress Level Zero suggests the Boardgun can be used to create defensive structures, to board up areas, or to bypass obstacles, but like the rest of Boneworks, it looks to offer ample scope for creativity and play.
The remainder of Boneworks' 1.5 update features character improvements, and a whole range of other enhancements and fixes, all of which are detailed in Stress Level Zero's latest announcement post. It's available to download on PC right now.