Video game voice actors strike has officially begun
"It's time for video game employers to take our concerns seriously."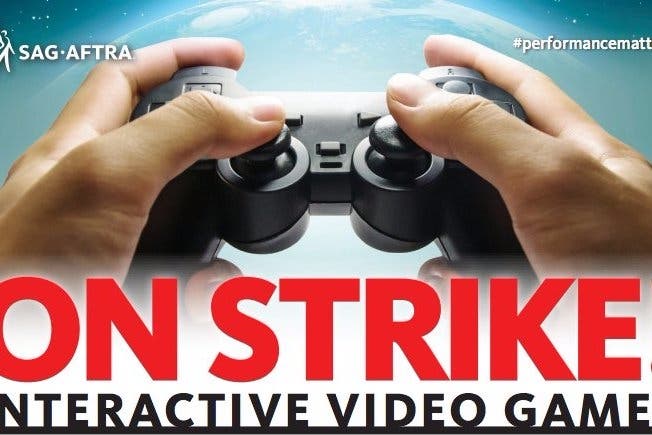 US actors union SAG-AFTRA (Screen Actors Guild - American Federation of Television and Radio Artists) has gone on strike against various video game publishers in an effort to provide better working arrangements for voice actors.
Indeed the strike had been authorised for a year, but is only now coming to fruition after the Actors Guild and the game companies have failed to reach an agreement.
One of the main issues actors are taking issue with is the lack of transparency in how their work will be used. "While the companies are willing to disclose potentially objectionable material that may be involved in the role, they refuse to tell the performer's agent what game the actor will be working on," the Guild said in a statement. "This keeps the performer from being able to make an educated decision about whether to take job. This is unheard of in any of our other contracts." The other main issue is one of compensation, as the Guild would like the option for actors to enter into a payment structure wherein they're entitled to a bonus for a product that sells upwards of 2m units.
At the moment employers have agreed to offer up-front bonuses for working additional sessions, but the Guild would like an option to go the residual route too.
"After nearly two years, management has been unwilling to resolve these issues in an equitable manner. This strike is not the union's preferred outcome, but is necessary to let employers know SAG-AFTRA members will stand fast to their principles and not be exploited," the Guild stated.
"SAG-AFTRA has gone to the negotiations table with serious concerns affecting voiceover and stunt performers," said SAG-AFTRA chief contracts officer Ray Rodriguez. "It's time for video game employers to take our concerns seriously and negotiate a modern contract based on actor safety, industry precedent and best practices."
It's worth noting that the strike will only affect the contracts for games that went into production after 17th February 2015. Those that began before that will honour their former arrangements.
Publishers cited in the strike include: Activision Publishing, Blindlight, LLCCorps of Discovery Films, Disney Character Voices, Electronic Arts Productions, Formosa Interactive, LLC Insomniac Games, Interactive Associates, Take 2 Interactive Software, VoiceWorks Productions, and WB Games.
A spokesman for the aforementioned companies had a different take on the matter, suggesting that the Guild hadn't proposed a viable solution.
"We had hoped this would be successful, but union leadership left mediation without providing a counteroffer. We urged union leaders to put the package to a vote of their membership, but union leaders refused," said chief negotiator for the companies, Scott J. Witlin of Barnes & Thornburg, in a statement to VentureBeat.
Witlin clarified that the wage hike being offered via up-front bonuses, based on the number of sessions worked, could increase actors' compensation by up to 23 per cent.
"We improved our offer to demonstrate our willingness to reach a fair, mutually-beneficial agreement after 18 months of negotiations," Witlin added. "We value our performers and their dedication. The union has demanded a contingency fee based upon number of games sold or subscribers. Instead of that, we are offering to immediately reward the hard work of performers through this accelerated raise and Additional Compensation package."
A picket line will be forming outside of EA's Vista, California office Monday morning and the actors are asking for Twitter support using the hashtag "#performancematters".
As of last year, 96.5 per cent of SAG-AFTRA members voted in favour of the strike. Prominent voice actors in favour of it included Jennifer Hale (Mass Effects), Ashly Burch (Life is Strange), Wil Wheaton (Broken Age), David Hayter (Metal Gear Solid), Steve Blum (Vanquish), Elias Toufexis (Deus Ex: Human Revolution), Sarah Elmaleh (Gone Home), and Tara Strong (Batman: Arkham City).