THQ Nordic making open-world post-apocalyptic kung-fu action-RPG called Biomutant
UPDATE: Gameplay footage from Gamescom appears.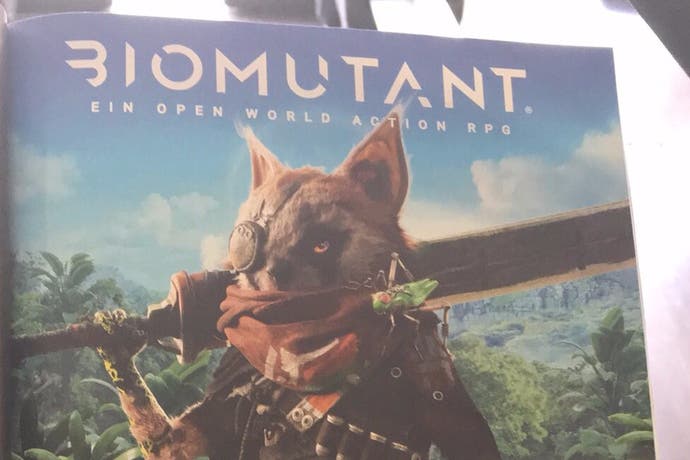 UPDATE 23RD AUGUST: Low quality footage showing actual Biomutant gameplay has surfaced from Gamescom. It's refreshingly colourful and bizarre. Environments vary from orange deserts to blizzards on snowy hilltops, then down into turquoise waters bordered by lush green forests. The game's unusual animal hero wanders, sword on back, across the land, making use of a variety of machinery on the way. There's a tank, shaped like a hand, you sit in the wrist of, the fingers flicking enemies and even shaping into a gun to shoot at them. There's also blimp, a glider, a jet-ski and a mech seen in the footage. Attacks vary from ranged gun shots to twirling acrobatic sword strikes, and to what appears to be a kind of magic, too.
Biomutant doesn't scream 'blockbuster' but does it need to? Could a more modest but not necessarily any less entertaining tier of console games - double-A, if you like - be returning?
UPDATE 22ND AUGUST: THQ Nordic has finally announced Biomutant after it leaked earlier this week.
It's described as an open-world action RPG in which you combine mutant powers, bionics and weapons. You can change your character's abilities and appearance with mutations and bionic prosthetics. You can, for example, grow claws, sprout wings or attach a robotic leg. Each choice impacts the way your hero plays in real-time combat, which blends melee martial arts and firearms.
Biomutant is set in a post-apocalyptic universe filled with mechs, paragliders, balloons, mounts, jet skis and dangerous animals. It's developed by Experiment 101, a Swedish studio co-founded by Stefan Ljungqvist, a former studio art director and game director at Avalanche Studios and one of the key members on the team behind Mad Max and the Just Cause series.
Biomutant is due out on the PlayStation 4, Xbox One and PC in 2018. The teaser trailer is below.
UPDATE 21ST AUGUST: Biomutant screenshots and game details have appeared on Amazon, spotted by Twitter user Wario64.
Wrote Amazon: "Biomutant is a post-apocalyptic open-world action role-playing game that delivers real-time melee, shooter and mutant ability action. Replayability by varied and deep character progression, exploration of three systematically generated worlds, an underworld and a small solar system, by foot, mech, air-balloon, jet-ski and UFO. Biomutant also features a fully customizable (MMO style) character and mutation system, bionics and creative item crafting, plus an interactive narrative featuring a contextual storyteller where the players create their own story of survival in a vibrant colourful world."
The release date listed is 31st December 2018, which is presumably placeholder. ORIGINAL STORY 19TH AUGUST: A German magazine has spoiled a THQ Nordic Gamescom surprise: a post-apocalyptic open-world kung-fu action role-playing game called Biomutant, which is a bit of a mouthful.
In a tweet of the magazine advert, via Reddit, a kind of scruffy cat/fox/something stands on two legs with a large sword slung over its shoulder. It is armoured and wearing a bullet belt, and there is a large cricket - of course there is - on its shoulder.
The ad says "Anfang 2018", which translates to "beginning 2018". Does that mean it will be released at the beginning of next year?
In a trio of screenshots we can see the rat-cat-fox-thing running through a forest, travelling quickly over water somehow, and flying on something through the air.
PC, PS4 and Xbox One logos are show, as is one for Koch Media, which is presumably a publishing partner.
The developer appears to be Experiment 101, or X101, a new Swedish team formed in summer 2015 by former Avalanche (Just Cause) creative director Stefan Ljungqvist. He recently wrote on LinkedIn:
"We will be demoing the studio's first title on the show floor at Gamescom - an open-world action-RPG not like anything you've seen or played before. We've been hard at work on this for some time and I am happy to finally be able to share it. Really looking forward to it. Made with UE4."
Sounds like Biomutant to me.