The White Door is the latest entry in the wonderfully sinister Rusty Lake puzzle series
And it's out now on iOS, Android, and PC.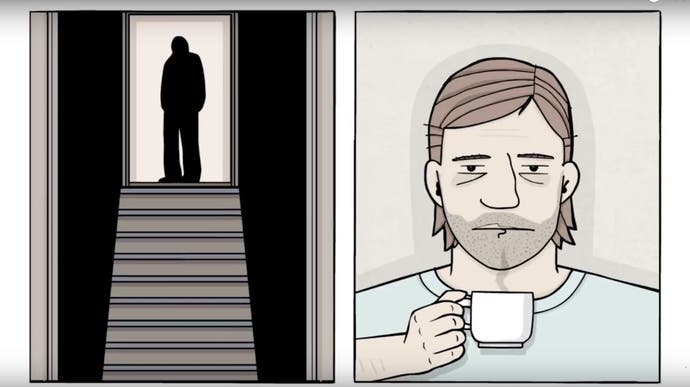 If you've yet to experience the wonderfully strange delights of the superb Rusty Lake series, now is the perfect time to get acquainted; the whole gleefully odd endeavour continues in The White Door, which is available now on mobile and PC.
Rusty Lake, if you're in need of introduction, currently consists of 14 games. Nine of these are free-to-play (these fall under the Cube Escape banner, and are available on mobile and through a browser on PC) and another five, including The White Door, are meatier paid offerings. There's even a short film, tying into last year's Cube Escape: Paradox!
Positioned somewhere between room escape games and point-and-click adventures, each title forms a discrete episode in an interconnected, increasingly strange tale of murder, temporal meddling, and mysterious animal-headed gents.
From a gameplay perspective, early entries are perhaps a little unrefined, but in terms of bleakly weird atmosphere, each knocks it out of the park, fashioning a centuries-spanning narrative puzzle through recurring characters and memorable locations.
Rusty Lake's minutely-priced premium offerings, which began with 2015's Rusty Lake Hotel, continue the story in their own unique way but offer lengthier, and considerably richer adventures. Hotel's follow-up, Rusty Lake Roots, is a series highlight, charting the lives of the ill-fated Vanderboom family across three generations and two centuries. It's funny, bleak, frequently disturbing, and surprisingly moving, and a great place to start, I reckon.
As for the newly released White Door, it sees players attempting to recollect the memories of a man named Robert Hill. It's structured as a puzzle-y point-and-click adventure, but shakes things up considerably, adopting a striking, comic-book-panel-like split-screen format, seamlessly blending exploration, interaction, and narrative into a gorgeous whole.
As with Rusty Lake's other premium offerings, The White Door's asking price is fairly miniscule. It's £2.99 on iOS, £2.49 on Android, and PC players can pick it up for PC on itch.io and Steam. There's currently 15% off on the latter storefront, bringing it down to £2.45.