The Walking Dead: Saints and Sinners getting quick-fire horde mode in July
Arriving as part of the Meatgrinder Update.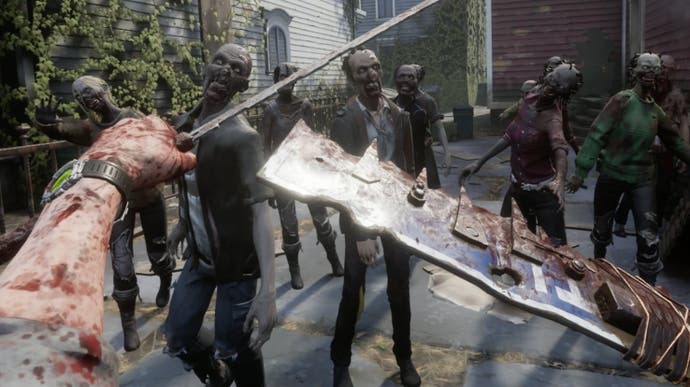 Developer Skydance Interactive's celebrated VR zombie smasher The Walking Dead: Saints and Sinners is ratcheting up the tempo a little next month with the introduction of new arcade-style horde mode, arriving as part of its next content expansion, the Meatgrinder Update.
In its ordinary guise, The Walking Dead: Saints and Sinners serves up a richly atmospheric and genuinely nerve-shredding slice of sandbox-style undead mayhem, setting players loose among the zombie-infested, semi-flooded streets of New Orleans and then arming them with a fine selection of tools that just might help them make it to safety unscathed.
Eurogamer's Ian Higton whimpered his way through the experience with admirable determination when he faced the zombie apocalypse back in January.
While the Meagrinder Update doesn't jettison the fundamentals of the core game, it aims to complement the nail-bitingly tension of the story campaign with some brisker, more arcade-y survival thrills, courtesy of a new horde mode known as The Trial. Here, the goal is to fend off increasingly challenging zombie waves for as long as possible, scoring points - which pop up perkily with each successful kill - along the way.
The Walking Dead: Saints and Sinners' Meatgrinder Update, which also includes a range of new difficulty modes and a katana skin, will be available on both PC and PSVR this July.